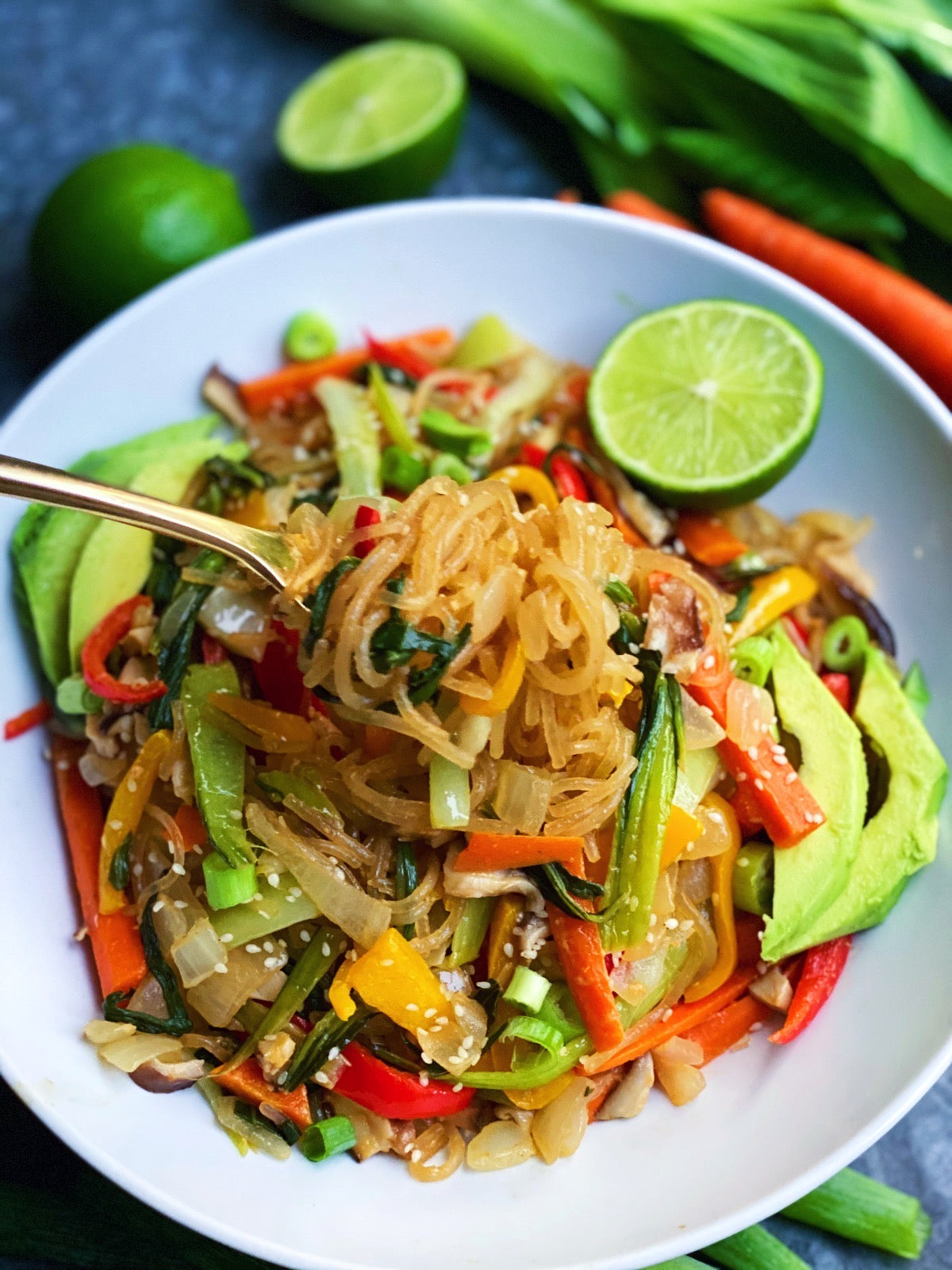 "Japchae" Korean Veggie Stir Fry with Sweet Potato Glass Noodles
Holy moly JAPCHAE! This is basically a Korean stir fry with ( sweet potato) glass noodles. I first learned about this dish through one of my favorite plant-based bloggers, Bonberi based out of NYC! She has a plant-based market in New York that is incredible and is always serving up some delicious inspiration.
Yall know I love any noodle dish that serves as a vehicle for tons of colorful veggies and a delicious sauce and this Korean inspired dish is just that.
As temps drop I know this will quickly become a staple on your weekly dinner and meal prep menus…. It is absolutely DELICIOUS and incredibly customizable!!
Ingredients
2 tbsp toasted sesame oil
1 yellow onion, diced
3 inch knob ginger, peeled
2 garlic cloves, minced
2 whole carrots, sliced in thin strips or diced
2 bell peppers (I used red and yellow), sliced in thin strips
2 bok choy stalks, sliced in thin strips or rough chopped
2 cups shitake mushrooms, diced
1 package Sweet Potato Glass Noodles ( I used this one) 
Sauce
½ cup green onion
½ cup sesame seeds
3 Tbsp tamari
2 tbsp rice vinegar
2 tbsp peanut butter
1 tbsp lime
1/2 tbsp honey/ or maple syrup
½ tbsp sriracha
3/4  tsp salt
Additional Toppers: green onion, sesame seeds, avocado, lime wedges
Directions 
Begin by boiling a big pot of water for your glass noodles. When water is boiling add your noodles and cook according to package instructions. Begin to make your sauce and saute your vegetables while noodles cook. Drain and rinse in a colander when noodles are cooked through.
Whisk all your sauce ingredients into a small bowl and set aside.
In a large, deep saute pan add your toasted sesame oil and warm over medium heat. Add your diced onion and saute for about 5 minutes. Grate your ginger right into the pan. Stir. 
Add your garlic, carrots and peppers. Saute 5 minutes more. Add your mushrooms and bok choy and continue sautéing until bok choy is fork tender, another 5-7 minutes. Turn burner to a simmer.
When noodles are ready and rinsed, add desired amount into dish. Mix with tongs.
Now add in all sauce and mix through with tongs. Taste and adjust sriracha, tamari, salt, or lime.
Serve warm!
Store leftovers in a sealed container in the refrigerator.