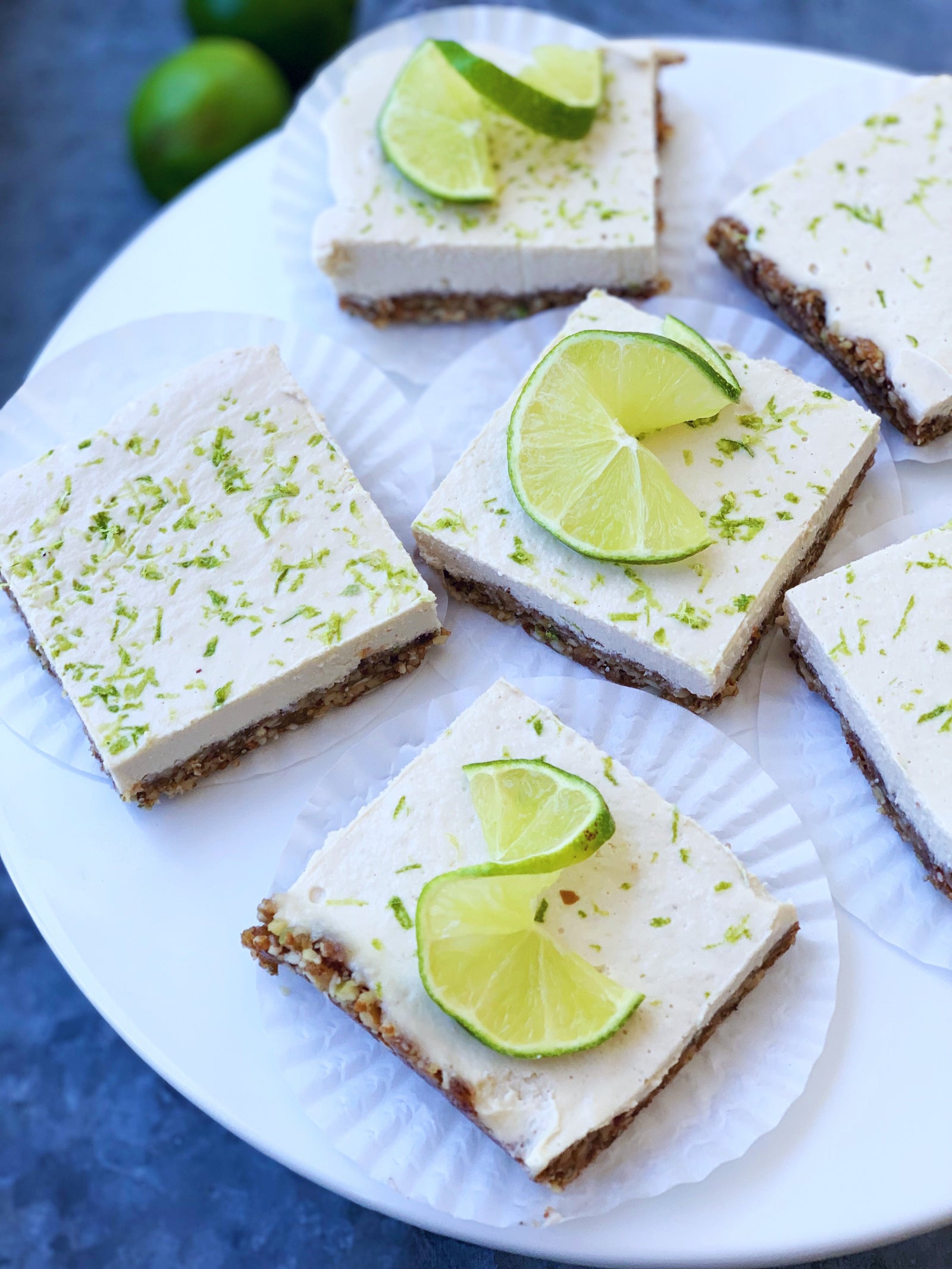 KEY LIME PIE CHEESECAKE BARS
In need of a creamy and light dessert sure to ignite some fireworks this July 4th?
Take one bite of these Key Lime Pie Bars and your taste buds will at least feel a spark.
I have a confession—citrusy desserts have never been my go-to ( however my dad's two FAVORITES are key lime pie and lemon meringue pie) so I went against my norm and tried anyway.
DANG WAS I WRONG. These bars completely blew my mind. They are creamy, yet light, sweet yet tangy, bold yet simple, and perfectly combined with the nutty-caramel crust.
I hope these find their way to your holiday festivities, because they are incredibly easy and insanely addicting!!! 
I n g r e d i e n t s
CRUST
1 cup pecans
1 cup walnuts
¼ cup hemp seeds ( could sub more shredded coconut or nuts)
¼ cup shredded coconut
12 sticky medjool dates , de-pitted
1 tsp vanilla
1 tsp lime zest
½ tsp sea salt  
FILLING
1.5 cups cashews, soaked overnight, minimum of 5 hours
¾ cup coconut cream (yieled from one full fat coconut milk cans refrigerated overnight – I use Whole Foods 365 brand, I find it best)
1/3 cup coconut shreds
¼ cup raw honey
2 tbsp lime juice, fresh squeezed
1 tsp lime zest
1 tsp vanilla
½ tsp sea salt
D i r e c t i o n s
Line an 8X8 or 9X9 baking dish with parchment paper.
In a large food processor add your walnuts and pecans—pulse until large crumbles. Now add all other ingredients and process until a sticky crust forms. Crust should hold together when you pinch together, but if too dry add 1 tsp hot water and process a few times more.
Press dough into lined baking dish and create an even layer "crust" Pinch up the sides slightly to create that crust illusion. Place in freezer while you make filling.
Drain and rinse your cashews. Add all filling ingredients into the blender. Blend on high until filling is completely smooth and creamy—if you have a vitamix the tamper tool comes in handy here! If you need more liquid add a tbsp water to help. I blended a few minutes to achieve!
Taste filling and add any more lime, sea salt, honey, vanilla etc to your liking.
Remove crust from freezer and slowly pour your filling over crust. Use a spatula to spread filling evenly over crust.
Place in freezer for at least 3 hours to set. Remove from freezer and zest extra lime on top. Allow to thaw, slice, and serve!
If saving cheesecake, store in a sealed tight container in the freezer.