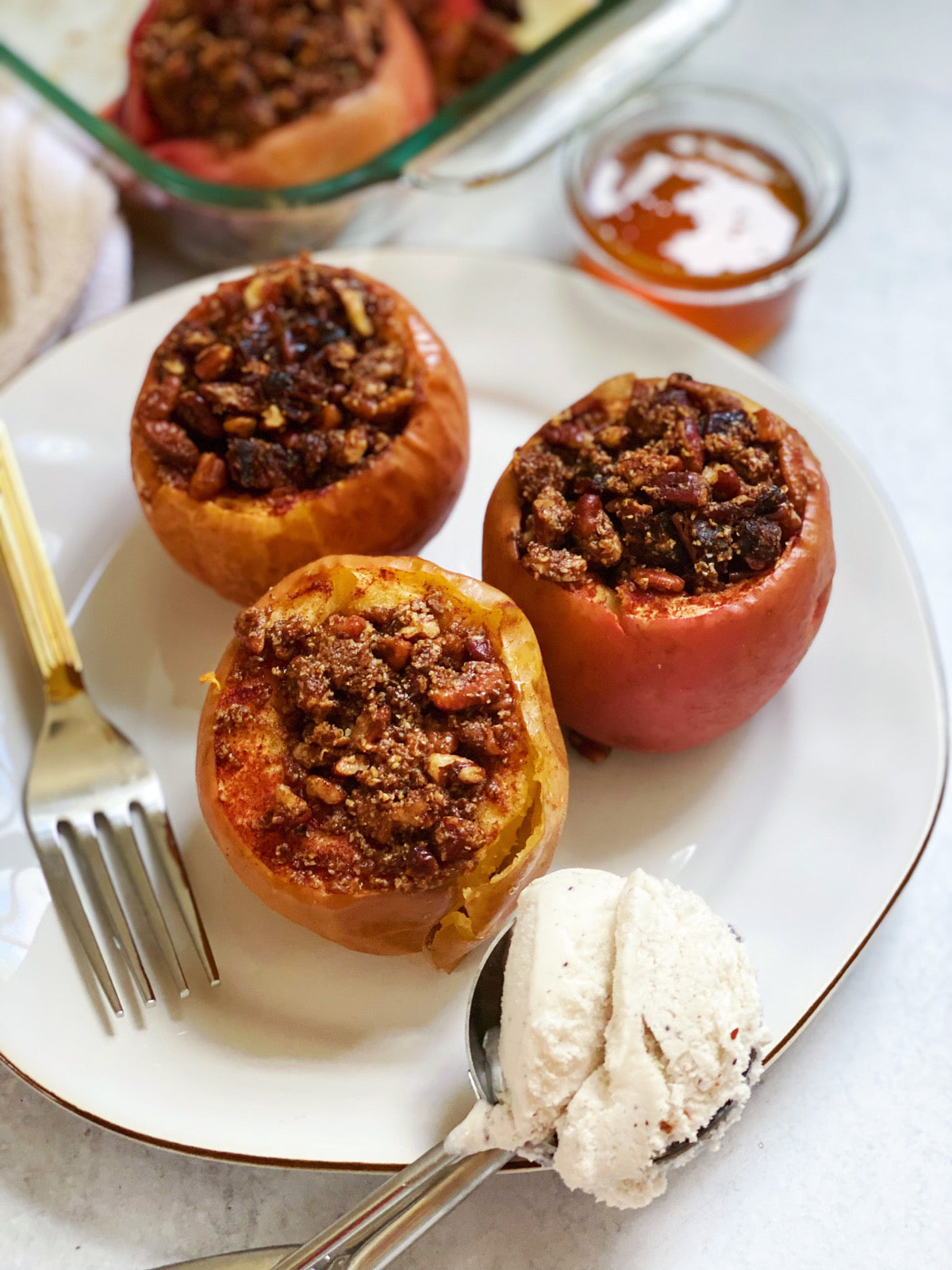 Lazy Man's Apple Crisp aka Baked Stuffed Apples
There is no denying my love of apples, and that love has even grown during both of my pregnancies. Not much compares to a perfect crisp apple. As upsetting as this might be to all my pumpkin lovers, I would choose something apple over something pumpkin every day of the week. 
Since we are full blown in apple lovers season, be expecting a common theme in my future recipes this season! 
These stuffed apples are the lazy man's apple crisp! Super easy and absolutely divine... not to mention, everyone gets their own. Do It up with vegan ice cream, caramel or honey drizzle. 
Apples
6 apples ( Fuji and Gala work best here )
1 tbsp ghee/vegan butter/coconut oil ,melted and divided 
Sprinkle of cinnamon
Pecan Crumble
1/4 cup oat flour
1/2 cup pecans or walnut, rough chopped
3 tbsp coconut sugar
1 tsp cinnamon
Pinch ground clove
3 tbsp coconut oil, melted
3 dates, chopped ( sub ¼ cup raisins) - optional
Pinch sea salt
Optional Toppings:
Vegan Ice Cream
Caramel
Honey Drizzle
Maple Syrup Drizzle
Directions
Preheat your oven to 350F.
Prep the crumble first.
Mix your oat flour, chopped pecans, coconut sugar, and spices together until all is coated. Add in your coconut oil and sea salt -- now with the back of a fork work the coconut oil into the streusel topping until all is mixed well. Stir in your dates or raisins. Set aside. 
Slice the top off of our apples, discard. Using a small paring knife begin to core your apples, cutting a small circle around the stem. Scoop the seeds and some of the flesh out with a spoon. Make sure you scoop out the core but do not cut through the bottom of the apple. You are just wanting to create a hollow space for the crumble!
With your fingers, coat the inside of each apple with a little melted ghee/coconut oil. Sprinkle cinnamon into each apple.
Scoop the mixture into the cavity of each apple, filling each completely. If you have extra filling, save for smoothie/ oat bowl topping!
Add about ½ inch water to the bottom of the baking dish – this will help your apples soften while baking.
Place the apples into your baking dish and bake for 35-45 minutes, or until softened and crumble is golden.
Note: At a half hour  if the liquid has evaporated so much that the surface of the baking dish is dry, add more.
Serve immediately with desired toppings. 
Leftover apples can be stored in a sealed container in the refrigerator for up to two or three days.