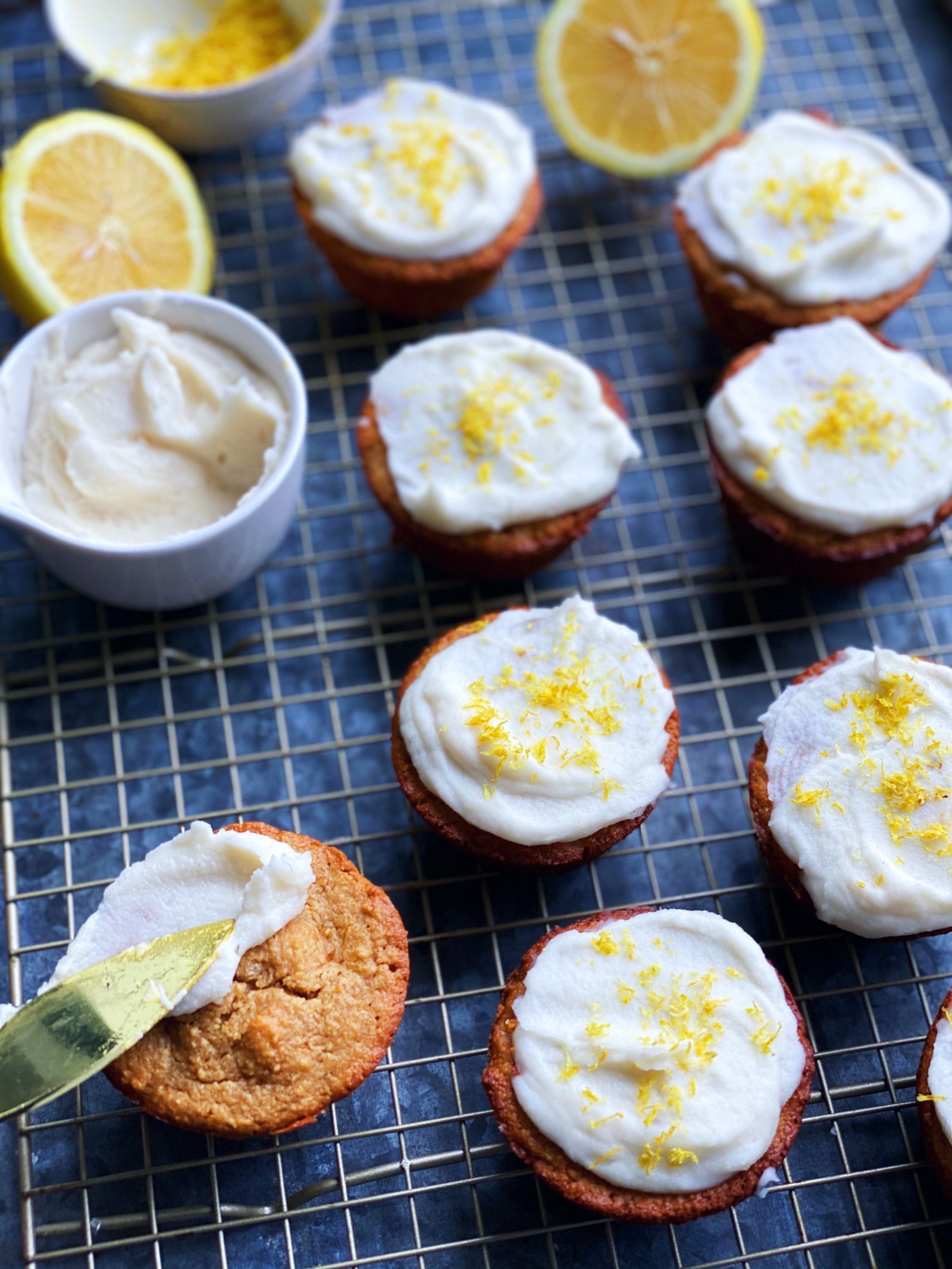 Dry 
1 ¼ cup oat flour
1 cup almond flour ( not almond meal)
1/3 cup coconut sugar
1.5 tsp baking powder
½ tsp baking soda
½ tsp Himalayan sea salt
Wet
¼ cup melted ghee or filtered coconut oil ( otherwise you will taste the coconut flavor)
½ cup unsweetened plant-based yogurt
¼ cup + 1 tbsp lemon juice ( juice from two medium lemons)
1.5 tbsp lemon zest ( zest from two medium lemons)
1.5 tsp vanilla extract
Icing:
Melted coconut butter
Or
Simple Mills Vanilla Icing
D i r e c t i o n s  
Preheat your oven to 350F. Use an avocado or coconut oil spray to grease your muffin pan. You can also use a paper towel dipped in either oil and rub down each mold. 
In a mixing bowl add all of your dry ingredients, mix well and set aside. In a separate mixing bowl add all your wet ingredients. Save a little bit of your zest to drizzle on top of your muffins after icing.
 Add your dry mix into your wet, and fold in with your spatula. Mix until all combined. 
Begin to fill each muffin mold with the batter until flush with the mold. These will rise only slightly.
Allow to cook 26-28 minutes or until a toothpick comes out clean and tops are golden.
Once completely cooled, remove each muffin from mold. Icing muffins with icing of choice and sprinkle on the leftover zest. Serve and enjoy! Store in a sealed container in your refrigerator.