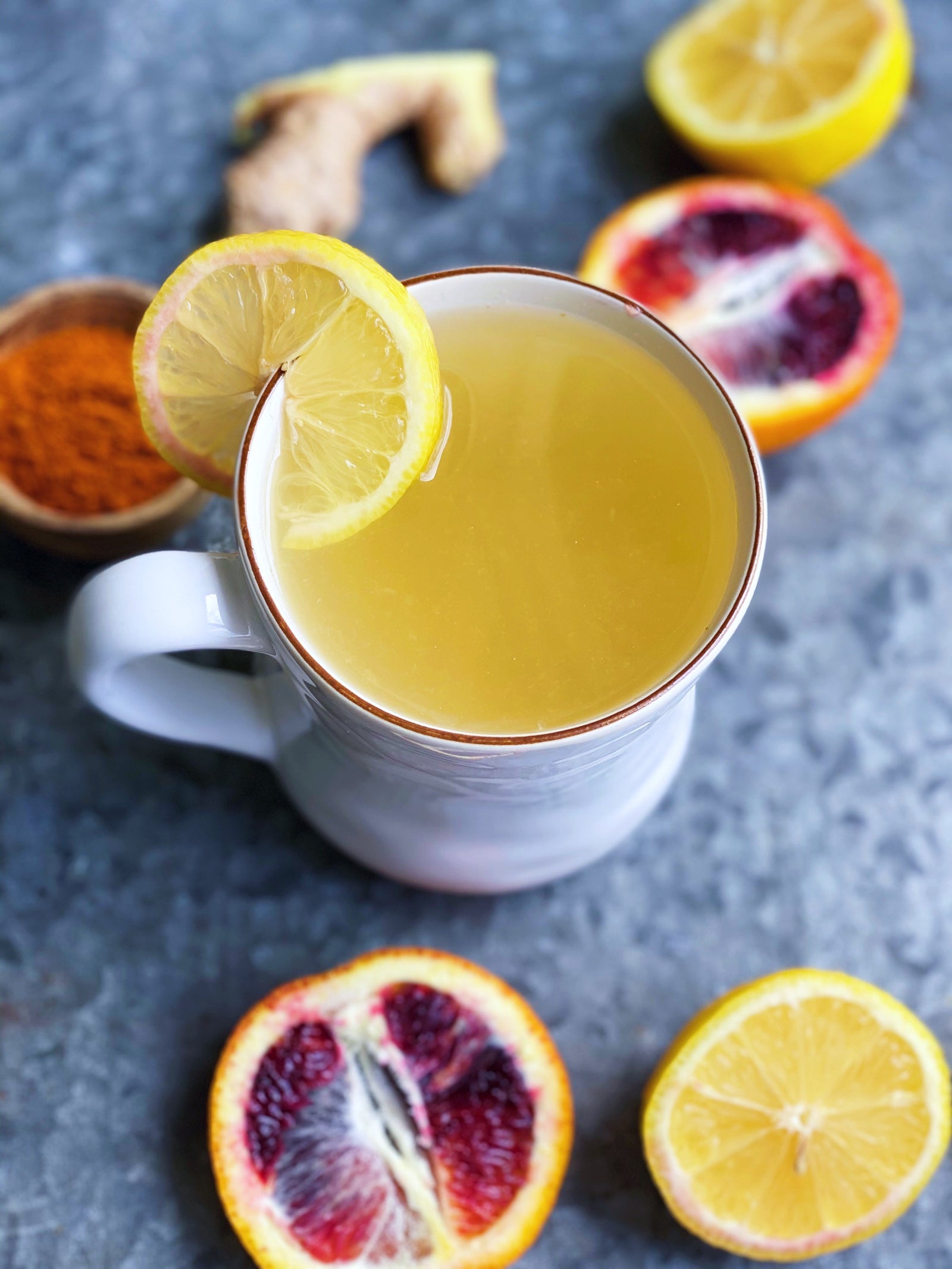 Lemon Ginger Wellness Elixir
It's crazy times right now and boosting our immune system seems to be more important than ever before. 
However, I promise just a few sips of this wellness elixir and your worries will start to wash away. Every sip is like a warm hug going down, and you can feel its benefits down to the last drop. 
A blend of ginger (reduce inflammation, supports digestion) , lemon (immune booster) , fresh orange (vitamin c) , himalayan sea salt ( supports hydration), cayenne pepper (metabolic booster) and endless adaptations like raw honey (digestion aid) or maybe some fresh turmeric (anti-inflammatory agent). 
Go ahead and stock up on the ginger, you will be wanting this on repeat! 
I n g r e d i e n t s
5 cups filtered water 
4 large knobs fresh ginger, peeled ( each about 3 inches thick, size of a quarter) 
1 large lemon 
1/2 a large orange or 1 whole small orange
few shakes himalayan sea salt 
few shakes cayenne pepper 
Optional add ins: turmeric root and raw honey 
Add your water to a small sauce pot. Add your peeled ginger knobs and bring your water to a boil. Once It reaches a boil, reduce heat to a simmer, and allow your ginger water to simmer for 20 minutes. 
After 20 minutes turn off burner. Using a lemon squeezer, juice the entire lemon into your pot. Next juice half of your large orange ( or whole small) using the same lemon squeezer. Stir. 
Add your few shakes himalayan sea salt and cayenne pepper. Add a swirl raw honey if using! Stir. 
Allow to cool to drinking temperature. Discard of your ginger knobs ( or save to make again, I usually get two rounds out of mine ). Pour into your mug and enjoy warm or cold!