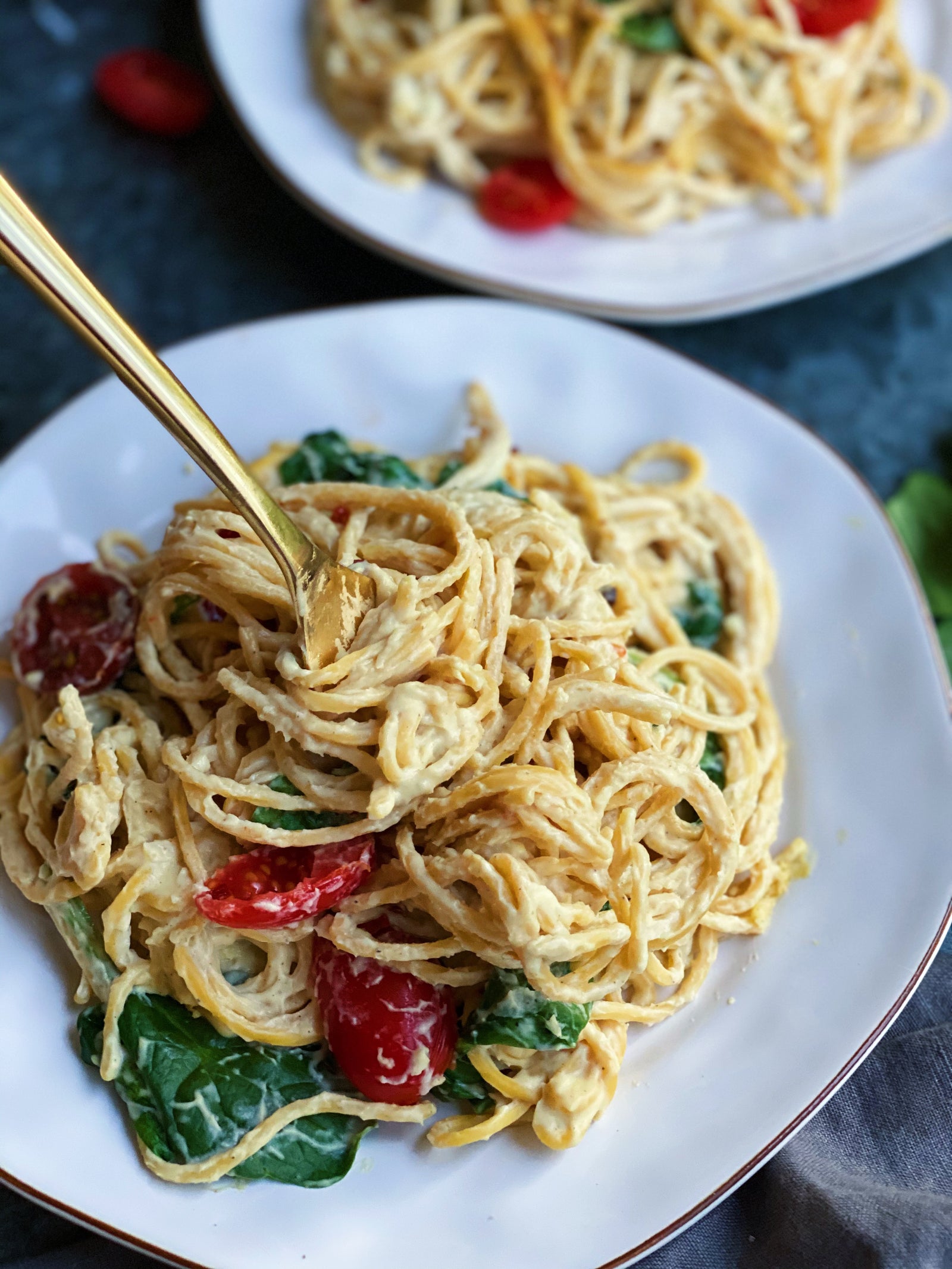 Lightened Up Alfredo Sauce
The sauce you have all been waiting for! A TAF version of the ever classic, alfredo sauce. Oh yes, alfredo with all the all creamy flavor yet a minor twist.
Yall know I love to sneak in veggies to delicious recipes (I know you have got husbands and kids to feed and no one has time to cook multiple meals). Cauliflower is the sneaky star in this sauce, providing an added depth of flavor and creaminess. 
My husband asked for this twice in one week, so Ill let those stats do the talking. Add your favorite additions to this meal and make It your own! 
Hope you all had a magical Easter! 
I n g r e d i e n t s
Sauce
1 cauliflower head, chopped into florets, hard stems discarded
3/4 cup cashews ( soaked for 6 hours in cold water )
1/4 cup nutritional yeast
1 tbsp fresh lemon juice
1 tsp apple cider  vinegar
1 tbsp vegan butter or ghee  ( highly recommended )
1/2 sweet onion, chopped
4 small cloves garlic , minced
1/4 cup almond milk 
1 tbsp arrowroot powder
3/4 tsp sea salt 
Few pinches Pepper
Few pinches red pepper flakes ( optional)
Alfredo Recipe Ideas
1 box gluten free pasta of choice
1 cup cherry tomatoes
2 cups fresh spinach
D i r e c t i o n s
Steam your cauliflower florets in a steam pot until fork tender. While you prepare the rest of your ingredients, when steamed through pour them into a colander so any excess water can be released.
In a small saute pan, melt your vegan butter. Add your onions and saute a few minutes over medium heat. After a few minutes add your minced garlic. Saute a few minutes more until garlic is fragrant. Turn off burner. As soon as it slightly cools whole mixture will go into blender.
In a small bowl add your almond milk. Whisk in your arrowroot powder and let powder dissolve. 
Drain and rinse your cashews, add into blender. Add in your cauliflower,  onion garlic mixture ( be sure to scrape remnants of melted butter), nutritional yeast, lemon, apple cider vinegar. Then pour in your arrowroot /almond milk mix. Add your salt, pepper, and red pepper flakes if using. 
Blend on high for a few minutes until extremely creamy.
Boil your pasta while you are making your sauce. Drain when ready!
In a large saute pan, begin to saute your tomatoes with a dash olive oil in a pan. Once your tomatoes begin to soften turn off burner, and add your noodles and spinach. With tongs mix all together.
With burner off, add in desired amount of sauce and use your tongs to mix in sauce. I added a dash more salt and pepper! If you need to warm your sauce, warm on very low until achieve desired temp.
This dish is best when served immediately!