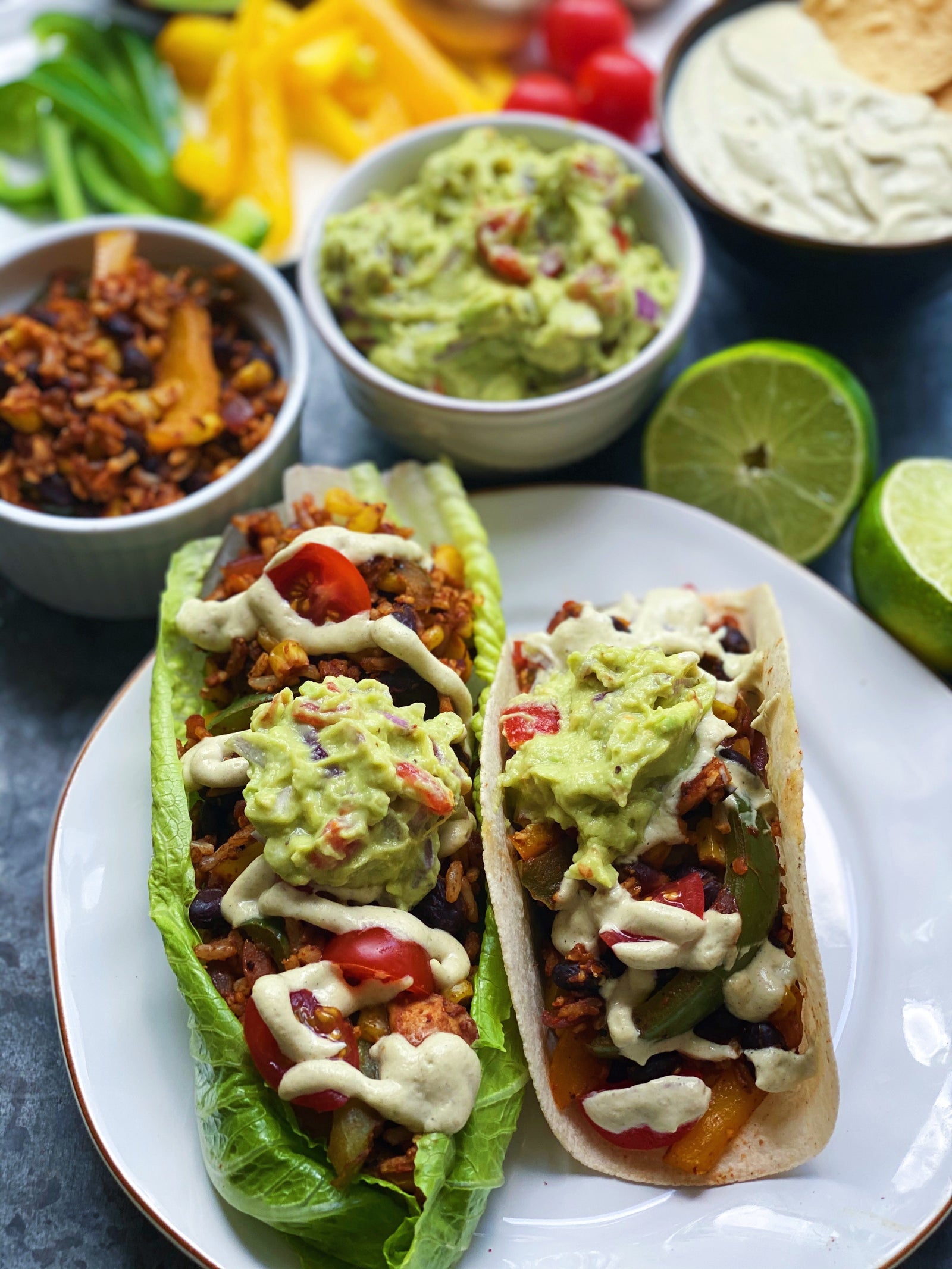 Loaded Veggie Taco's w/ Cashew Queso
Is there anything better than taco night? At our house, it's  a weekly request. And just so we are clear , the more loaded with toppings, the better! 
These tacos will blow your mind, and I promise you won't miss the meat! Packed with protein from legumes, fiber from vegetables and brown rice, healthy fats from the queso and guacamole, your tastebuds will be set. 
Even better? You can make this your OWN-- keep It all homemade or semi-homemade! If you don't feel like making your cashew queso or guacamole, you can always opt for store-bought! Siete Foods makes a fabulous queso option. Do what you can, when you can. Cant wait to hear what you think! 
VEGGIE TACO MIX
I n g r e d i e n t s 
2 tbsp olive oil
½ large red onion, diced  
2 cloves garlic, minced
1 large pepper or 2 small, diced
1 cup white mushrooms, sliced
1.5 cups cooked brown rice ( any rice will do !)
1 can black beans, drained and rinsed
1 can sweet corn , drained and rinsed
1 pack favorite taco seasoning
2 tsp coconut sugar ( optional)
¼ tsp sea salt
½ lime
D i r e c t i o n s 
In a large skillet, warm your olive oil over medium heat. Once warmed add your onions and saute until translucent. Add your peppers and garlic and saute a few minutes more.
Add your mushrooms and brown rice and continue sautéing your mix . Add your beans and corn and stir in. 
Add in your pack of taco seasoning, coconut sugar, and saute all together. Continue sautéing until your rice gets slightly crispy and vegetables are cooked to your liking.
Turn off burner and squeeze in half your lime! You can use the other half for serving!
TACO ADDITIONS:
Guacamole ( Recipe Below )
Cashew Queso ( Recipe Below) 
Siete Wraps for Taco
Romaine for topping or as your "taco" shell
Siete Chips or Tortilla Chips
Pico De Gallo
Cilantro
GUACAMOLE
I n g r e d i e n t s 
4 large ripe avocados
1/2 large red onion , diced
½ cup grape tomatoes, diced ( juice drained)
1 tbsp fresh lemon juice
1 tbsp fresh lime juice
1.5 tsp cumin powder
1/2 tsp sea salt + more to taste
Few pinches pepper
Few pinches Chili flakes ( optional for a kick)
D i r e c t i o n s  
In a large mixing bowl, scoop out the flesh of each avocado, discarding of the pit. With the back of a fork mash your avocados. Add all the rest of your ingredients into the bowl and stir with a mixing spoon. Taste and adjust your salt/pepper!
Cashew Queso
I n g r e d i e n t s 
¾ cup cashews, soaked for a minimum of 4 hours
1 jar Green Tomatillo Sauce ( I use this brand found at Whole Foods) 
Pinch sea salt
 **If you do not have the ability to make Cashew Queso, Siete Foods makes a great option, linked here! Found at Whole Foods.
D i r e c t i o n s 
Drain your cashews and rinse thoroughly. Add your cashews and all other ingredients into your blender. Blend on high until super smooth and creamy!