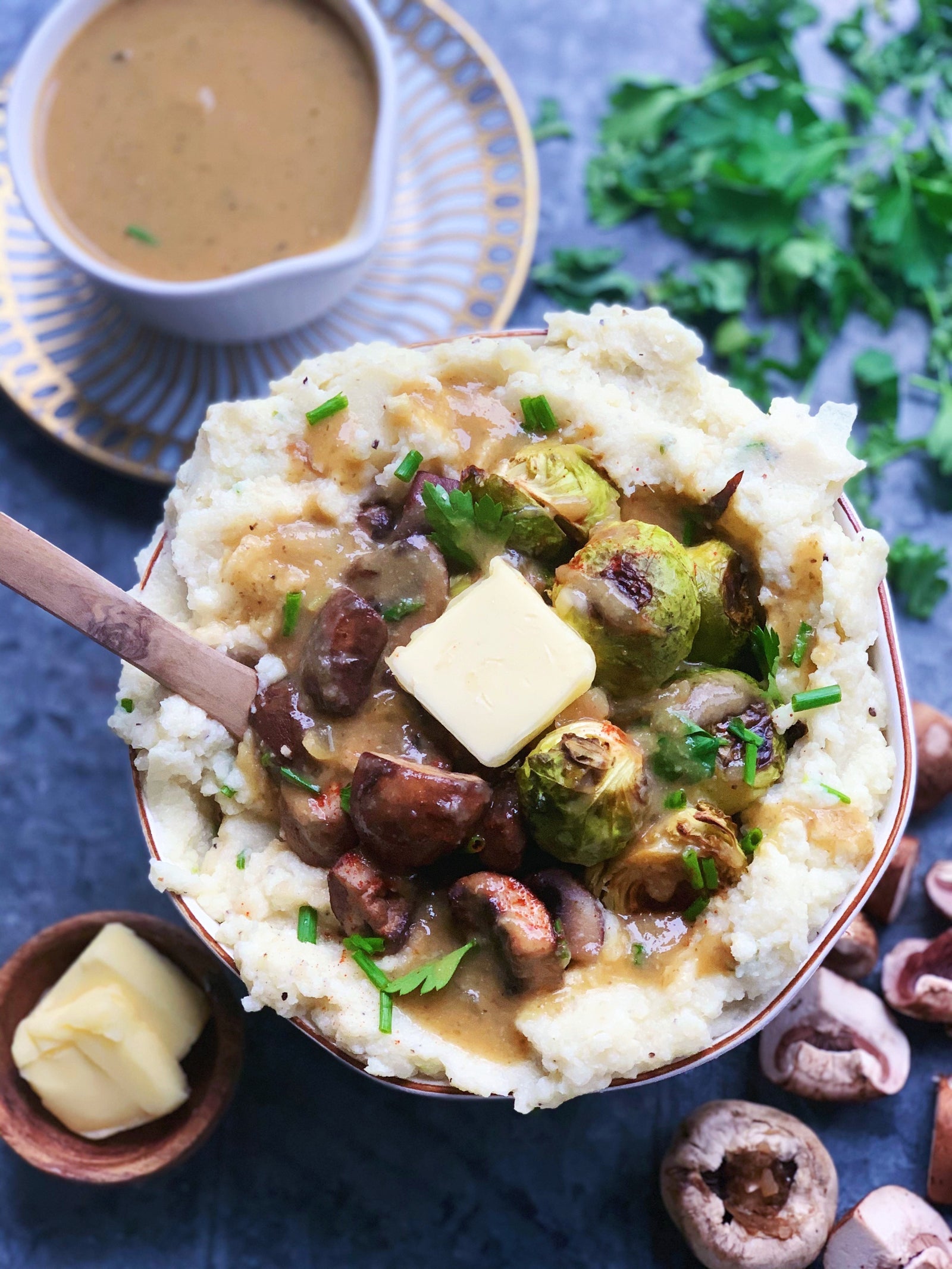 CAULI MASHED "POTATO" & GRAVY BOWL
I hope I just made all your childhood dreams come true, because I sure did mine. 
Creamy, melt in your mouth, (cauliflower) mashed potatoes drizzled (drowning) in what might honestly be the most delicious GRAVY I have ever created... ok its the only gravy I have ever created but it cant get any better than this. AND when poured atop these pillowy mashies... meals just dont get cozier. 
Beautifully rich and deep in flavor this gravy is having me dream up all kind of new recipes....biscuits anyone? 
Customize your bowl with roasted veggies, favorite garnishes, extra vegan butter... I wont judge, I certainly did It all. 
GRAVY 
I n g r e d i e n t s 
1 cup yellow onion, chopped 
3 garlic cloves, minced 
1 tbsp fresh thyme leaves 
2 dried bay leaves
2 tbsp ghee or vegan butter
1 cup mushrooms, de-stemmed & quartered 
3 tbsp arrowroot powder
2 cups quality vegetable broth
1/2 cup water
1.5 tbsp nutritional yeast
1.5 low sodium tamari
1/4 tsp sea salt + more to taste 
Few pinches pepper
D i r e c t i o n s 
First measure out your broth ,water, and bay leafs and add together into one measuring cup or bowl. Set aside.
Add your ghee or vegan butter into a sauce pot over low heat. Once ghee melts add your onion and sauté. When your onions begin to soften add your garlic and thyme. Continue to sauté, stirring often, until onions are translucent and garlic and thyme are fragrant , about 7 minutes total.
Now add your mushrooms and sauté. When mushrooms begin to brown in color (about 5 minutes) add your arrowroot flour. Quickly stir and mix arrowroot flour with all in sauce pot.
Immediately after mixing arrowroot add your broth/water/bay leafs. Begin to whisk broth quickly for about 90 seconds or until the arrowroot powder disappears and assimilates into liquid.
Stir in your nutritional yeast, tamari, sea salt and pepper.
Bring the broth to a low simmer for 25 minutes.
The gravy should start to thicken and deepen in flavor as It simmers. When ready, taste and adjust seasoning — I added a pinch more sea salt and nutritional yeast !
Store in a sealed container in refrigerator for up to five days. If ever too thick you can warm up in sauce pot and add broth as needed!
CAULIFLOWER MASHED POTATOES 
I n g r e d i e n t s
1.5 heads cauliflower, cut into florets ( about 8 cups) 
3 tbsp ghee or vegan butter
½ large yellow or sweet onion, diced 
3 cloves garlic, minced 
2 heaping tbsp Kitehill Foods Ricotta Cheese or any vegan cream cheese
1/2 tsp sea salt + more to taste 
few shakes pepper 
1 tbsp chives, chopped ( + more for topping ) 
D i r e c t i o n s 

Chop your cauliflower into florets, discarding of any hard stems. Add your cauliflower florets to a large steam pot (covered) and begin to steam.  Steam until all is super tender and easily pierced with a fork. About 20 minutes.

While steaming dice your onion and mince your garlic. In a small saute pan, melt your ghee/vegan butter over medium heat. Add your onion and saute about 5-7 minutes or until translucent. Add your garlic, and saute about 5 minutes more, continuously stirring so that the garlic does not burn. Turn off burner, and slide pan off heat.

Once your cauliflower is steamed remove lid and allow to cool 5 minutes. In a large food processor add the cauliflower,  onion/garlic mixture, vegan ricotta, sea salt , and pepper.

Begin to process and blend, scraping down the sides as needed. If you need any liquid ( I did not) you can add a tbsp almond milk at a time. 
Taste and adjust salt and pepper to taste. Top with extra chopped chives or dollop of ghee/vegan butter.
Additional Toppers For Bowl: roasted brussel sprouts, extra sauteed mushrooms, sauteed corn... get as creative as you please!