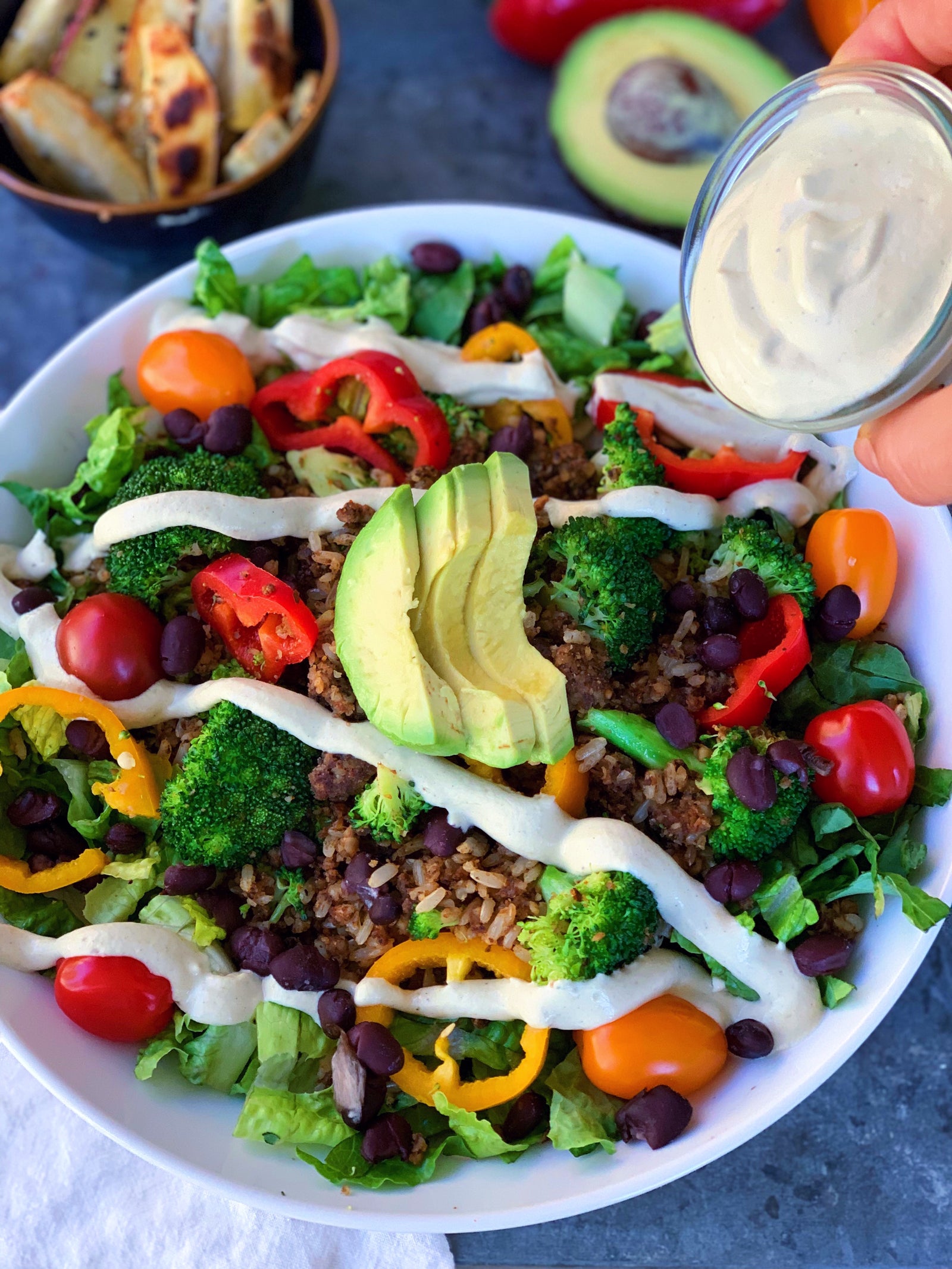 MEXI TACO SALAD STIR FRY W/ CASHEW QUESO
Have you ever finished a really incredible meal, sat back and thought, "you know, if I had to choose to eat one dish for the rest of my life, I think this might be It."
Yall I have this moment often when eating this combo. Whether Im eating It over a bed of romaine, in a few tacos, or straight scooping It with tortilla chips, its the meal that always leaves me wanting It the next night.
Its just that good, that creamy, and THAT SATISFYING. 
I think It might be up there for yall too considering how many of you asked for this recipe after I posted It a few weeks back, and I am in full support.
Make a batch of the stir fry and the queso, and I swear you will find yourself adding It to just about EVERYTHING. 
I n g r e d i e n t s 
Taco Meat Stir Fry 
10 oz. baby bella  
1 cup walnuts
1/4 cup almond flour
1 sweet onion
1-2 cloves garlic, minced
favorite taco seasoning ( I used about 1.5 tbsp Trader Joes Taco Seasoning )
1 sweet onion, diced 
1 head broccoli , chopped into florets 
1.5 cup cooked brown rice 
3 mini peppers ( 1 red bell pepper would work too) , sliced 
1/2 cup black beans 
1/4-1/2 tsp sea salt 
Cashew Queso Dressing
1 cup cashews, soaked overnight 
1 jar tomatillo sauce ( I used Frontera but any tomatillo sauce will do) 
squeeze of lime 
pinch salt 
Bowl Extras:
1 bunch romaine, sliced 
1/2 avocado 
Prep for this meal:
Cook 1 cup brown rice according to package instructions so you have It ready when making this bowl! 
Soak your cashews overnight 
D i r e c t i o n s 
For the "Queso": 
After soaking, drain cashews, and blend with1 cup of your tomatillo sauce, squeeze of lime, and pinch sea salt! Blend on high until thick and creamy, no clumps!  If you need more liquid add 1/4 cup tomatillo sauce at a time. 
Queso should warm up when blended on high for a few minutes, but you could also warm on the stove! 
For the Meat Stir Fry:
Add your walnuts to a food processor. Pulse until large crumbles.
Clean, dry,  de-stem and quarter your mushrooms.
Add your mushrooms and flour into food processor + pulse about 10 more times. Do not over pulse, texture should look like ground beef.

Heat a tbsp oil in a large skillet over medium heat + add your mushroom walnut mix to the pan. Work the oil into the "meat" with a spatula. Let the mix sit for a few minutes so It can begin to brown. Then continue to stir occasionally, allowing to simmer on the stove until you see some "browning" like a meat would!
 Stir in your taco seasoning as the meat begins to brown. This process should take about 12-15 minutes! Once cooked through and texture resembles a ground meat,  turn off heat.  

In a separate large sauté pan, sauté your onion until translucent. Add your cooked brown rice , broccoli, peppers, and black beans. Stir and saute for about two minutes. Now add your cooked meat mixture into the pan and work through, sautéing a few more minutes. Add sea salt to taste! 
Add your stir fry over a bed of lettuce, add avocado, tomatoes, and drizzle queso all over! Enjoy!