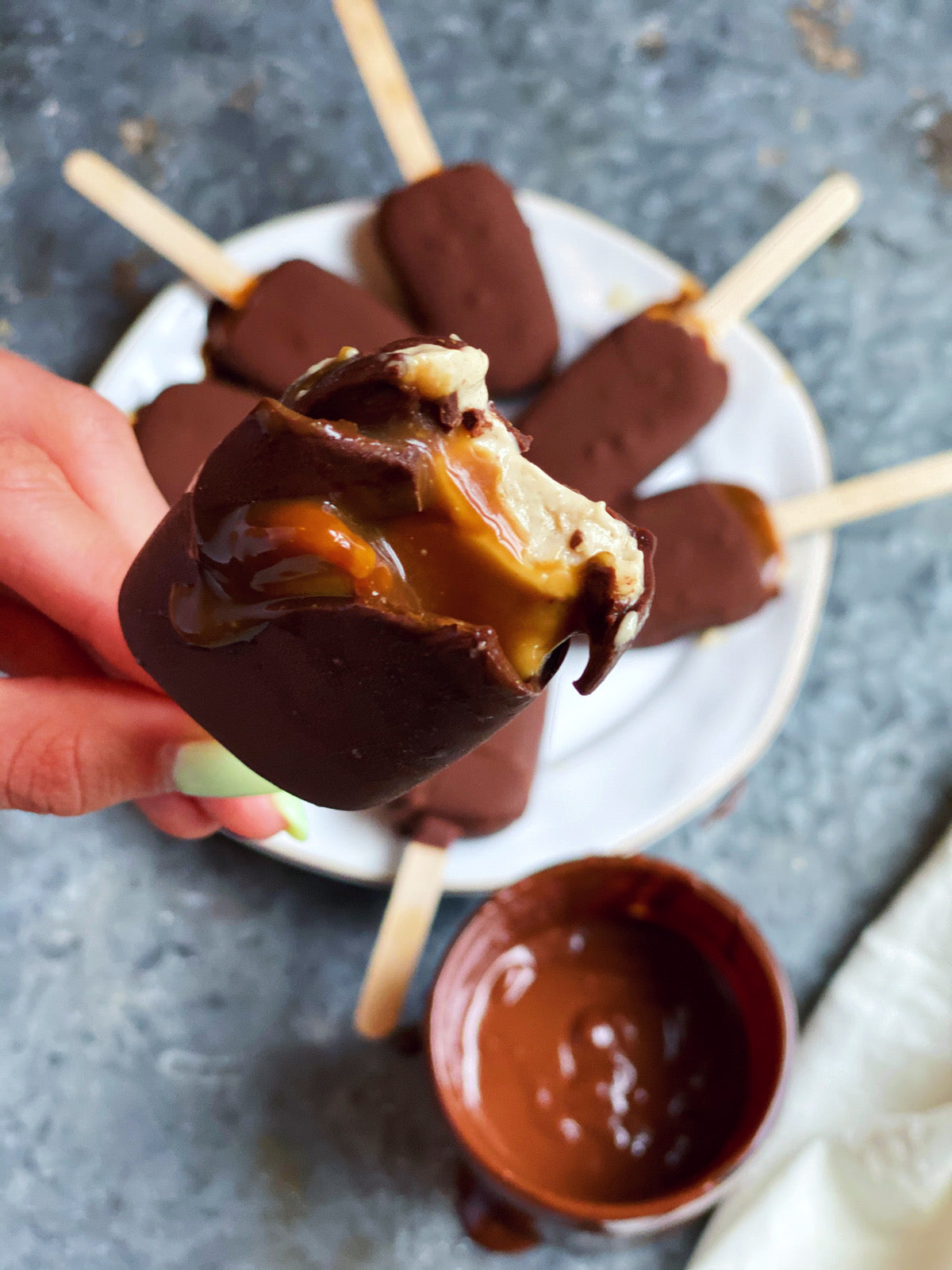 Mini Magnum Ice Cream Bars
What's better than a big bowl of ice cream? Probably ice cream topped with a layer of homemade caramel and then dipped into a chocolate hard shell. Oh yea and all on a popsicle stick. 
These Mini Magnum Bars will take your tastebuds over the top and take your mind all the way back to childhood summer nights. 
It doesnt get much better than these for a sweet tooth! 
This recipe was inspired by Emily Daniels of @wholesomehedonista 
Ice Cream Filling
1.5 cup cashews ( soaked for 4+ hours in water)
1 can full fat coconut milk, refrigerated overnight
1/3 cup peanut butter
1/4 cup maple syrup
3+ tbsp water
1 tsp vanilla
1/4 tsp sea salt
5 dates, depicted and rough chopped
Caramel
1 cup coconut sugar
1 cup full fat coconut milk ( this is in addition to the coconut milk you need in your filling)
1 tbsp arrowroot starch 
Hardshell
1 cup chocolate chips
1 tbsp coconut oil
Recipe Makes: 8-15 ice cream bars depending on molds 
What You Need
Mini or Regular Popsicle Mold
Popsicle Sticks
High Speed Blender
Microwave
Microwave Safe Bowl
Small Sauce Pan 
Baking Sheet
Parchment Paper
Rinse your cashews. Add cashews into your high speed blender. 
Open your coconut milk can upside down. Discard or save all of the liquid in the can. Scoop out all of the remaining coconut cream and add into your blender. Now add your peanut butter, maple syrup , vanilla, water and sea salt. Blend until smooth and creamy, scraping down your sides of the blender as needed. If needed, add more water or a plant based milk 1 tbsp at a time until you reach desired consistency.
Now pulse in your 5 dates until only tiny specs appear in the batter — this just helps your "ice cream" have consistency!
Set your ice cream filling aside and prepare your caramel.
Caramel: Pour your coconut milk ( if your can has separated fat from liquid , just blend in the blender to remix ) into a medium sized mixing bowl. Whisk in your arrowroot starch. Add your coconut milk into a small sauce pan and turn heat to low - medium.
Begin to whisk in your coconut sugar until all combined.
Bring your caramel to a low boil, whisking frequently to help not burn.
Allow to boil for 5-7 minutes and then turn burner off— your caramel will thicken, but remember to keep stirring.
Lets assemble your popsicles!
Prepare your molds with the sticks in tact. Now add filling into each mold, remembering to leave room for your caramel. NOTE: you can definitely do a few rounds with this filling, and can also freeze extra in a parchment lined pan to have little ice cream bites!) 
Now scoop your cooled caramel into each mold on top of your filling. Again any extra can be swirled into the filling and frozen into little ice cream bites .
Freeze for a minimum of 3 hours.
Once frozen, melt your chocolate and coconut oil in a microwave safe dish — melt in increments of 30 seconds, stirring in between each increment to ensure no burning.
Line a small baking sheet with parchment paper.
Once your chocolate is melted remove your ice cream bars from the mold, and dip each into chocolate. Lay the dipped popsicles onto the parchment paper and add back into the freezer for at least an hour before serving.