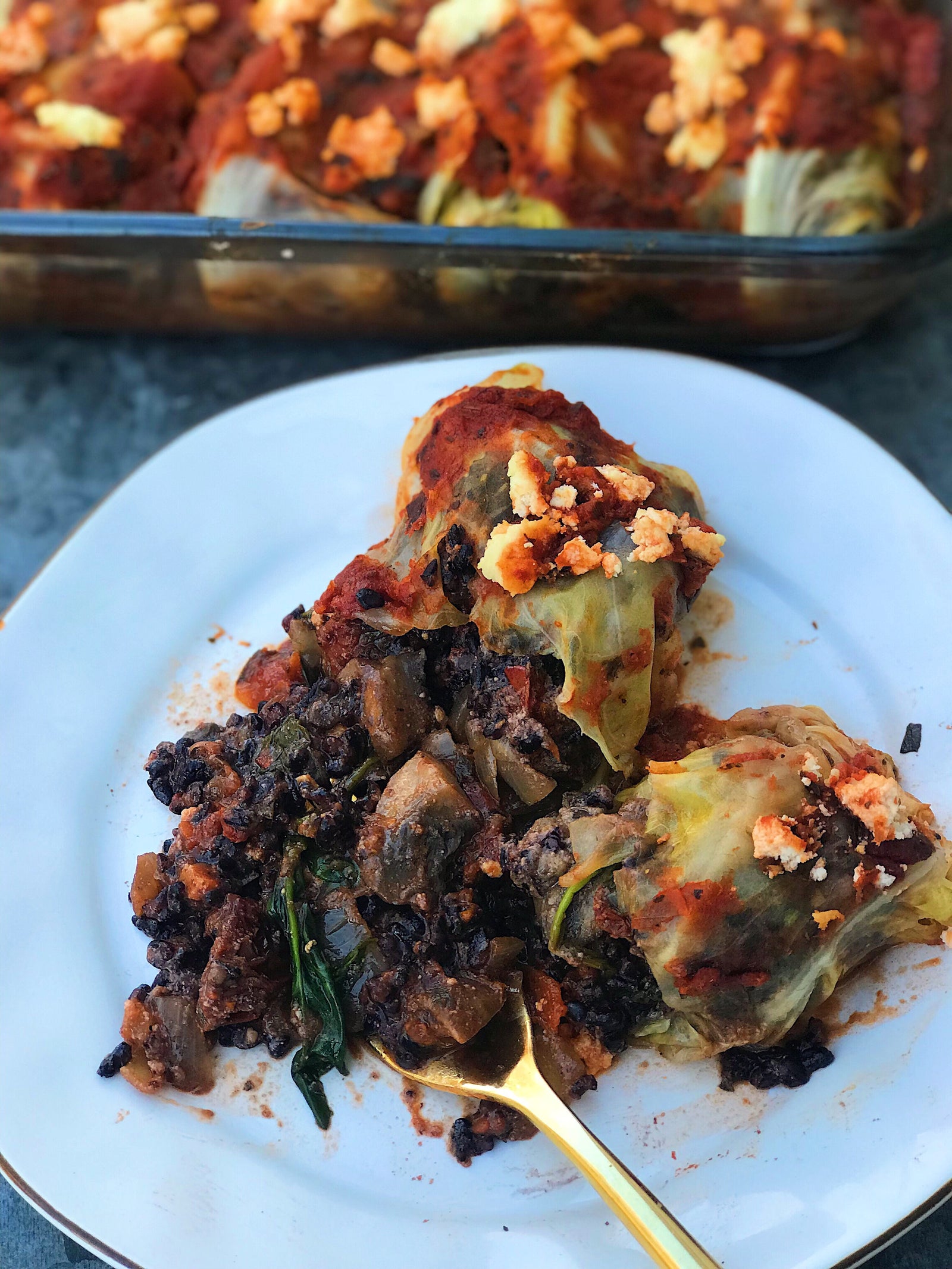 MUSHROOM + BLACK RICE STUFFED CABBAGE ROLLS
It is crazy to me how much weather affects my appetite. As soon as the temp drops my body CRAVES hearty, warmth, and satiating meals and for some reason, today CABBAGE was my solution. 
I have always loved "roll-up" dishes… I mean who doesn't love a packed burrito? Its like a flavor bomb surprise for your taste buds. These rollups though, filled with savory black rice, meaty mushrooms, tart sun-dried tomatoes, and sweet (vegan) ricotta cheese, are something to experience.
I always wish so badly I could somehow transmit through my phones ( this will probably happen one day ) the way these dishes smell when being cooked. It will take the mind ( and tastebuds) straight to the streets of Italy! My goodness it was something special. 
Good news is you can experience It to! 
I n g r e d i e n t s 
1 cup cooked forbidden black rice ( any rice will do ) 
1 large head savoy cabbage, leaves removed ( I got about 10 large leaves)  
1 yellow onion, diced
2-3 cloves garlic, minced 
8oz. Baby Bella mushrooms, chopped
1/2 cup sundried tomatoes, sliced 
3 cups spinach 
1/2 tsp dried thyme 
1/2 tsp dried basil 
Few shakes crushed red pepper
1/2 tsp Himalayan sea salt 
1/4 cup + 2 tbsp ( divided) ,vegan ricotta cheese ( I used Kite Hill ) 
About 2 cups your favorite marinara sauce
D i r e c t i o n s 
Cook the rice according to instructions! You can have this already cooked if you want to cut down on prep time!
Preheat oven to 350F and prepare a 9x13 baking dish by coating the bottom with about 1/2 cup of your marinara sauce, spreading evenly. Set aside. 
Heat a tbsp olive oil in a large skillet. Add your onions and saute until translucent, about 5-7 minutes. Add your garlic, mushrooms, sun-dried tomatoes, basil, and thyme. Saute for another 5-7 minutes. 
Add 1/2 cup of your  marinara sauce and your cooked rice and saute another few minutes until all warmed through. Turn off heat and add your spinach + sea salt.  Stir until all is incorporated. Your spinach should shrink due to the internal heat.  
Lastly add your 1/4 cup ricotta cheese into mixture, stir to combine. Set aside while you prepare your cabbage. 
Add your cabbage leaves to a large bowl. Boil enough water to cover the leaves. Once water is boiling pour into the bowl to cover the leaves. Let sit 10 minutes. 
Using a clean counter top, plate, or cutting board, drain your cabbage and shake off excess water. Lay fat on your surface.
Scoop about 1/3 of your mixture into each cabbage leaf and roll like you would a burrito, tucking in the sides as you roll. 
Place each into your dish side by side. Lastly pour another 3/4 - 1 cup of your marinara sauce over the tops of the cabbage rolls. Sprinkle the last 2 tbsp ricotta cheese on top. 
Bake for about 30-35 minutes or until all cooked through and sauce on bottom is bubbling. 
Serve immediately. Leftovers will store in a sealed container for 3-5 days in refrigerator. 
Enjoy!