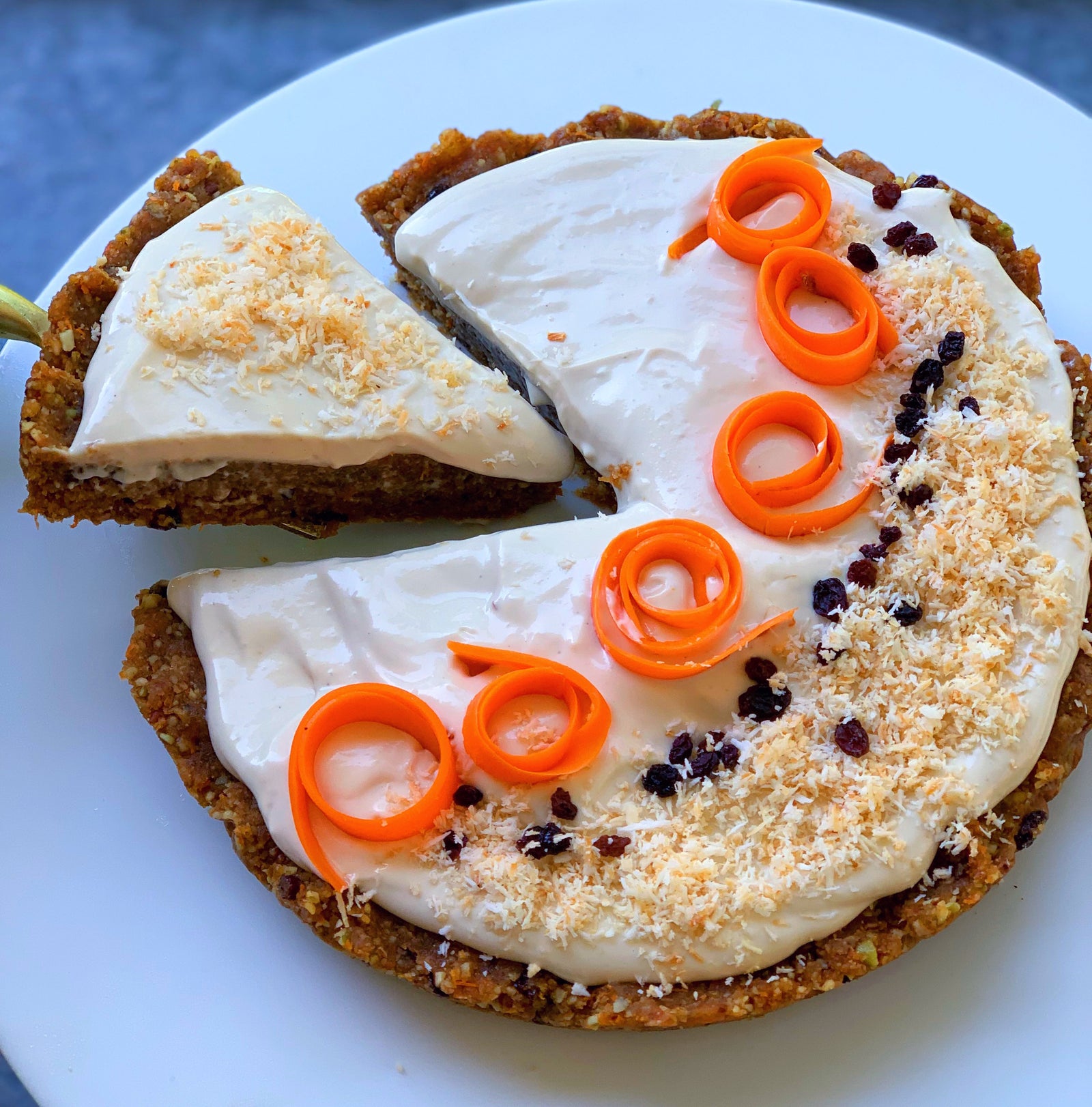 NO-BAKE CARROT CAKE w/ MAPLE BUTTERCREAM ICING
What is the first thing your family does when they come to visit? It literally takes 30 seconds for mine to look in the fridge and say "so what did you test this week?"
Lucky for them this weekend it was this 'No Bake Carrot Cake with Maple Buttercream Icing.'  My love of carrot cake is pretty evident I would say, but I am pretty proud of this creation.
And clearly so were they bc its no longer here. Every dang crumb. Gone.
Ill let that serve as your rating for this sweet creation, including my very much not plant-based little brother's response – "wow, can I take this home." When I win him over, theres not much more to debate.
I didn't tell anyone it only took 30 minutes from start to finish… but who needs to know those details. Bottom line... you need this in your life.
Happy Sunday friends!!
I n g r e d i e n t s
D r y
3/4 cup pecans
1/2 cup pistachios  
1 cup almond flour
1/3 cup coconut flour
1/4 tsp ginger
2 tsp cinnamon
Pinch nutmeg
1/4 tsp Sea salt
W e t 
15 medjool dates, de-pitted (make sure they are squishy and not dry) 
2 tbsp cashew butter
1.5 tsp vanilla 
1 tbsp water
3/4 cup carrots, grated 
1/4 cup currants
Cashew Icing 
1.5 cup cashews ( soaked for a minimum of 4 hours) 
1/2 cup full fat coconut milk ( from a can, if separated, blend prior to making) 
3 tbsp maple syrup 
1.5 tsp vanilla extract 
2 tbsp lemon juice 
1/4 tsp sea salt 
Blend all of your icing ingredients in a high speed blender, until completely smooth and creamy, no clumps. Transfer to a container and refrigerate for an hour or more so it "sets". 
Line a cake pan with parchment paper so that you are able to easily lift the cake out of the pan when you finish.
Add your almond flour, coconut flour,  ginger, cinnamon, nutmeg, and sea salt into a large bowl. Whisk well. 
In a large food processor add your pecans and pistachios. Pulse a few times until they resemble large crumbles. Pour the nut crumbles into the bowl with your dried ingredients and whisk in. 
Now add your dates, cashew butter, and vanilla into the food processor. Process and blend until small bits remain or a ball forms. 
To the food processor, add in all your dry ingredients and your 1 tbsp water. Pulse a few times. Scrape down the sides and then add in your carrots and currants. Pulse in increments until a loose dough forms and the carrots are incorporated but not over blended. You're looking for a dough, not a purée.
Press your dough into your cake pan, working to press it into an even layer. Place cake in freezer for one hour.
Remove from your freezer and spread on your icing. Serve immediately, or cover with saran wrap and store in freezer. When ready to serve allow to thaw before slicing and eating!