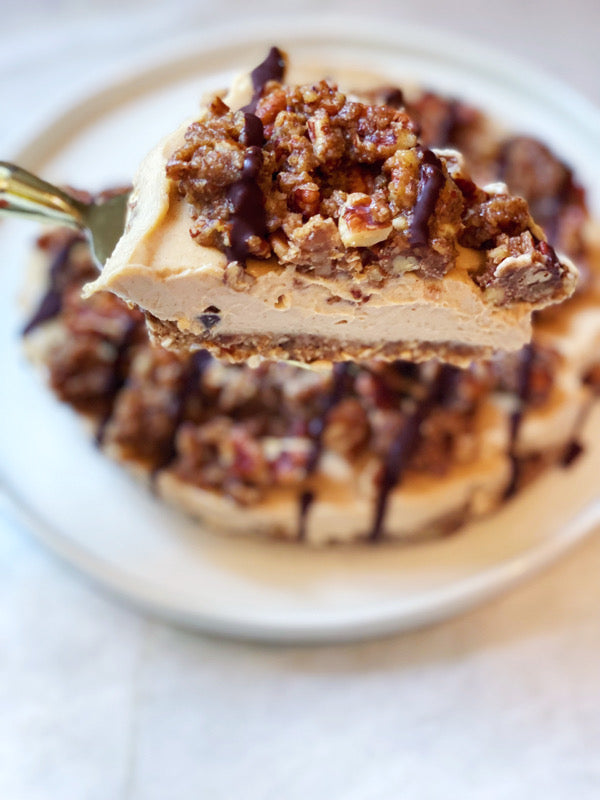 No-Bake Pecan Pie Cheesecake
You know what my favorite part about this cheesecake is? The option to serve it with a warm sugar pecan crumble ( y'all know how I feel about hot/cold combos).

It's almost like pecan pie á la mode but reversed. 

This dessert will cool you off and spice things up all at the same time... a perfect summer treat!


PECAN PIE CRUST
3/4 cup toasted pecans 

1/2 cup gluten-free oats 
1/4 cup oat flour 
4 Medjool dates ( pitted ) 
3 tbsp coconut oil, melted 
1 tbsp maple syrup
1 tsp vanilla extract  
1/2 tsp sea salt 
CHEESECAKE FILLING
1 cup raw cashews ( soaked overnight) 
1 can full-fat coconut milk ( refrigerated overnight ) 
1/4 cup maple syrup 
2 tbsp almond butter
5 Medjool dates ( pitted) 
3 tbsp lemon juice, fresh squeezed
3 tbsp coconut oil, melted 
sea salt
PECAN PIE TOPPING
1 cup toasted pecans
2 tbsp coconut sugar
2 tbsp maple syrup 
2 tbsp coconut oil 
3 tbsp oat flour 
1 tsp vanilla extract 
sea salt
OPTIONAL
Chocolate Drizzle 
Serves
8 slices 
Equipment:
Food processor
High Speed Blender 
Saute Pan 
Cake Pan 
NOTE: If your dates are not sticky soak them in hot water for 10 minutes prior to making this recipe. Rinse and pat dry before use. 
Let's start with our crust. 
Line a cake pan with parchment paper. 
Add your pecans, oats, and oat flour into a food processor and pulse until you get a large crumbly texture. Add the rest of your ingredients and pulse until you get a sticky crust. 
Press mix into the parchment paper until you get an even layer and pinch up the sides slightly to give your crust an edge. 
Place in the freezer while you prepare your filling. 
Drain your cashews and pat dry. Add them into your blender. 
Turn over your coconut milk can and open the bottom. Pour out any liquid. Now scoop all the fat from the bottom of the can and add all hardened cream into the blender. Add all remaining ingredients into the blender. 
Blend on high for a few minutes, scraping down sides as needed. You want your filling extremely creamy. Blend until there are zero clumps. 
Taste and adjust any flavors. 
Pour your filling over your crust and place back in the freezer to set for a minimum of 4 hours. 
When ready to serve, prepare your topping. 
Add your pecans to a saute pan over low heat and begin to toast them. Once they become fragrant add all other ingredients. Mix well with a spatula. 
Turn off the heat and continue to stir for a minute more or until the liquid is soaked up by the pecans and oat flour. Add more oat flour as needed. This should resemble a "crumble" in texture. 
If serving your topping hot, slice your cheesecake first. Then add topping to each individual piece once plated. Here is where you would add a drizzle of melted chocolate. 
If serving your topping chilled— spread topping over the entire cheesecake. Add your drizzle of melted chocolate. 
Place back in freezer for thirty minutes to set. Slice and serve.