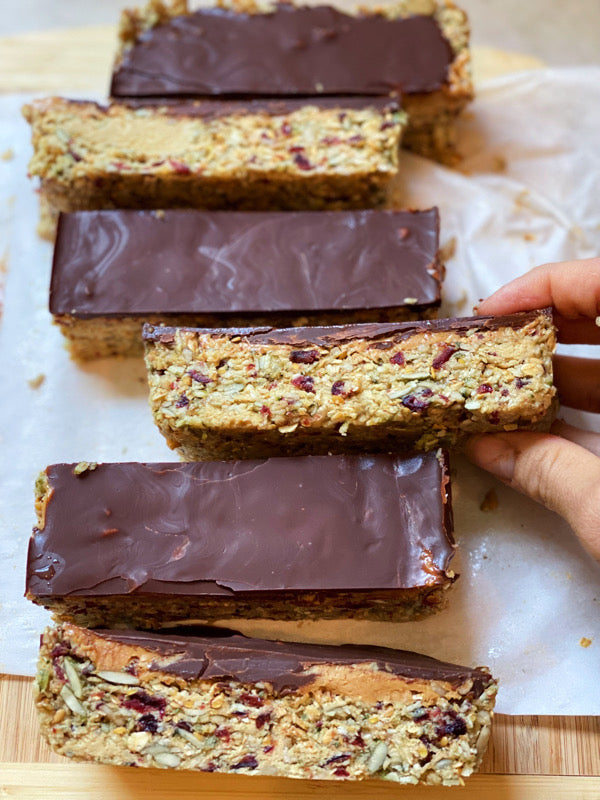 How to get your kids to eat nuts, flax, and chia seeds? Add a layer of peanut butter and chocolate. These are so delicious, they might not want to share! Even better, they boast omega-3s, antioxidants, and some incredible plant-based protein. If you want it all in a sweet treat, these are for you and your family! 
Switch it up with different nuts and seeds, swap cranberries for chopped dates, instead of tahini use cashew butter – you get the idea, make it your own! 
Dry
½ cup pumpkin seeds
½ cup gluten free oats
½ cup sunflower seeds 
½ cup coconut shreds 
1/2 cup dried cranberries/raisins/chopped dates
¼ cup flax seeds 
¼ cup hemp seeds
½ tsp sea salt 
Wet
¾ cup tahini ( smooth and runny works best) 
¼ cup honey 
2 tsp vanilla extract 

Layers
⅓ cup peanut butter (smooth and runny)
1/3 cup chocolate chips 
1 tbsp coconut oil 
Line a loaf pan with parchment paper.
In a food processor pulse your pumpkin seeds until slightly broken up. Add in your oats, sunflower seeds, coconut shreds, flax seeds, hemp seeds, and sea salt. Pulse a handful more times. Add all ingredients into a large bowl. 
Add your tahini, honey, and vanilla extract. Mix well with a spatula or a large spoon. 
Press the mix into your loaf pan. Important: press the mix firmly into your loaf pan until no air pockets remain. Should be nice and compact. Place the loaf pan in the freezer to set for 10 minutes. 
In the meantime prepare your chocolate. 
Add your chocolate chips and coconut oil to a microwave safe bowl. Microwave in 30 second increments ( stirring in between each microwave session ) until completely melted. 
Remove the loaf pan from the freezer. Carefully spread on your layer of peanut butter. Now pour on your layer of chocolate and spread evenly on top of peanut butter. 
Allow bars to set in the freezer for a minimum of 3 hours. When ready to slice, run a sharp knife under warm water. This will help the chocolate stay intact. 
Store in the freezer.