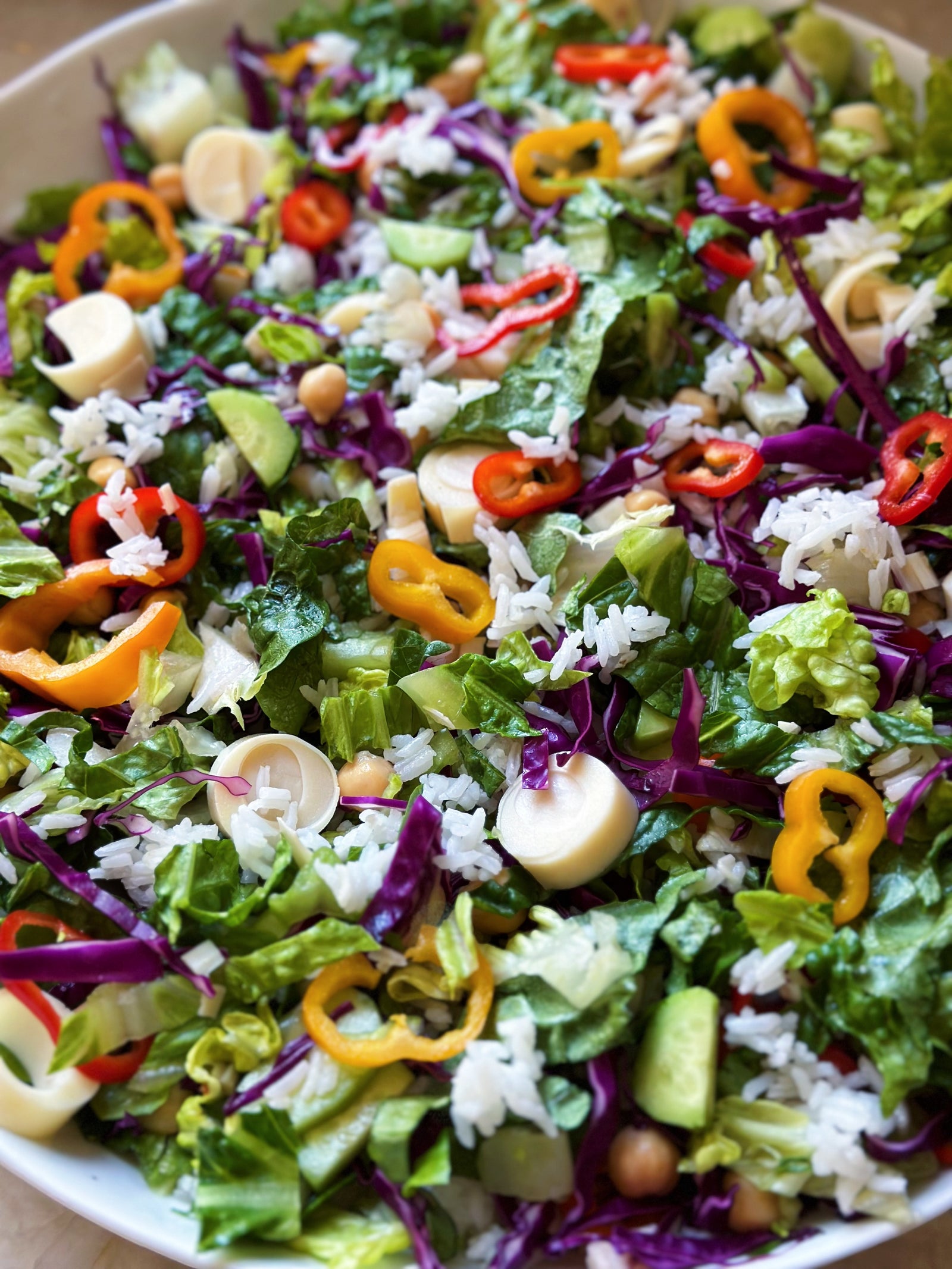 Not Your Average Weekday Salad
When you want something nourishing for dinner but you're tired... When you are craving something healthy but aren't super comfortable in the kitchen... When you want to take an impressive salad to girls' dinner but you are strapped for time... 
In all of the above situations ... INSERT THIS SALAD. 
She is colorful, she is bright, she is nutrient packed, she is delicious, and she is incredibly easy to make. 
Let's just say it took me more time to snap and edit these photos than it did to actually whip this one together. 
I dare you to only eat salads that make you do a little dance with every bite and I promise this simple one will be at the top of your list. 
Serves4+
Equipment
stove 
rice pot 
Dressing 
1/3 cup olive oil
3 tbsp red wine vinegar
1 tbsp lemon juice
1 teaspoon Dijon mustard
Himalayan sea salt ( get generous here, I usually do 1/2 tsp )
freshly ground pepper
Salad 
1 cup cooked jasmine rice, slightly cooled
1 large head romaine, finely chopped
1/2 red cabbage head , finely sliced
2 carrots , peeled and diced
1 large cucumber, peeled and sliced
6 mini peppers , sliced ( 1 large bell pepper works too!)
1 cup chickpeas, cooked or canned
1 cup hearts of palm, sliced
1/2 large red onion, diced
Optional Add Ons:
Avocado
Tempeh
Protein of Choice
If you have not already prepared your jasmine rice, do so now according to package instructions.
Prepare your dressing. In a small bowl whisk together olive oil, vinegar, lemon, and Dijon mustard. Season to taste with salt and pepper. Set aside. 
Add all salad ingredients into a large bowl, including your rice. 
Mix well. 
Add desired amount of dressing and toss. Taste and add more salt and pepper to preference.