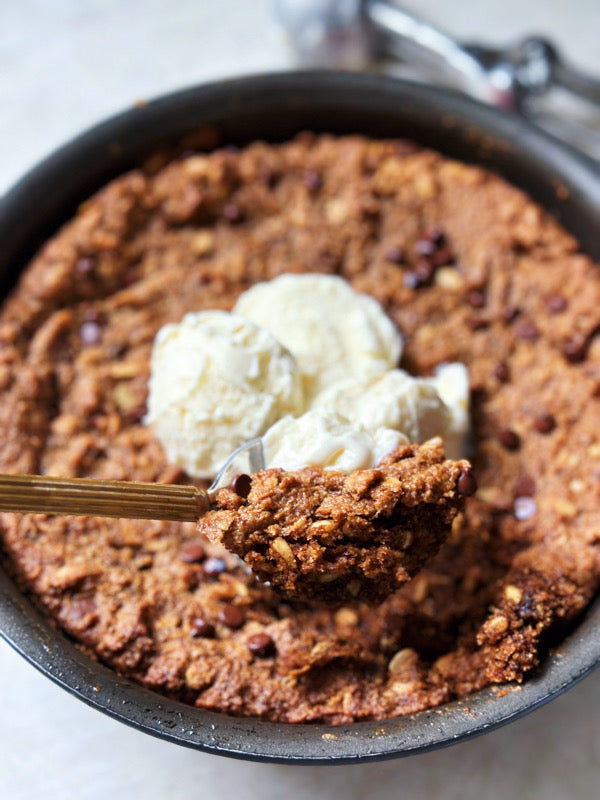 Skillet Oatmeal Chocolate Chip Cookie
What's better than a batch of warm cookies? One big, melt-in-your-mouth, gooey, melty oatmeal chocolate chip cookie. Straight from the oven. Grab your spoon, a few scoops of ice cream, and dive into heaven. 
This is one of those desserts you will make over and over again. It is perfect for a girls night, birthday party, or Wednesday night craving. You can have it on the table in 30 minutes and it will make everyone sing. 
Enjoy! 
*this recipe was inspired by a recipe from Bakerita 
Equipment 
6" or 8" oven-safe skillet 
Servings 
6 
Ingredients 
1/4 cup coconut oil , room temperature 
1/3 cup almond butter ( sub peanut butter if you prefer ) 
1/3 cup coconut sugar 
2 tbsp maple syrup 
1.5 tsp vanilla extract 
1/3 cup oat flour 
1/3 cup gluten free oats
3 tbsp coconut flour 
1/2 tsp baking soda
1/4 tsp sea salt 
1/3 - 1/2 cup chocolate chips ( measure with your soul ) 
Preheat oven to 350 F and grease your 6" or 8" oven-safe skillet with coconut oil. 
Add your coconut oil, almond butter, and coconut sugar into a bowl and beat with a hand or stand mixer until smooth and creamy. 
Add in your maple syrup and vanilla. Mix until smooth. 
Add your oat flour, oats, coconut flour, baking soda and sea salt. Mix until your batter is smooth with no clumps. 
Stir in your chocolate chips. 
Spread dough into your pan evenly and bake for 20-22 minutes. 
Allow to cool for 5 minutes and serve warm ( a la mode preferably!)