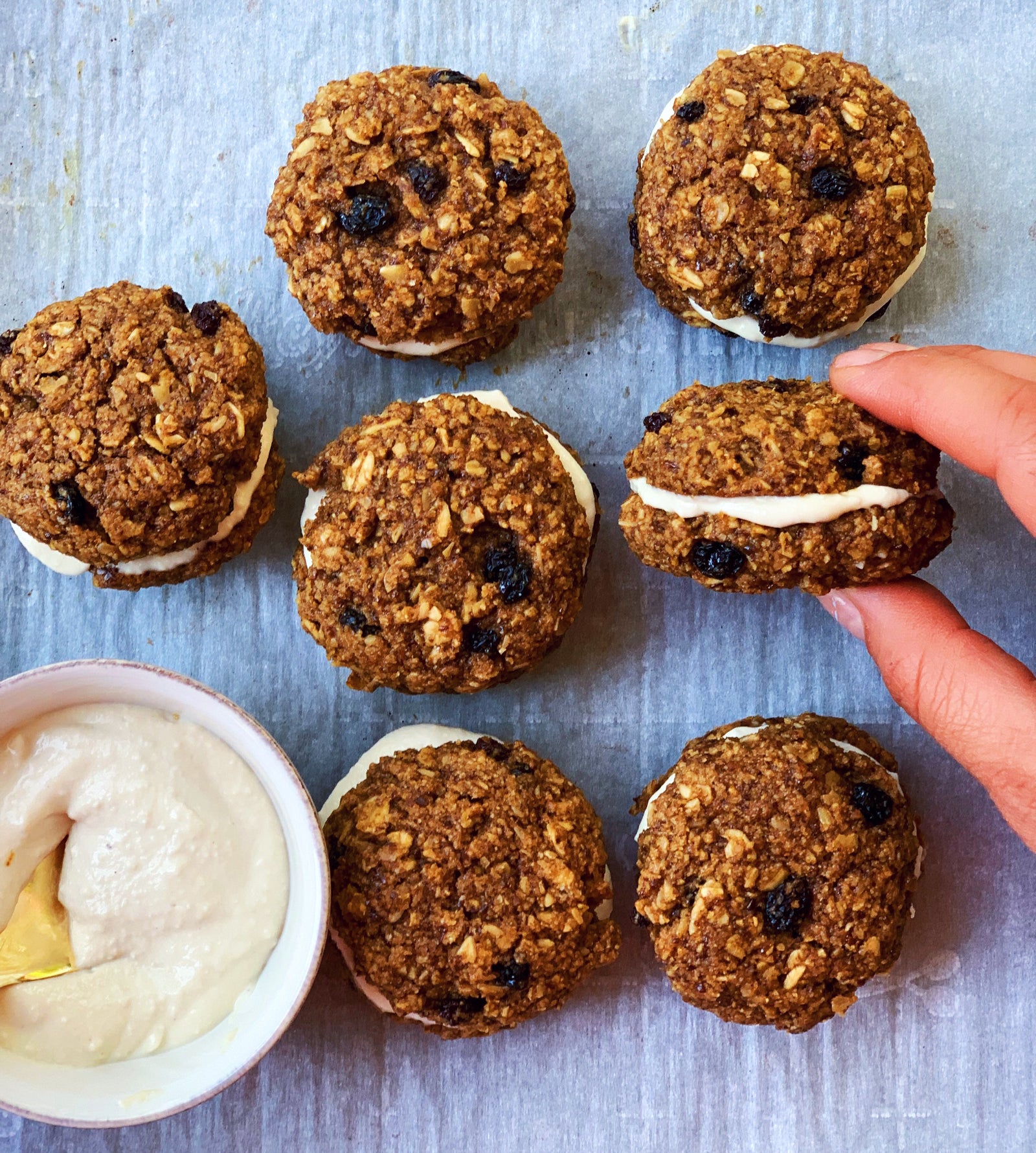 Im not going to lie, I was not a chocolate girl growing up. I remember asking my mom to make chocolate chip cookies without the chips. Those times have changed. But what hasn't changed is my love of oatmeal raisin cookies. Chewy, gooey, melt in your mouth oatmeal raisin cookies.
 Again, I would still eat around the raisins (this hasn't changed) so I used currants instead here, which was a fabulous choice. This TRULY is my favorite cookie I have ever created.
 I took it one step further on the nostalgia train and used the cookies to make Oatmeal Crème Pies. I know, just the name brings back memories. It's not a must by any means, these cookies are a star on their own, but I do highly recommend it.
Get ready to make some new memories, for you and your tastebuds!
I n g r e d i e n t s 
Wet
2 flax eggs ( 2 tbsp flax meal + 5 tbsp water)
1/3 cup coconut sugar
2 tbsp maple syrup
1 tbsp molasses
2 tbsp applesauce
3 tbsp ghee or coconut oil, melted
Dry
1 cup GF oats 
1/2 cup GF + 2 tbsp oat flour ( blend your oats in a blender until a smooth flour consistency )
1/2 cup almond flour
¾ tsp cinnamon
½ tsp sea salt
½ tsp baking soda
½ tsp baking powder
 Other: ¼ cup currants or raisins
FILLING
1 cup cashews ( soaked in water minimum 4 hrs, after soaked yields 1.5 cups)
½ cup coconut or almond milk
¼ cup coconut shreds
1.5 tbsp lemon juice
2 tbsp maple syrup
1.5 tsp vanilla extract
Pinch sea salt
D i r e c t i o n s 
Prepare your filling first. This can be made ahead of time so it has time to chill in your fridge. Combine all ingredients into your blender. Blend until smooth and creamy. Scrape down the sides as needed until you get a smooth and creamy icing! Transfer to a container and let sit in the fridge at least an hour before using. It will continue to thicken as it chills.
Preheat your oven to 350F. Line a baking sheet with parchment paper. Prepare you flax eggs in a small bowl.
In a mixing bowl add all your dry ingredients and whisk to combine. In another large mixing bowl, add all your wet ingredients (minus your flax eggs). Whisk until all combined. Now whisk in your flax eggs.
Fold your dry ingredients into your wet, until all is mixed. Now fold in your currants.
 Roll your dough into ping pong sized balls, and then flatten into a cookie, about an inch thick. Repeat until there is no batter left.
Bake for 12 -14 minutes or until golden brown. Allow to cool for 10 minutes before eating and COMPLETELY before icing!