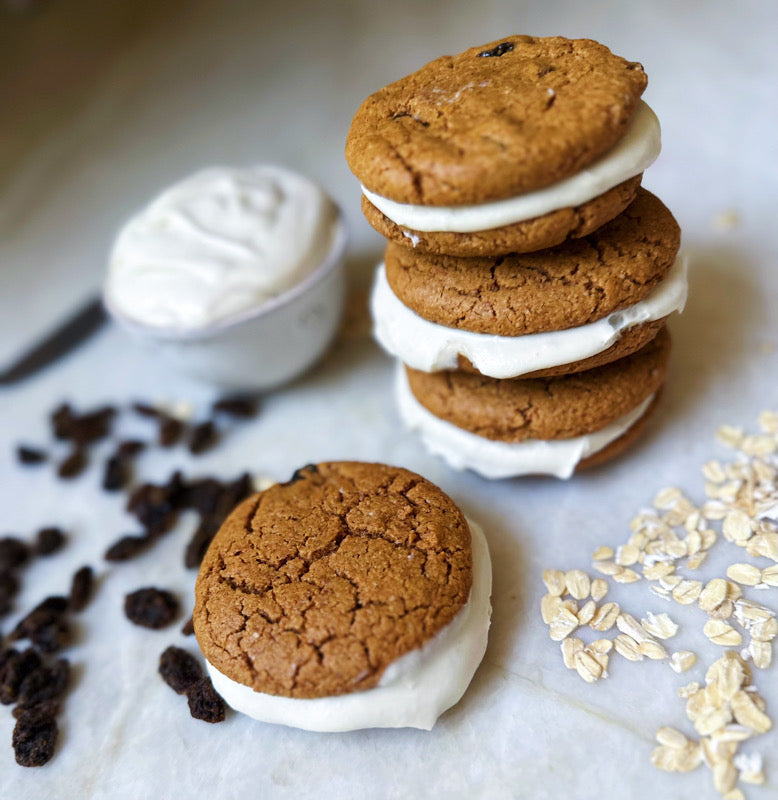 I may be alone here, but I would choose a warm oatmeal cookie over a chocolate chip cookie any day of the week. Growing up I was not a chocolate lover, but I was certainly a lover of sweets, and oatmeal creme pies were at the top of my list. 
Something about a layer of icing slathered between two freshly baked cookies just always seemed like a good idea. Still does. 
This remake of the Little Debbies Oatmeal Creme Pie will send your tastebuds right back to childhood, and hopefully raise the bar and create a new nostalgia for any creme pie going forward! 
Icing 
1 full-fat can coconut milk, refrigerated overnight 
1/2 cup cashews, soaked overnight in water 
1/3 cup cashew yogurt, unsweetened 
2 tbsp maple syrup 
1.5 tsp vanilla extract 
Pinch sea salt 
Oatmeal Raisin Cookies 
1/3 cup almond butter, room temperature 
1/3 cup coconut sugar 
2 tbsp maple syrup 
2 tbsp unsweetened almond milk 
1 tbsp molasses
1.5 tbsp melted coconut oil 
1.5 tsp vanilla extract 
1/2 cup oat flour
1/2 cup almond flour 
1/2 tsp cinnamon 
1/2 tsp baking soda
1/2 tsp baking powder 
1/4 tsp ginger 
1/4 tsp sea salt 
1/3 cup raisins or currants or chocolate chips if you are feeling crazy 
Prepare your icing first since the longer it solidifies in the refrigerator, the better! 
After refrigerating overnight, open the coconut milk can and scoop out only the hardened cream into a high-speed blender, leaving behind any liquid in the can. Save the liquid for smoothies or another recipe! 
Drain and rinse your cashews and add them to the blender along with yogurt, maple syrup, vanilla, and sea salt.
Blend on high until super smooth and creamy. Add icing to a sealed container and refrigerate for a few hours. If short on time, freeze the icing for one hour and then move to the refrigerator. 
Preheat oven to 350F and line a baking sheet with parchment paper. Set aside. 
Whisk together almond butter, coconut sugar, maple syrup, unsweetened almond milk, molasses, coconut oil, and vanilla extract. 
Stir in oat flour, almond flour, cinnamon, baking soda, baking powder, ginger, and sea salt. 
Once mixed fold in your raisins or chocolate chips. 
Scoop the batter and roll into balls. Slightly flatten the balls with your fingers to form a cookie shape. Keep in mind the cookies will expand! 
Bake for 10-12 minutes ( if making smaller cookies check them around 7-8 minutes ) and remove from oven. Allow to completely cool before applying the icing. 
Layer each oatmeal cream pie with the desired amount of icing and top with another cookie. Savor and enjoy! Store any leftovers in the refrigerator.