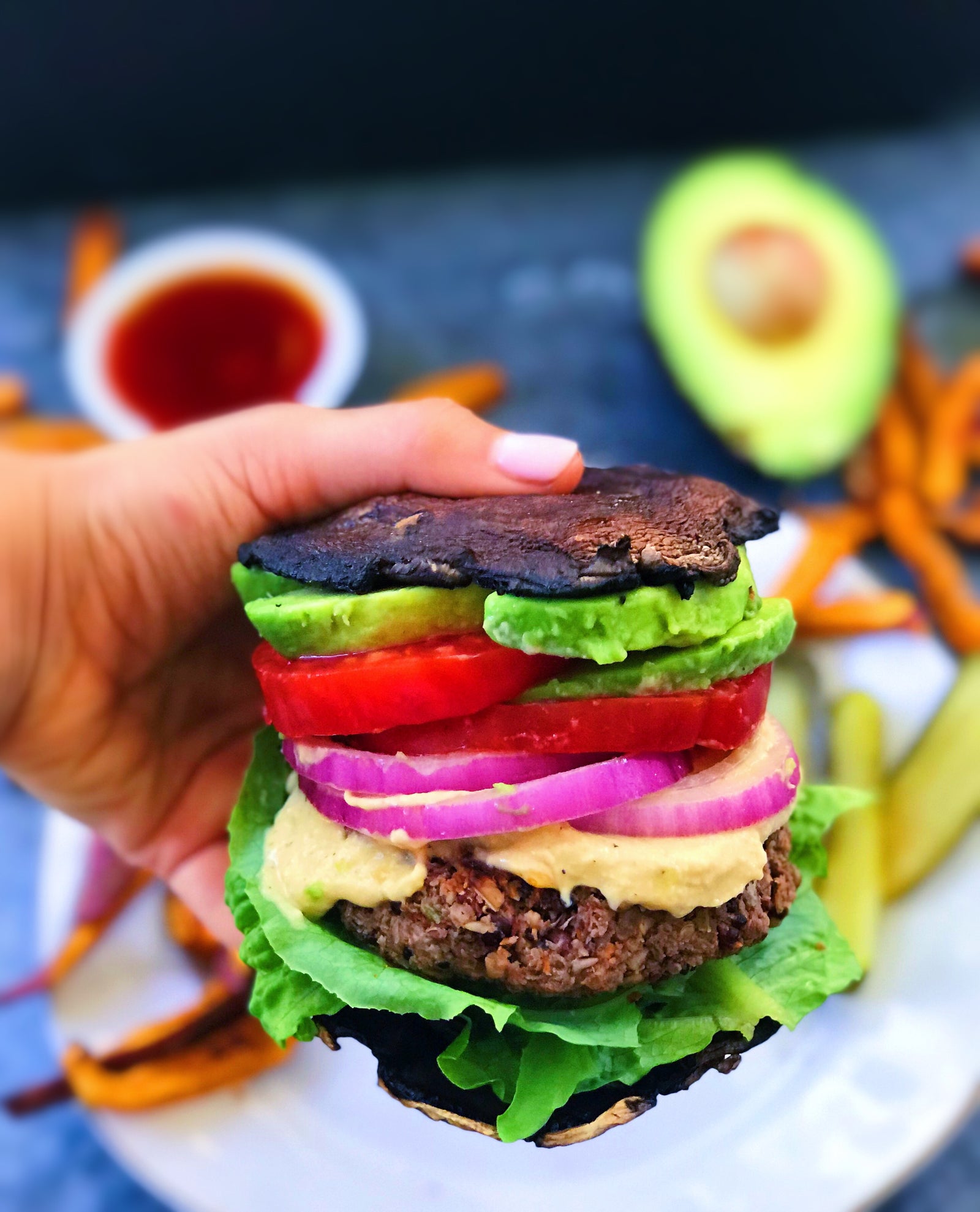 The OG of Black Bean Burgers

Why is eating something bigger than your head so satisfying?? I dk either, but this black bean burger requires a mouthful & in the best way possible.

I tested and tested this baby and yall.. FINALLY, I got it just right. Something about the combo of mushrooms, black beans, quinoa, fresh veggies, and all the good spices take this recipe to a "burger" worthy status.

These take a little prep work in the kitchen but they stay good for over a week and the mix can be frozen! You can even make them in the afternoon and then fry them up like I did!

My fave burger combo —> two grilled portobello mushrooms for my bun, romaine, heirloom tomato, red onion, spicy hummus, avocado, drizzle of siracha. It was PERFECT!

Your turn.

I n g r e d i e n t s 
1 15 oz. can black beans, rinsed, pat dry.
1 flax egg
1/2 large red onion, diced 
2 garlic cloves, diced 
1/2 cup shredded carrots, diced
1/2 cup celery, diced
1 8oz container (about 12) baby bella mushrooms, diced
1/2 cup sunflower seeds
1/2 cup walnuts 
1/2 cup almond meal 
1 tbsp flax meal

1.5 cups cooked quinoa
2 tbsp tamari / coconut aminos
2 tsp lemon juice

2 tbsp nutritional yeast
1 tsp cumin
1/2 tsp chipotle powder ( helps give smokey flavor)
1/2 tsp arrowroot powder
1/4 tsp paprika
1/2 tsp sea salt
few shakes pepper

D i r e c t i o n s 
Two cooking methods

1. "Frying" -- heat a generous amount of oil on a saute pan on medium-high heat. Once sizzling add your burgers and cook for 4-5 minutes on each side! Carefully flip. This is the method I used and you can really achieve that typical burger "sear."

2. Baking: on 375F on a parchment lined baking sheet for about 14-18 minutes on each side.

**Allow to cool before handling, they will firm up even more!
.
1. Prepare your flax egg (1 tbsp flax + 2 tbsp water) in a small bowl. Set aside. Mash your black beans with the back of a fork in a small bowl. Set aside. Have your cooked quinoa ready to go.

2. To make It easier on yourself go ahead and mix all your spices-nutritional yeast, cumin, chipotle powder, arrowroot powder, paprika, sea salt, pepper. Mix up!

3. In a food processor add your onion, garlic, celery, and carrots. Pulse a few times. Add in your mushrooms & pulse a few times until all is VERY finely chopped and melded together.

4. In a large saute pan warm a tbsp of olive oil on medium heat. Add your mix and stir. Saute about 5 minutes, stirring occasionally. While sautéing add your walnuts, sunflower seeds, almond meal, and 1 tbsp flax meal to food processor. Pulse until all looks like "breadcrumbs"

5. Add your nut breadcrumbs into your saute pan and stir very well. Now add your black beans, quinoa, flax egg, Tamari, lemon juice &spices. Continue to stir until the mixture gets very thick and difficult to mix.

6. Turn off stove. Allow to cool & refrigerate for at least 1 hour. This is what helps the burgers hold!

7. Once ready shape dough into small patties about 1/2" thick, 2.5 " in diameter! Really work the patties with your hands so that they are fully molded and holding well. I got 8 patties out of mine.

8. Refer to cooking methods above!