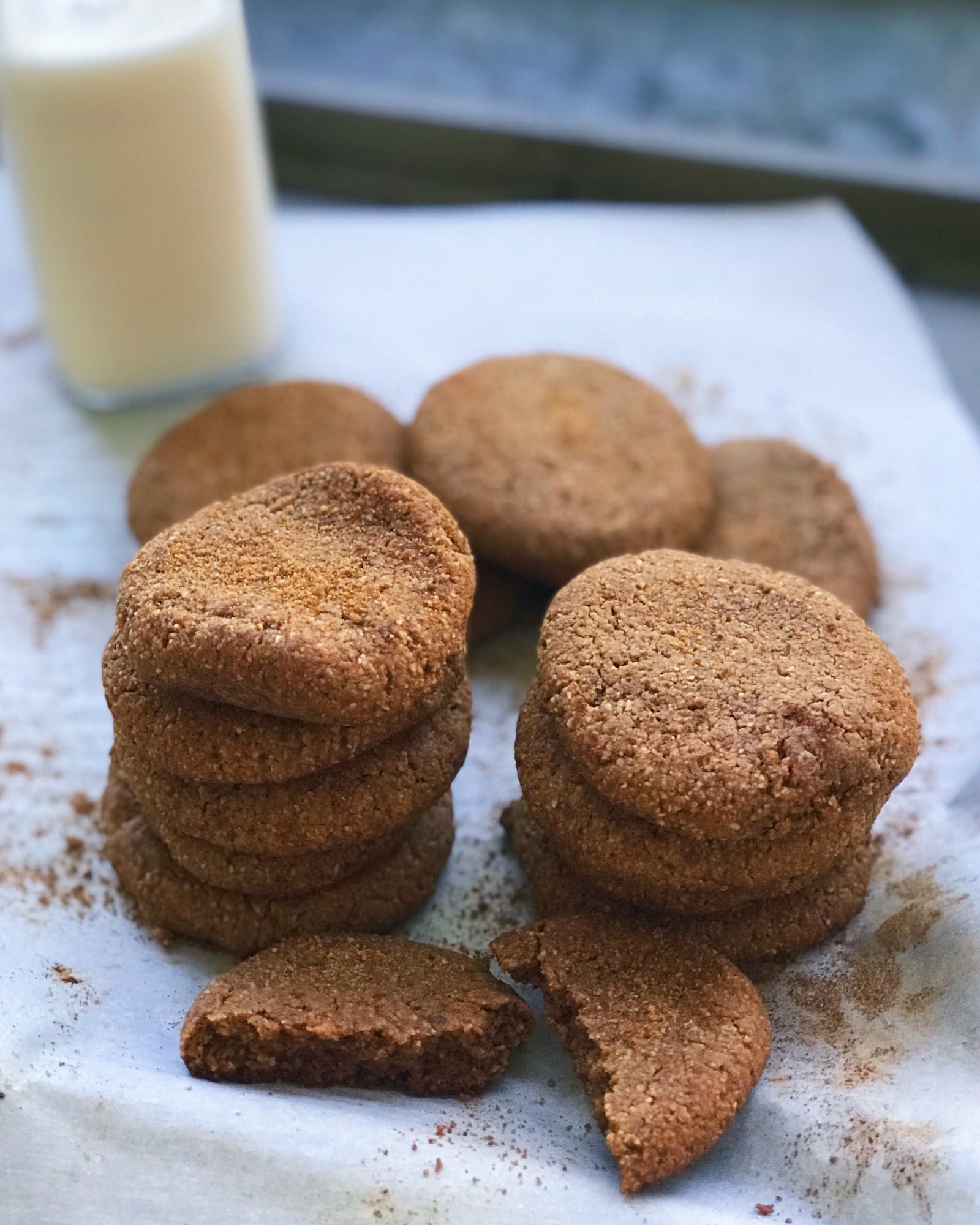 Oh SNAP.....

These gingersnaps are calling my name. And your name. And everyones name.

There was a time when I would eat gingersnaps every single day back in my middle school days, and it's safe to say my obsession is still live and well.
I wanted this cookie chewy on the inside, crisp on the outside, not overly sweet, and fragrant with ginger.

Mission accomplished 🙏🏻

I n g r e d i e n t s
1 flax egg (1 tbsp flax meal + 2.5 tbsp water)
1/4 cup cashew butter
1/4 cup + 1 tbsp coconut oil, melted + cooled
2.5 tbsp blackstrap molasses
2 tsp vanilla extract
2 tbsp aquafaba (liquid from a chickpea can, acts as a riser in vegan recipes)
1/2 cup coconut sugar
1 cup almond flour
1/4 cup coconut flour
2 tbsp tapioca flour
1 tsp ginger powder
1 tsp cinnamon
1/2 tsp all spice
1/4 tsp sea salt
1 tsp baking powder 
D i r e c t i o n s 
Preheat oven to 350F. Line a baking sheet with parchment paper.

Make your flax egg in a small bowl and set aside. .
In a large bowl add cashew butter, coconut oil, molasses, aquafaba, vanilla and whisk until no clumps. Add your coconut sugar and whisk in. Finally add you flax egg and whisk to fully combine.

Next add all other ingredients and stir until your dough is thoroughly mixed together.

Roll small bits of dough into ping pong sized balls with your hands. using your index + middle finger flatten each ball onto the baking sheet, about an inch thick. Repeat until no more dough.

Sprinkle a little more ginger + coconut sugar on each cookie for a pretty glazed top.

Bake for 15-18 minutes or until cookies are golden on top and bottoms are slightly brown. Watch them towards the end as they will burn easily!

Allow to cool completely so they can firm up! Store in a sealed container in the fridge.