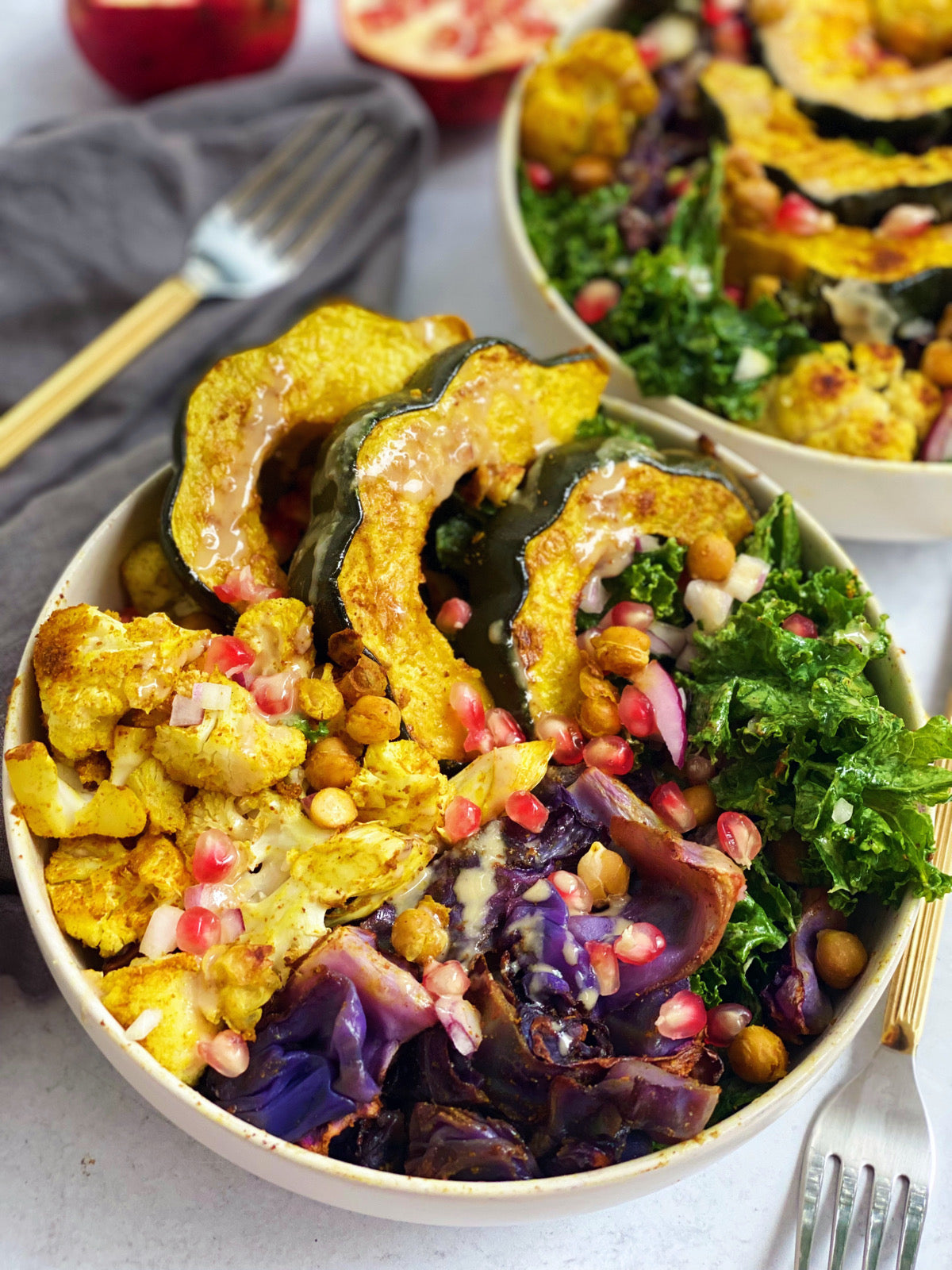 One-pan Curry Roasted Vegetable Bowl
Fall is here ( or trying to get here if you are in SC) which always means two things—our schedules begin to get busier and we start to crave warming foods.
This sheet pan meal is a remedy for both of these changes. It's a no-mess, no-fuss, quick , easy and ABSOLUTElY DELICIOUS meal.
I truly love knocking out dinner without having to think too much – and this one is customizable – swap out sweet potatoes, carrots, or brussel sprouts.
Serves: 2-3 Entrees
Ingredients
2 tbsp olive oil
1 delicata squash or acorn squash (sub large sweet potato )
1 can garbanzo beans, drained and rinsed
1 small cauliflower head or ½ large cauliflower head, cut into florets
1 small red cabbage head or ½ large red cabbage head, thinly sliced
¾ tsp sea salt
1 large bunch kale, destemmed and chopped ( about 6 cups if using bagged)
½ red onion, diced
Spice Mix
1 tbsp curry powder
½ tsp garlic powder
¼ tsp cumin
Maple Tahini Dressing
½ cup runny tahini
2 tbsp fresh lemon juice
2 tbsp maple syrup
½ tsp sea salt
(water to thin—see directions)
Additional toppings:
Grain - quinoa or brown rice
Avocado slices
Sriracha
Equipment
XL baking sheet or two average size 
Oven
Parchment paper
Salad/ mixing bowl
Directions
Preheat your oven to 425F. Line your baking sheet ( or two baking sheets ) with parchment paper.
Prepare your spice mix into a small bowl. Mix well. Set aside 
Cut your squash from stem to stem. Scoop the seeds out of the middle using a spoon or fork. Lay each half face down and slice each half into crescent moon strips ( about 1" thick). Lay these slices onto your baking sheet in one section.
Next lay your garbanzo beans, cauliflower florets and then red cabbage onto your baking sheet. Each ingredient should have a section.
Drizzle your olive oil evenly onto each section. Then sprinkle your salt evenly over each section.
Next sprinkle your spice mix evenly onto each section. Use your hands to toss each section (keep your sections separate) to fully coat with oil and seasonings.
Bake for 25 minutes, remove from oven. Stir each section-- stir your chickpeas and cauliflower, slightly toss your cabbage, and flip your squash over. Bake for an extra 18 - 20 minutes.
While your veggies cook, make your dressing.
Add your runny tahini, maple syrup, and salt into a mixing bowl. Whisk together. Add your lemon juice and whisk. Your tahini will start to seize up – so start by adding 1/3 cup cold water and vigorously whisk in.  Keep adding 1 tbsp water until you reach the thinness you want. Taste and adjust.
Prep your kale -- Add your shredded kale into a large mixing bowl. Add desired amount of dressing and massage kale with your hands or tongs until softened. Add your diced red onion and mix. Taste and adjust dressing amount and salt. Save some dressing for drizzling your bowls.
Build your bowls. Use your massaged kale as your base and then layer on your roasted ingredients. Drizzle your bowl with extra tahini dressing.