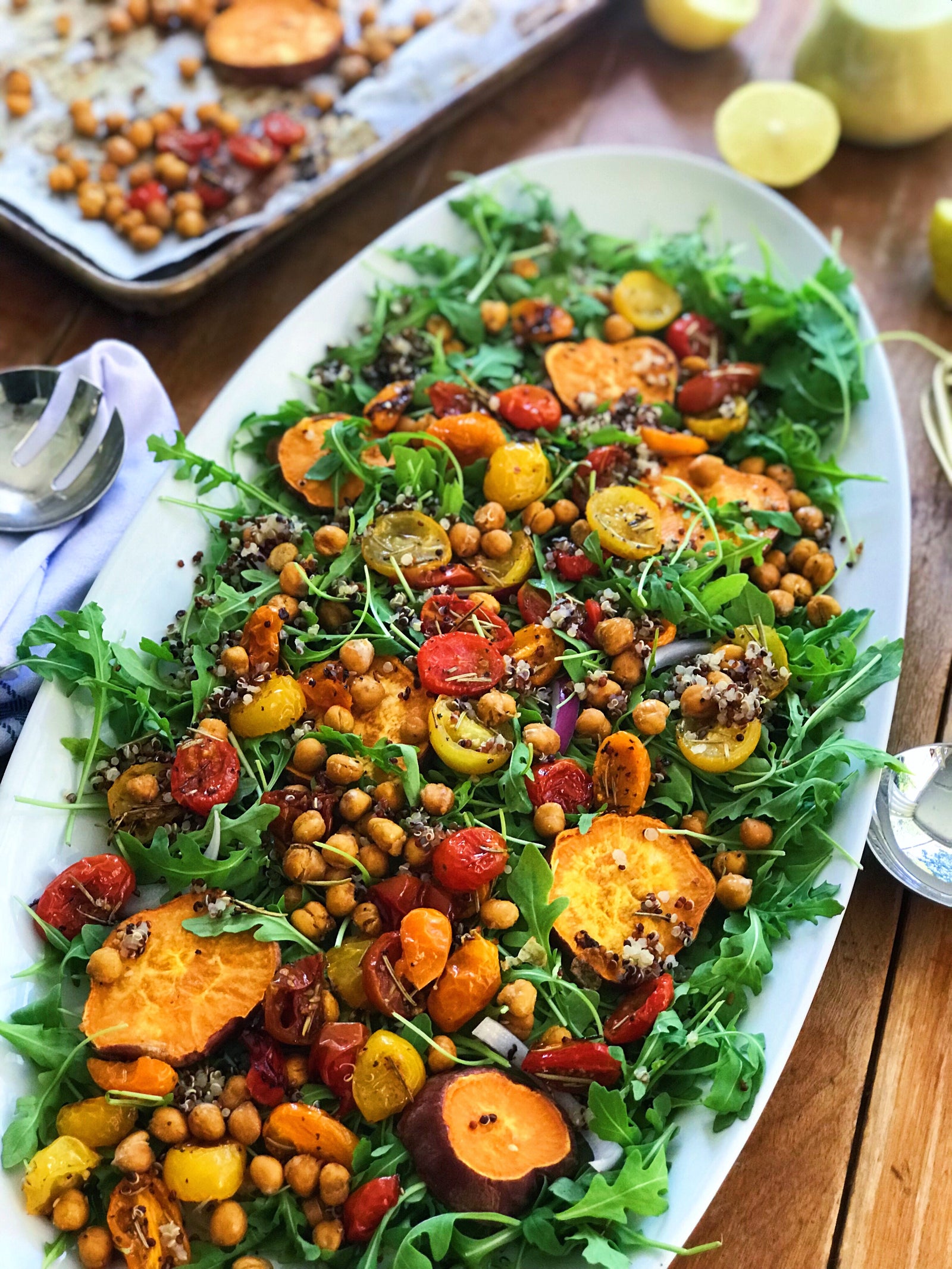 ONE-PAN SIMPLY RADIANT ROASTED SALAD
This "salad" is a beauty. Theres no dressing to whip up, no crazy ingredients or steps, and hardly any cleanup.

The blistering juicy tomatoes, golden sweet potatoes, and crispy chickpeas provide all the flavor that should be allowed in one dish. Take it back to the basics with this one, and fuel your glow from the inside out.
Simple is BEST. 
I n g r e d i e n t s 
1 can chickpeas
1 cup cooked quinoa (brown rice would work)
2 cups cherry tomato medley
1 small sweet potato
4-5 cups arugula, or any greens of your choice
1 large shallot or 2-3 scallions, diced
1 tbsp dried rosemary
1/2 tsp cumin
1-2 tbsp olive oil DIVIDED
1-1.5 tsp sea sea salt DIVIDED
fresh ground pepper
few shakes garlic powder ( opt: for chickpeas)
fresh squeezed lemon juice.
D i r e c t i o n s 
Preheat oven to 400F. Line two baking sheets OR 1 very large one with parchment paper. Be sure and cook your quinoa now if you haven't already.

Rinse, drain, and pat dry your chickpeas. Set aside. .
Slice your tomatoes in half & into a large bowl. Add 1 tbsp olive oil , rosemary , 1/2 tsp sea salt, few pinches of pepper. Stir and mix. Spread tomatoes out on your bakings sheet, making sure not to overcrowd them.

In the same bowl add your chickpeas, 1/2 tbsp olive oil, 1/2 tsp sea salt, 1/2 tsp cumin, few pinches pepper, few shakes garlic powder. Mix well.

Add your chickpeas to your baking sheet, making sure to spread out as well.

Lastly slice your sweet potato. Add to the same bowl and drizzle with a little olive oil (or use whats left in the bowl ) and add 1/4 tsp sea salt +few shakes pepper. Mix.

Spread the sweet potatoes on the other baking sheet.

Add all into oven and roast for 25-35 minutes ( shaking pans or stirring about halfway through ), Tomatoes should be blistering and juicy, chickpeas crispy, and sweet potatoes golden.

When done mix desired amount of roasted vegetables with your arugula + scallions or shallot, and your quinoa. Mix well and squeeze on fresh lemon + a drizzle more of extra virgin olive oil.  Add any more salt + pepper as desired.