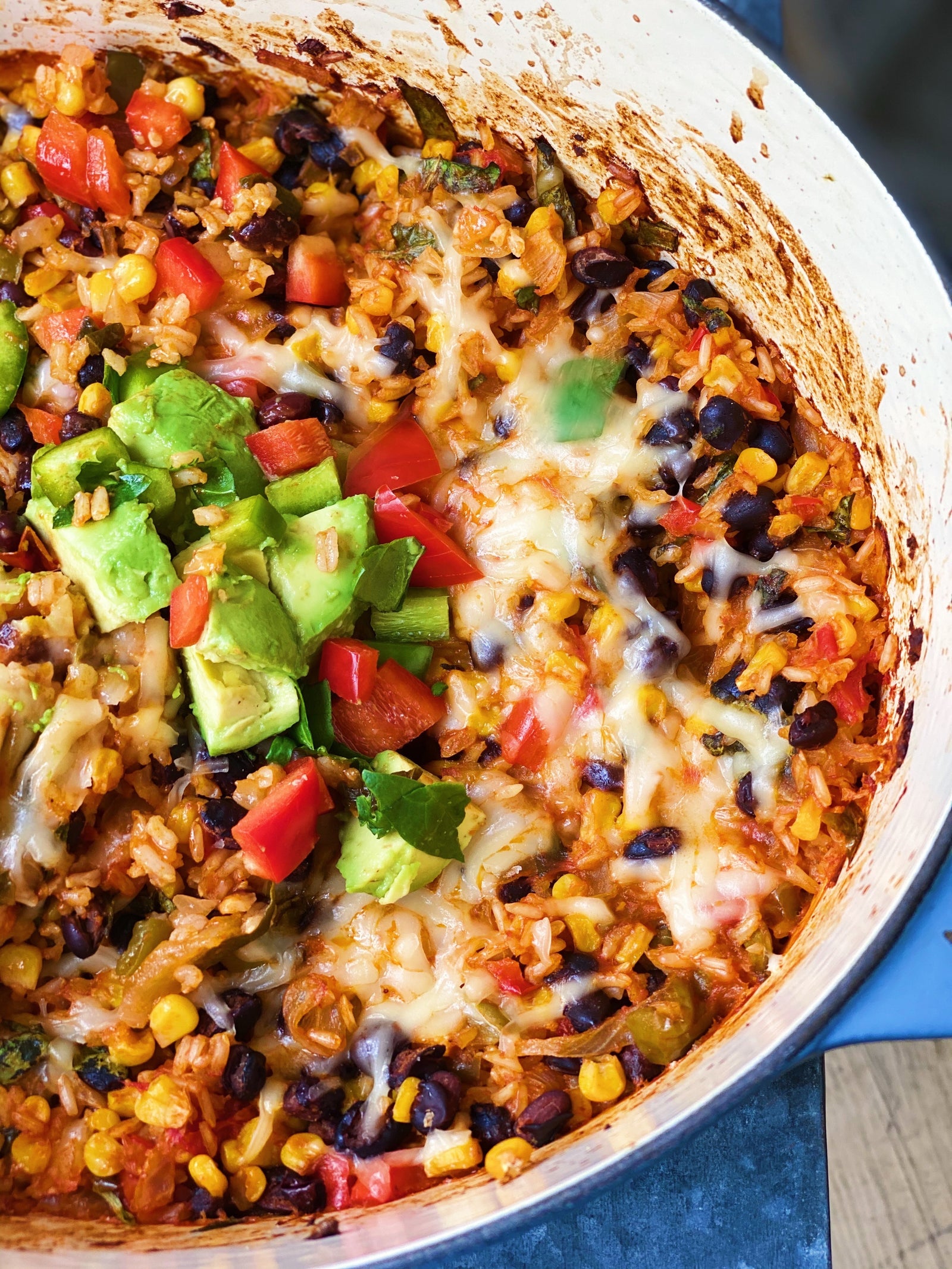 One Pot "Cheesy" Mexican (Brown) Rice
One pot. One mess. One delicious bowl of cheesy mexican rice!
Diced peppers, black beans, sweet corn, tomatoes, spinach, brown rice, and cumin all baked to golden goodness under vegan shredded mozzarella.
Top with your family's favorites-- I highly recommend avocado and crushed siete tortilla chips. But that's just me! 
I n g r e d i e n t s 
2 tbsp olive oil
1 yellow or sweet onion, diced
1 red pepper , diced
1 green pepper, diced
3 cloves garlic, minced
½ cup cherry tomatoes, diced and juice drained
1.5 tsp cumin
¼ tsp cayenne pepper
¼ cup tomato paste
1 cup brown rice, rinsed and dried
3 cups water
1 can black beans, drained and rinsed
1 can sweet corn, drained and rinsed
1 cup spinach, destemmed and finely chopped
1 tbsp siracha (optional)
1 tsp sea salt
2 tbsp fresh lime juice ( yielded from 1 lime)
1/2 cup violife shredded mozzarella cheese ( extra for serving) 
Toppings:
Leftover diced peppers ( see directions) 
Sliced Avocado
Cilantro
Extra Siracha
Extra Cheese 
Siete Tortilla Chips
Lime Slices
 D i r e c t i o n s 
Preheat your oven to 425 degrees. Make sure your brown rice is thoroughly rinsed and somewhat dry.
In a dutch oven (what I used) or oven safe large (and deep) skillet, heat olive oil over medium-high heat.  Be sure you use a skillet or dutch oven that has a top.
Once oil is warmed, add your onion and cook 4-5 minutes or until translucent. Add your garlic, ¾ of your diced red pepper and ¾ of your diced green ( you will save the rest for topping) , cumin, cayenne, and cherry tomatoes.  
Saute another 5 minutes. Scoot the vegetables to the side, and add your brown rice to the cleared space. Allow the rice to "toast" for 1-2 minutes. Once toasted, add your paste and mix all together, and saute another 2 minutes.
Add your water and mix all well. Bring your mix to a boil. Once boiling, allow to boil for 3 minutes, then cover with a lid, and turn heat to low. Allow the mix to simmer for 30 minutes. When you remove the lid after 30 minutes there should only be a tad more liquid left. If not, add the lid back on and simmer another 5 minutes until so. 
Turn off heat, remove your lid, and add your black beans, corn, finely chopped spinach, salt, siracha, and lime juice. Stir very well.
 Place carefully into the oven and set timer for 20 minutes. When ready remove from oven and add your "cheese." Place back into the oven for 10-12 minutes. Once cheese is melted , top is golden, and liquid is mostly gone, its ready! 
Remove from oven, allow to slightly cool. Once you serve add desired toppings from suggested list!