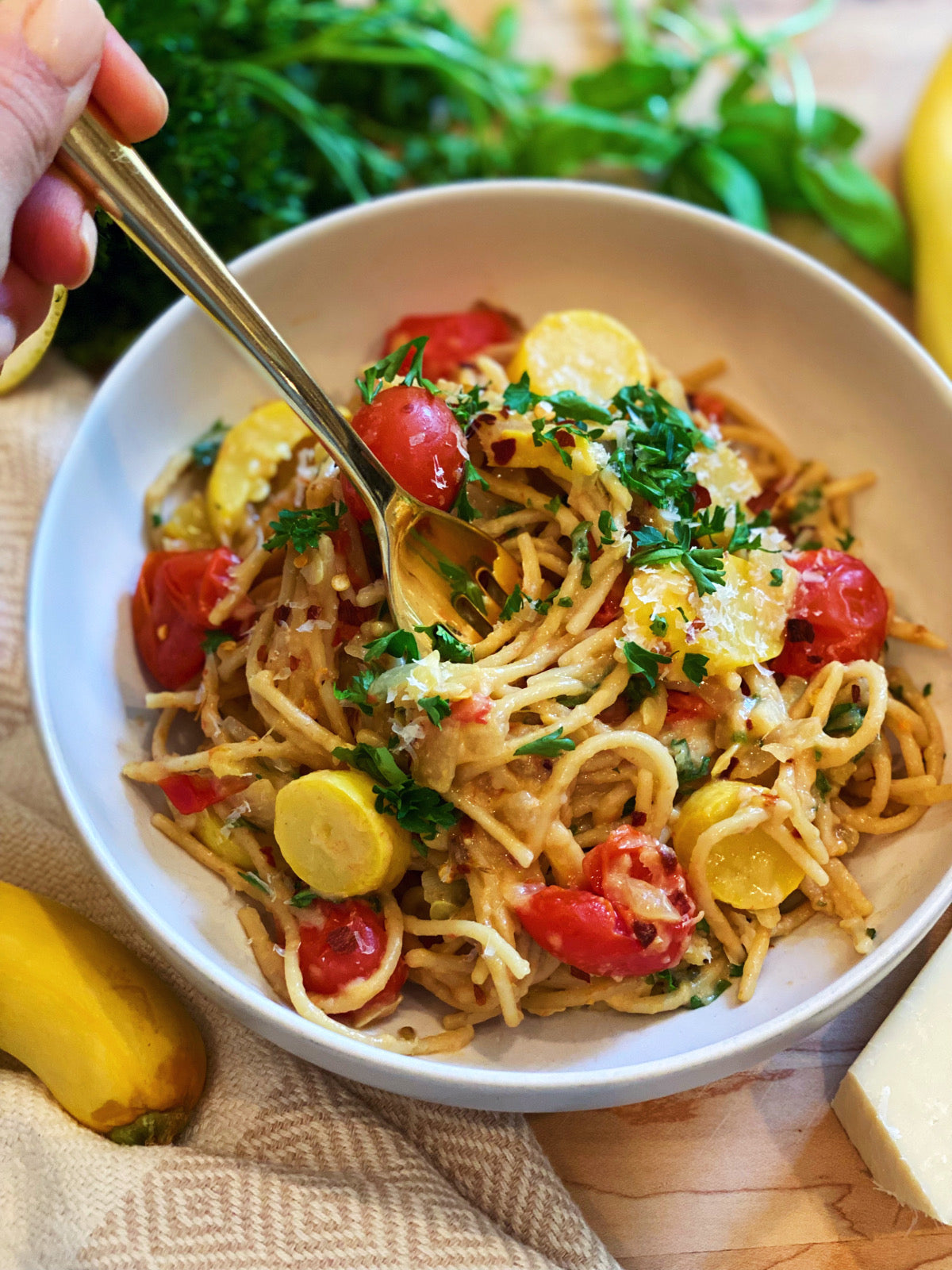 One Pot Creamy Lemon Veggie Pasta
One pot 'Creamy Lemon Veggie Pasta'  is here and ready to be devoured. Though minimal dishes and minimal time this pasta will have you and your dinner table feeling fancy. Miso paste, lemon, and vegan parmesan all work together with summer squash and bursting tomatoes to create an oh so creamy and decadent sauce for your favorite pasta.
She's got some flavor, she's packed with vegetables, and shes easy? Time to step up those weekday dinners—but like, with less effort…
Serves: 
3-4 servings
Equipment: 
Dutch Oven or Large Deep Skillet
Kitchen Knife 
Cutting Board
Ingredients
1 tbsp olive oil or vegan butter
1 onion, sliced thin or diced
2 cloves garlic, diced
2 large quash, sliced into discs
1 heaping cup cherry tomatoes
2 ½ cups water  
8 oz spaghetti pasta or any shape, (see note )
1 heaping tbsp miso paste
¼ cup nutritional yeast
¼ tsp Red pepper flakes ( omit if you don't like a little heat )
¼ tsp sea salt ( you can add more at the end if it needs it)
¼ tsp pepper
Juice from 1 small lemon
1/3 cup vegan parmesan shreds ( I used Violife)
½ cup basil leaves, chopped
1/4 cup curly parsley, chopped ( optional )
 **Note: I tested a brown rice pasta and white pasta with this dish – both were delicious! Brown rice pasta gets a tad stickier when cooked, so if using, serve right away for best results! If using spaghetti noodles , break in half to make it easier for them to cook
Directions
In a large dutch oven or deep skillet, warm your olive oil over medium heat. Add your onion, garlic, squash and cherry tomatoes. Sauté 4-5 minutes.
Add your water, pasta, and miso paste, nutritional yeast, red pepper flakes, salt , pepper and stir.  Bring to a boil.
Reduce to a medium- high heat and continuously stir until the liquid begins to boil out.
When most of the water has boiled out ( a sauce will have started to form & thicken), taste your pasta. If it needs more time, add another ¼ cup water and keep cooking until al dente.
When pasta is done, reduce your heat to low and add in your lemon juice, parmesan, basil and curly parsley. Stir well.
Taste and adjust your salt / pepper/ lemon/ cheese.
Pasta is ready to serve!