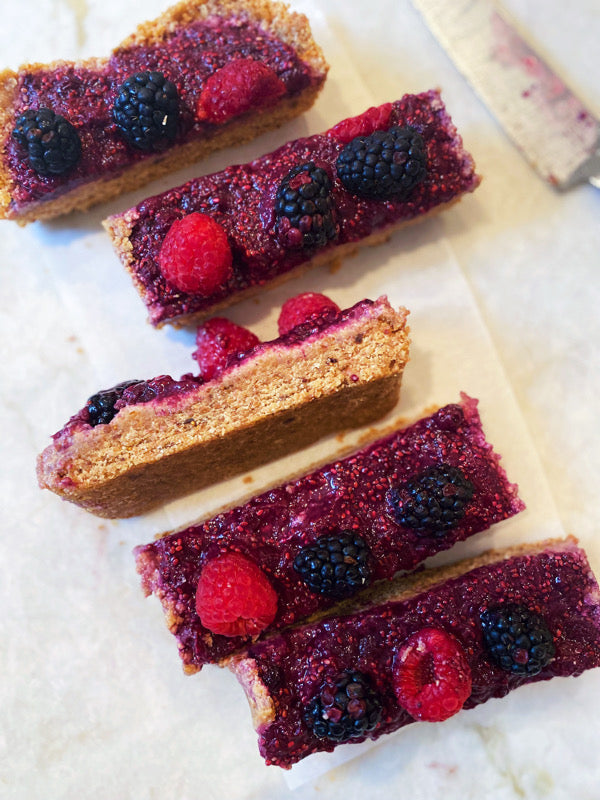 PB&J ... the combo I just can't quit. Why? Well you know why, it just always delivers. 
These bars are no exception -- thick and chewy peanut butter crust made even more delicious with a generous layer of sweet and tart berry jam. 
Perfect for you and for your kids snack time ( plus an easy way to sneak in some chia seeds.)  Minimal ingredients and easy to whip up! Prep the jam the day before or use your favorite store bought and these will be ready in ten minutes! 
 Recipe inspired by Rainbow Plant Life! 
Berry Chia Jam  
2 cup organic frozen berries, slightly thawed ( I used a combo of strawberries & blueberries)
2 tbsp raw honey 
1/2 tsp vanilla extract 
Pinch sea salt
1 tbsp chia seeds. 

Peanut Butter Bars
6 Medjool dates
6 smyrna dried figs ( sub more dates here if need ) 
2.5 cup gluten free oat flour  
1 tbsp coconut flour
1/2 tsp sea salt 
1/2 cup drippy peanut butter 
3 tbsp maple syrup 
1 tbsp nut milk 
2 tsp vanilla extract


Other:
berries of choice for topping 
Begin by preparing your jam.
Allow your berries to slightly thaw in a mesh strainer. Once slightly thawed, add your berries to a small sauce pan & warm over medium heat. Add your honey and stir.
As your mixture starts to heat up more liquid will release.  Mash your berries with the back of a fork or a potato masher. 
Bring the mix to a simmer, stirring occasionally, until the mixture really thickens. This whole process took about 25 minutes.
Once It has really thickened, move off burner and stir in your vanilla and sea salt. Allow the jam to completely cool and then stir in your chia seeds! Scoop into a bowl and add into the fridge while you prepare your base. 
Line a loaf pan with parchment paper. If your figs and dates seem hard, place them in a hot bowl of water to soak for 10 minutes. 
In a large food processor add your oat flour, coconut flour, and sea salt. Pulse a few times to mix. 
Drain your dates and figs and pat dry. De-pit your dates and trim any stems off your figs. 
Add your dates and figs, peanut butter, maple syrup, almond milk and vanilla extract into the food processor with your dry mix. 
Process on high until a crust like crumble forms. If too dry, process in one tsp of almond milk at a time until a slightly wet consistency forms. 
Press your dough into your loaf pan using your finger tips to form a thick bar layer. 
Place your crust in the freezer for a minimum of 30 minutes. 
When ready, layer your jam on top of your crust. Add your berries. Place in the refrigerator to set another 30 minutes.
Store in refrigerator of freezer!