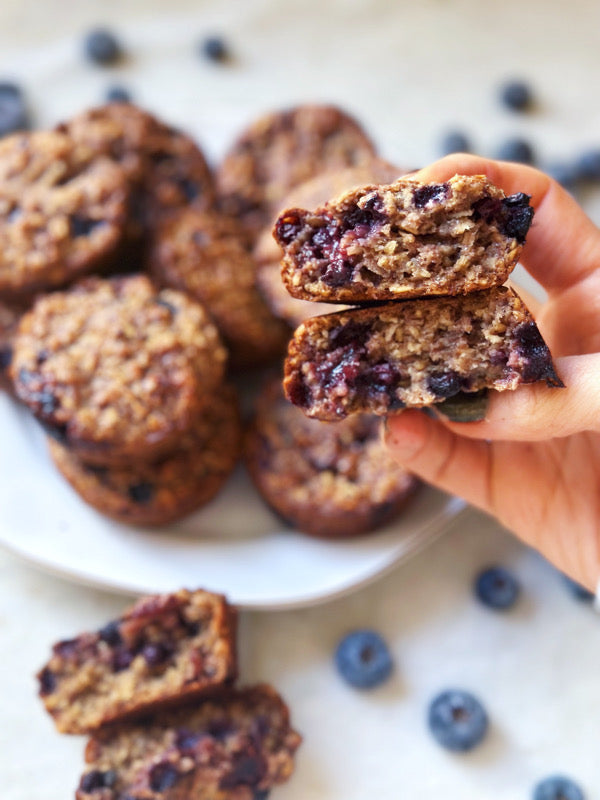 One-Bowl PB&J Muffins ( Toddler Approved )
We are combining your three favorite on-the-go breakfasts with this recipe!
Pb & J, oatmeal, and muffins all wrapped into one delicious bite. 
I created this recipe for something quick to grab for the babies on the way out the door, and they turned out so good I will be grabbing one myself. 
If you have littles in the kitchen, get them to help make this one! It's all just throwing ingredients into the food processor and hitting a button! You can use your favorite jam, nut butter of choice, and swap out the blueberries for your family's favorite!
Pro tip: Make these Sunday night and enjoy the ease of breakfast all week long!  
Ingredients 
3 tbsp flax meal + 1/4 cup water 
2 cups gluten free oats
1.5 tsp baking powder
1 tsp cinnamon 
1/2 tsp sea salt 
2 medium sized bananas, very ripe 
1/4 cup peanut butter 
1/4 cup honey 
2 tbsp coconut oil 
1.5 tbsp coconut sugar
1.5 tsp vanilla extract 
1/4 cup favorite berry jam 
3/4 cup frozen wild blueberries , slightly defrosted 
Preheat oven to 350 F and grease a muffin pan with coconut oil. 
Add your flax meal and water to a small bowl and set aside. 
Add your oats, baking powder, cinnamon, and sea salt to a large food processor and process until a course flour forms. 
Add all other ingredients EXCEPT jam and blueberries. 
Process on high until you get a batter consistency. 
Swirl in your blueberries and jam with a spatula ( being careful with blade) OR just pulse your food processor a few times. Do not process again — we want a swirl not a blue batter! 
Spoon your batter into each mold. I got 12 muffins! 
Bake for 28-30 minutes or until a toothpick comes out clean. 
Allow to cool completely before removing from the muffin pan. 
Store leftovers in a sealed container in the refrigerator.