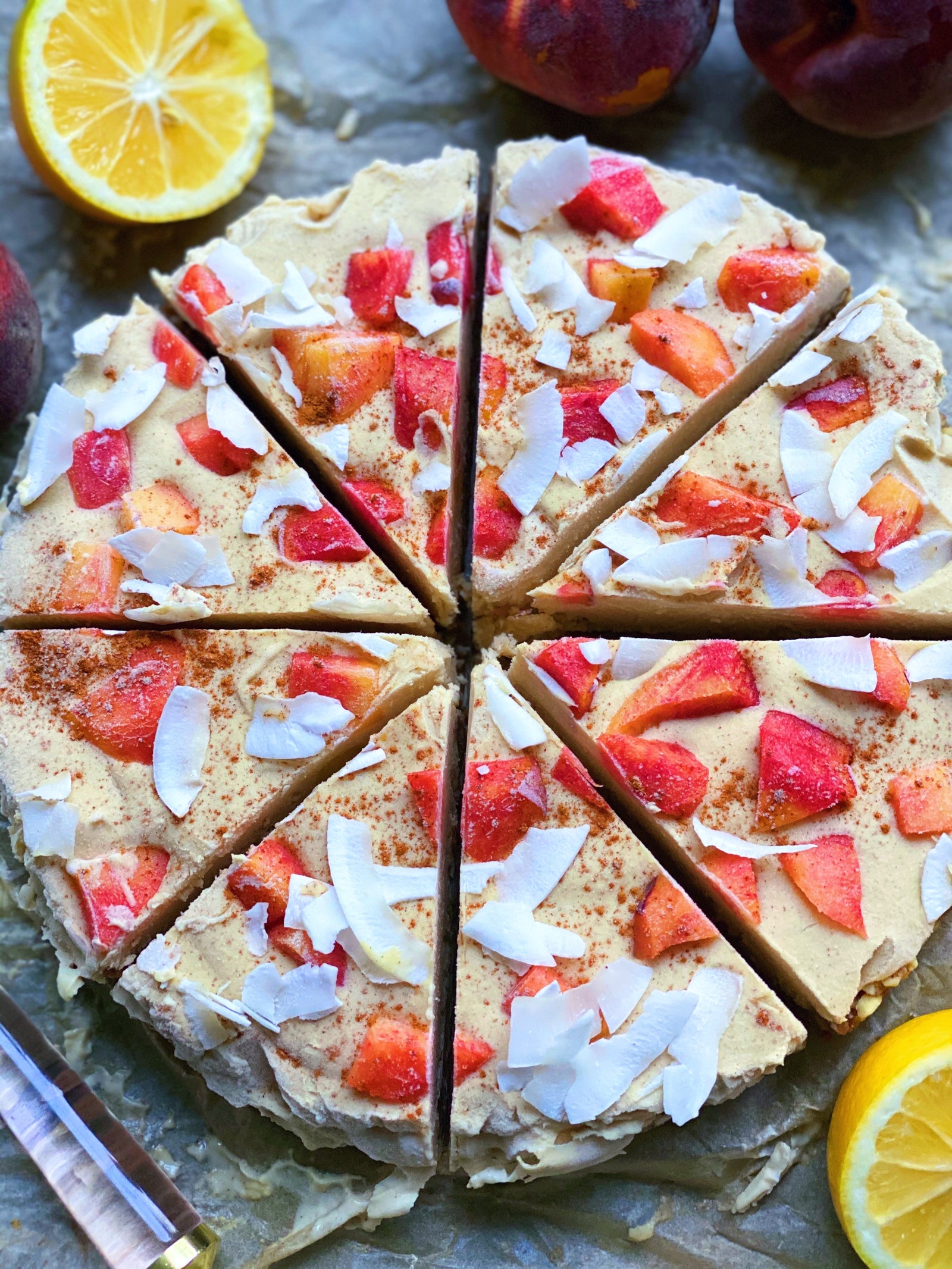 No-Bake Peach n' Cream Cheesecake
Have a handful of fresh peaches just ready to be munched on? Need a last minute 4th of July dessert to save the day? Either way, this 'No-Bake Peach Cheesecake' is here to save the day!
Yall know how I feel about my warm desserts ( this peach cobbler is my summer go-to), but when you want something cool, creamy, and absolutely mouthwatering to beat the heat -- this cheesecake is my new star. 
Its vegan and gluten free of course, perfect to round out any of your holiday meals!
I n g r e d i e n t s
Crust
1 cup pecans
1 cup cashews
12 large medjool dates, de-pitted
1 tbsp lemon juice  ( half a lemon)
1 tbsp coconut oil , melted
¼ tsp cinnamon
¼ tsp ground ginger
½ tsp sea salt
Filling
3 peaches ( peeled and de-pitted), divided
2 cups raw cashews ( soaked overnight in cool water– for cheesecake this is important)
1 can full fat coconut milk ( refrigerated overnight – I prefer Whole Foods 365 Brand) 
1/3 cup coconut oil, melted
1/3 cup maple syrup
5 tbsp fresh lemon juice ( 1.5 lemons)
2 tsp vanilla
½ tsp cinnamon
¼ tsp sea salt
Toppings:
Shredded coconut or coconut chips
Cinnamon
Chopped Peaches
D i r e c t i o n s  
Line cake pan with parchment paper and set aside.
In a large food processor, add your pecans and cashews. Process until the nuts resemble breadcrumbs. Add in all other crust ingredients and process until a sticky crust forms. Remove the crust from the food processor and begin pressing the crust into the cake pan with your fingertips, working to form an even base. Begin to pinch the dough slightly up the side of the cake pan to form a "crust" edge. When finished, place in freezer to set for 30 minutes. Begin to prepare the filling.
Rinse your soaked cashews with cold water and add cashews to blender. Add TWO of the three peaches into your blender. Open your coconut can and scoop out all of the cream, adding it into blender ( measures about a heaping  ¾ cup ) leaving all the liquid in the can either discarding or saving for smoothies! Add in all other filling ingredients from coconut oil – sea salt. Blend on high speed for a few minutes, scraping down sides as needed. Once extremely creamy, taste and adjust your sweetness or tartness.
Rough chop your last peach and stir it into the blender, this is to ensure you get some peach bites! I saved some to top mine with as well but up to you!
Pour your filling over your crust and smooth out with a baker's spatula. Add your coconut chips and cinnamon sprinkle if wanting! Saran wrap your cheesecake and place in freezer to set for 3 hours.
When ready to serve allow cheesecake 12-15 minutes to thaw. When thawed, slice and serve! Save leftovers in freezer.