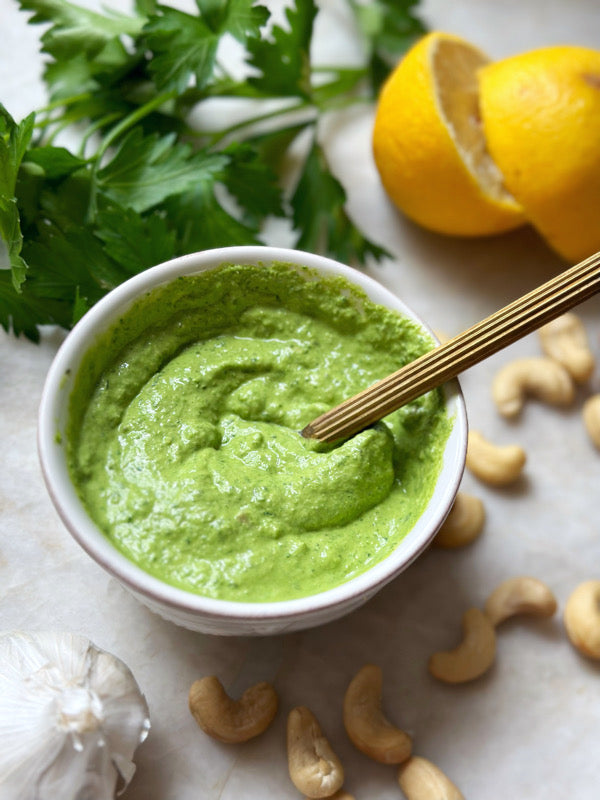 I have and always will be a sauce girl. I just like a little extra something to get me excited about my meal. 
This is one of those sauces you could use on just about anything -- spread on a sandwich, stir into roasted veggies, douse on a wrap, or use it as a dip for crudite. 
It is incredibly fresh and earthy, creamy and divine. Every bite makes you feel like you are doing something good for your body... even if you are dipping a fried wing into it. 
Save this recipe as a nice little addition for your next dinner party and enjoy! 
Equipment
high-speed blender or powerful food processor 
Serves
3/4 cup - 1 cup 
Ingredients 
1 cup raw cashews, soaked in water for 6 hours 
1/2 cup warm water 
3 tbsp lemon juice 
2 cups fresh parsley 
1.5 cup packed fresh basil 
2-3 garlic cloves, peeled and rough chopped 
3 tbsp nutritional yeast 
3/4 tsp sea salt 
1/4 cup olive oil 
Dash honey
Directions 
Soak your cashews overnight or for a minimum of 6 hours. 
Drain and rinse. Add into a high-speed blender or food processor. Process for 15 seconds. Add your warm water and lemon juice. Blend until smooth and creamy, scraping down sides as needed. Add a dash water if need more liquid.
Add basil, parsley, nutritional yeast, garlic, and salt and process on high for 30 seconds. Add your olive oil and honey ( optional) continue to blend until smooth and creamy. 
Taste and adjust any seasonings.