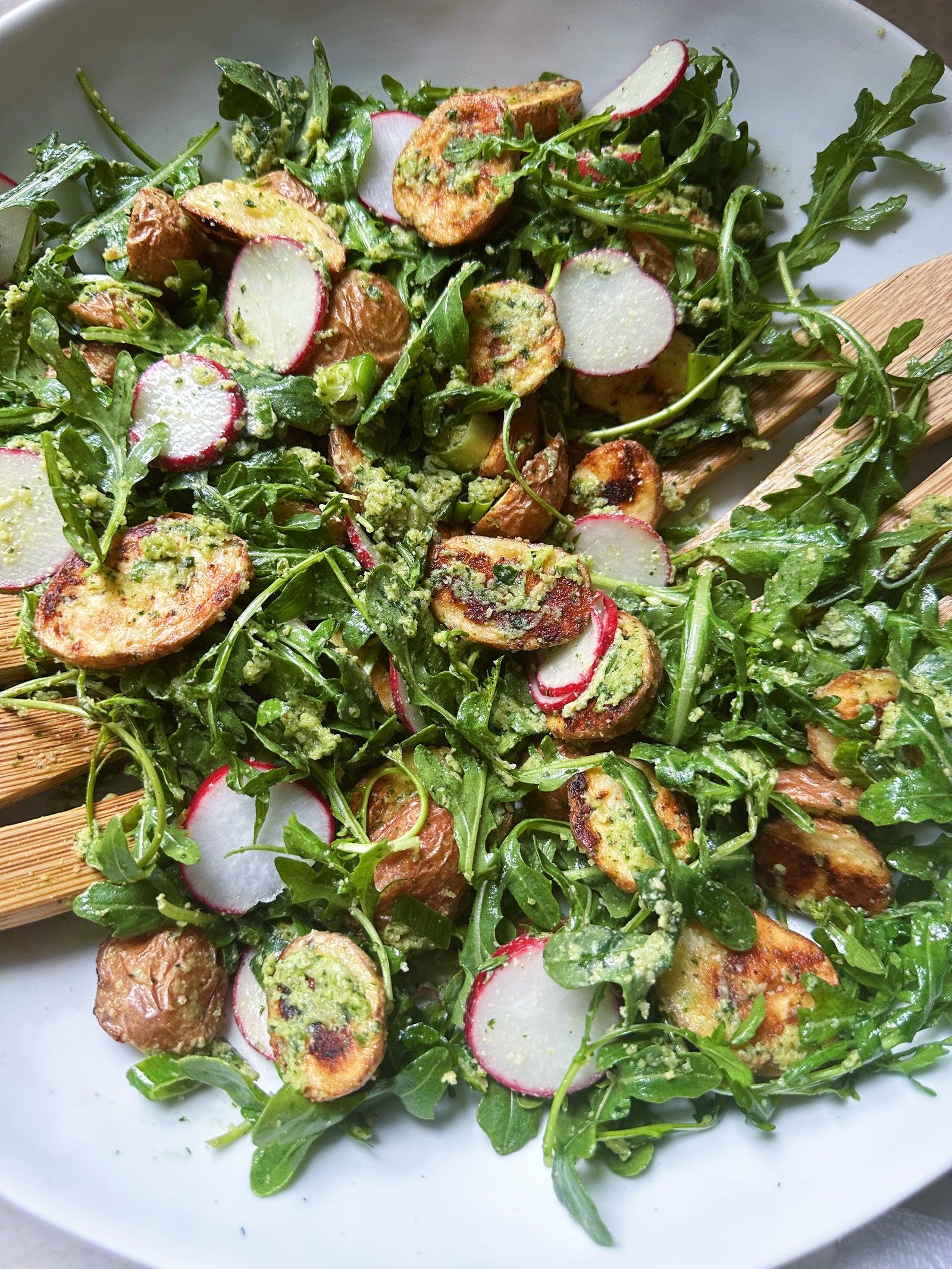 Pesto Potato & Arugula Salad
Crispy potatoes and homemade pesto go hand in hand. Add in some arugula and thinly sliced radishes and you have the best potato pesto salad you've ever had. 
I love this salad because you can serve it warm or cold! The perfect make-ahead dinner party option! 
Crispy Potatoes 
2 lbs mini red potatoes, halved 
 2 tbsp olive oil 
2 tsp arrowroot starch 
1/2 tsp garlic powder 
3/4 tsp sea salt 
1/2 tsp pepper  
Traditional Pesto 
2 cups packed basil 
1/3 cup cashews or pine nuts, toasted 
1/4 cup vegan parmesan ( I used Violife Foods brand) 
2 tbsp lemon juice 
1 tsp lemon zest 
1 tsp honey 
1/2 cup olive oil 
Salt to taste 
Pesto Potato Salad  
5 cups packed arugula 
1 bunch radishes, sliced thin with a knife or mandolin 
1/2 cup green onion, sliced thin 
  
Optional: Add your halved potatoes to a bowl of cold water and cover with saran wrap. Allow your potatoes to soak for 1-2 hours — this helps to remove some starch and get them crispy. Not to worry if you need to skip this step, they will still get crispy!  
Preheat your oven to 425F and get out a large baking sheet.  
Drain off your potatoes and dry them along with the bowl. Add them back into the dry bowl and drizzle on your olive oil, arrowroot, garlic powder, sea salt, and pepper. Mix well.  
Place potatoes face down on your baking sheet. Bake for 20 minutes. Flip over and bake another 10-12 minutes. Potatoes are done when golden brown and crispy. 
While your potatoes cook, prepare your pesto. 
Add all pesto ingredients into a food processor and process until finely chopped. Slowly churn in your olive oil with the hole in your food processor or add your pesto to a bowl and slowly stir in your olive oil. Salt and pepper to taste. 
Prepare your salad by adding your arugula to the base of your bowl. Layer on the radishes, golden crispy potatoes, and green onions 
Add the desired amount of pesto and mix well. Taste and adjust any salt/pepper/pesto.
Add to a skillet and serve warm or serve chilled like a traditional salad. 
Save any leftover pesto for dipping or additional recipes.