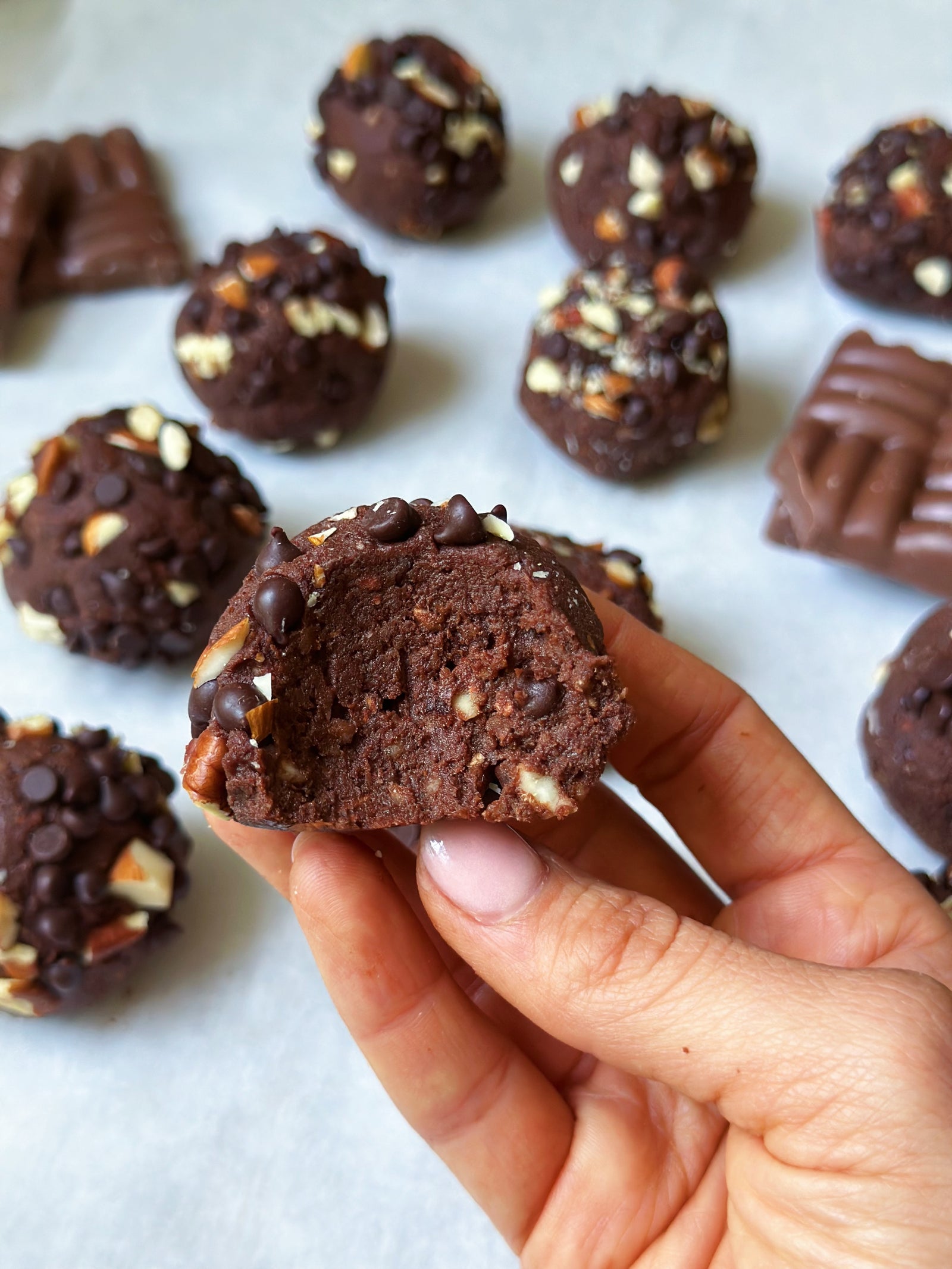 Protein Brownie Batter Cookie Dough
Protein Brownie Batter Cookie Dough … eaten straight out of the jar or rolled into the perfect bite-size dessert! 
I'm a straight out of the jar kinda girl, but you do you. 
Wednesday deserves a little something sweet, don't you think? 
Also— skip the protein powder if that isn't your thing— there is plenty of protein from the nuts! 
This recipe was inspired by Chef Bae! 
Ingredients
15 Medjool dates 
1 cup freshly brewed coffee, still warm 
1.5 cups raw nuts of choice ( I did almonds, cashews, and pecans ) 
1/2 cup cacao powder
3 tbsp maple syrup 
1 tbsp cashew butter
1 scoop protein powder ( I used unflavored Sunwarrior Protein- be sure you know how your protein powder tastes before using it , as all are not created equal. ) 
1/2 tsp vanilla extract 
Pinch sea salt
1/3 cup chocolate chips 
Topping Options: 
Chocolate chips
More chopped nuts
Chopped pretzels
Coconut 
Soak your dates in warm coffee for 15 minutes. When done, remove the pit from each date and add to a food processor, along with 1/4 cup of the coffee— you will use more coffee in a minute. 
Process until the dates are broken down. Add in your nuts and process them a few times to slightly break down. 
Now add in another 1/4 cup of coffee, cacao powder, maple syrup, cashew butter, protein powder, vanilla, and sea salt. Process until a thick batter forms and everything is mixed well. 
Stir or pulse in your chocolate chips. 
If you are keeping it as a batter and prefer a little thinner you can add a dash nut milk, water, or more coffee and process a few more times then store it in a sealed container. If rolling into balls, you want the batter thick and sticky but not too wet. 
Line a baking sheet with parchment paper and roll out your protein balls to the size of a ping pong ball. Repeat until batter is gone. 
Optional: roll your balls in desired crushed topping. 
Allow them to set in the freezer for two hours and then store in the fridge or freezer in a sealed container.