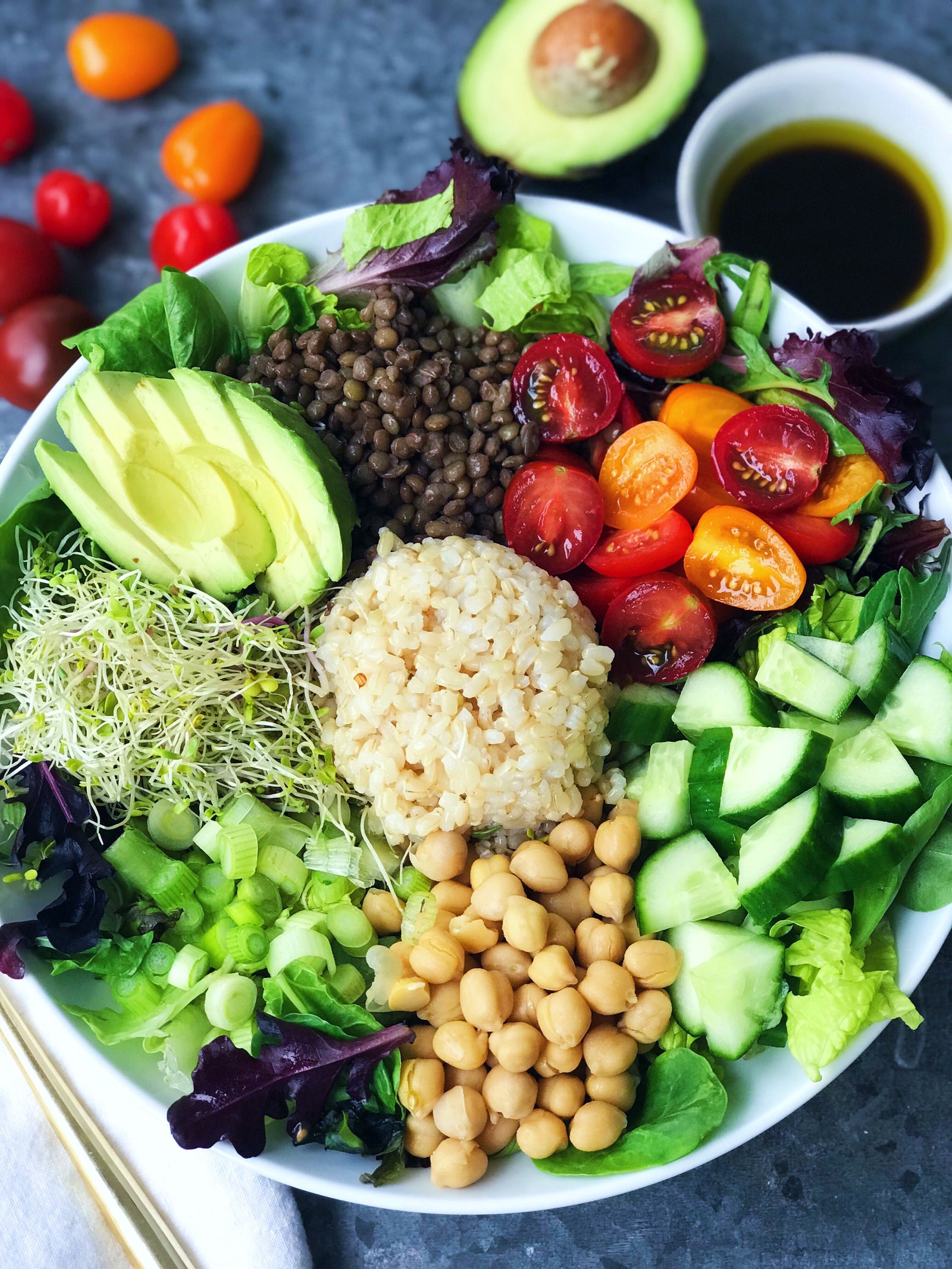 I get asked all the time if I get enough protein living off mostly a plant-based diet, and I always respond with an "absolutely." 

When you dont know where to start with protein sources on a plant based diet, this bowl would be the perfect place. Inspired by our travels in California, with ingredients like lentils, chickpeas, hemp seeds, and leafy greens, you can rest assure this salad powerhouse will serve your body with all you need and more.

Not to mention this salad is a meal prep dream. Just spend an hour prepping all the ingredients and in no time you will have your lunch or dinners planned for the week.

Happy Sunday!  
HOW TO PREP FOR 3-4 INDIVIDUAL SALADS: 
1 cup dry green lentils, prepared as instructions suggest 
1 cup dry short grain brown rice or quinoa, prepared as instructions suggest 
1 cucumber , sliced or chopped 
1 cup grape or cherry tomatoes, halved
1 can organic chickpeas, rinsed and pat dried 
1 cup alfalfa sprouts 
1/2 cup green onions, diced 
Organic Mixed Greens and/or chopped romaine lettuce (I used a mix)  
1/4 cup hempseeds 
avocado, to be added right before eating

HOW TO ASSEMBLE FOR INDIVIDUAL SERVINGS: 
Use desired amount of greens as your base.  Add 1/3 cup of your cooked lentils,  1/3 cup of your chickpeas, 1 tbsp hemp seeds, and 1/4- 1/3 cup of your cooked brown rice. Top with desired amount of remaining ingredients! Dressing before eating! 

SIMPLE BALSAMIC VINAIGRETTE DRESSING
INGREDIENTS
3 tbsp balsamic vinegar 
2 tsp dijon mustard 
1/4 cup olive oil 
1 tsp raw honey, optional 
1/4 tsp sea salt to start, add more to taste
pinch pepper
Whisk your vinegar, dijon mustard, and honey together in a large jar or bowl. Slowly  stir in your oil. Season with salt, pepper, taste and adjust! Add dressing to your salad(s) as you plan to eat. Store at room temperature for up to a week in a sealed container.