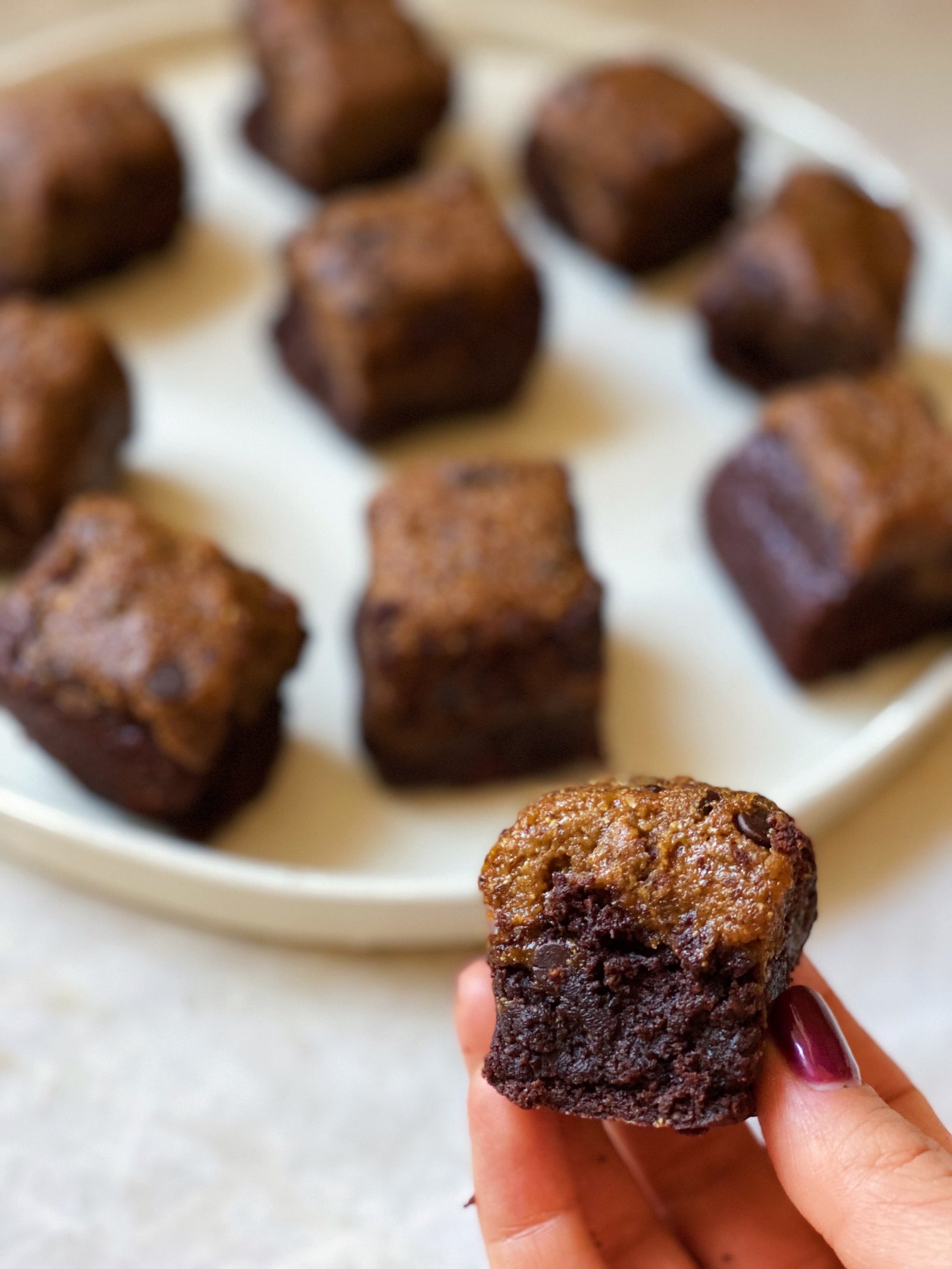 Pumpkin Cookie Dough Brownie
I am all about letting kids be kids and fully enjoying special days like Halloween, even if that means candy and junk food galore. 

Of course, on that same note, my mind is also like, but what if they could still indulge and not overdue It on color dyes and artificial flavorings? It's a win-win. 
These pumpkin cookie dough brownies will impress your toddlers as well as all the adults in your life. 

A chocolate fudgy brownie topped with a no-bake pumpkin cookie dough layer-- aka you get the best of both worlds in one bite. 
We love an "everybody wins" moment over here, and with this one, you win on taste and ingredients! 

BROWNIE BASE
DRY
1/2 cup almond flour
1/2 cup almond meal
1/2 cup cacao powder
1/2 cup coconut sugar
2 tbsp arrowroot powder
1/2 tsp baking powder 
1/2 tsp baking soda 
1/4 tsp sea salt
WET
2 flax eggs ( 2 tbsp flax meal + 1/4 cup water mixed ) 
3 tbsp coconut oil, scooped out at room temperature
1/4 cup creamy cashew butter
1/4 cup chocolate chips ( + more for topping) 
3 tbsp maple syrup
2 tbsp warm water
1.5 tsp vanilla
PUMPKIN COOKIE DOUGH
Dry 
1/2 cup gluten-free oat flour 
3 tbsp coconut sugar 
1.5 tbsp ground flaxseed 
1.5 tsp pumpkin pie spice 
1/2 tsp baking soda 
1/4 tsp sea salt 
Wet 
1/4 cup pumpkin puree ( not pumpkin pie mix) 
1/4 cup cashew butter, runny not hard ( this matters!) 
2 tbsp maple syrup 
2 tsp vanilla extract 
Chocolate chips: Measure with your soul 
D i r e c t i o n s
Preheat your oven to 375F. Line a loaf pan with parchment paper. 
Prepare your flax eggs in a small bowl and set aside. 
In a large mixing bowl, add all your dry ingredients and whisk until combined. 
In a small sauce pot, add your coconut oil over low heat. Once melted add your cashew butter and whisk into the coconut oil until one thin mixture remains. Turn off burner and add your chocolate, maple syrup, and vanilla. Whisk until chocolate is all melted and everything is in one uniform mixture. 
Add the wet mixture into your dry, along with your flax eggs, and 2 tbsp warm water. Stir until your brownie batter has formed. 
Lay your batter into your pan and spread evenly. Bake for 20-22 minutes -- you want them ever so  *slightly* undercooked -- when they cool and sit in fridge they will solidify like fudge. 
Allow to cool COMPLETELY and then place your brownies in the fridge. While cooling prepare your cookie dough below! 
 In a large food processor add all your cookie dough dry ingredients. Pulse a few times to mix. 
Add in all your wet ingredients (except your chocolate chips). Process on high for a few minutes or until cookie dough-like consistency forms. Scrape down the sides of the food processor as you need. If too thick, add a dash water or nut milk. 
Taste and adjust your sweetness, pumpkin pie spice, or salt. 
Remove the blade and stir in your chocolate chips. You can pulse them in as well! 
Once your brownies are cooled and the cookie dough is complete, carefully spread entire cookie dough batch onto your brownies. If your brownies have cooled appropriately they should not break for crumble.
Allow brownies to refrigerate overnight or for a minimum of 4 hours-- they will really meld together! 
Slice and enjoy.