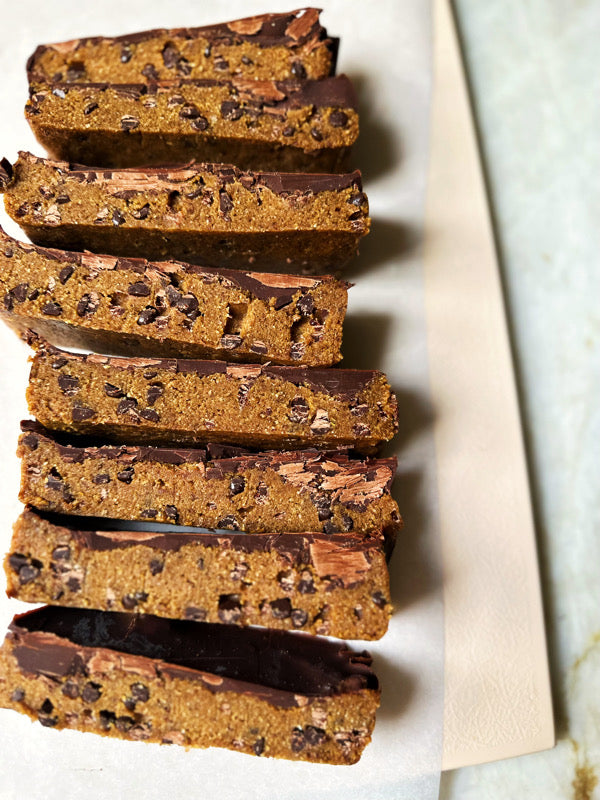 Pumpkin Spice Cookie Dough Bars
October is for all the pumpkin spice lovers out there. It is your season to shine and these pumpkin spice cookie dough bars are ready to stand by you. 
This cookie dough is insanely delicious on its own ( feel free to stop there and devour with a spoon ) but add on that chocolate shell and we are on a different level. 
I love a dessert you can make once and store in the freezer and this is one of those! Slice into bars or squares and have something sweet and seasonal ready to go. 
Dry 
1 cup gluten-free oat flour 
6 tbsp coconut sugar 
3 tbsp coconut flour 
2 tbsp ground flaxseed 
1.5 tsp pumpkin pie spice 
1 tsp baking soda 
1/2 tsp sea salt 
Wet 
1/2 cup cashew butter 
1/3 cup pumpkin puree
1/4 cup maple syrup 
1 tbsp vanilla extract 
1/2 cup - 3/4 cup chocolate chips 
Chocolate Layer 
3/4 cup chocolate chips 
1 tbsp coconut oil 
Line a loaf pan with parchment paper. 
In a large food processor add all your dry ingredients. Pulse a few times to mix. 
Add in all your wet ingredients (except your chocolate chips). Process on high for a few minutes or until cookie dough-like consistency forms. Scrape down the sides of the food processor as you need. 
Taste and adjust your sweetness, pumpkin pie spice, or salt. 
Remove the blade and stir in your chocolate chips. You can pulse them in as well! 
Spread the dough into the loaf pan and melt your chocolate. 
Add chocolate chips and coconut oil to a microwave-safe bowl.
Microwave in 30-second increments, stirring in between each one. When fully melted spread the chocolate sauce on top of the cookie dough. Place in the freezer for a minimum of 2 hours. Allow to slightly thaw before slicing. Store in the refrigerator or freezer in a sealed container.