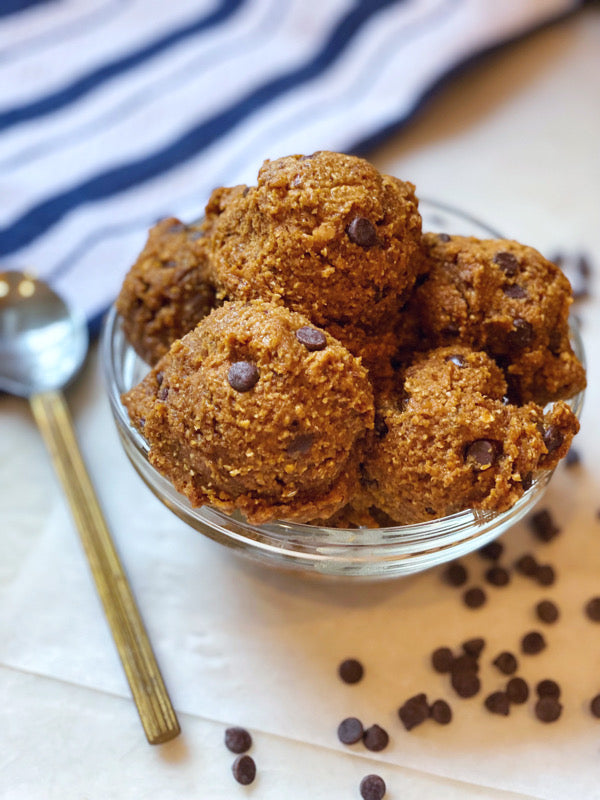 Pumpkin Spice Edible Cookie Dough
Edible cookie dough. Many would argue better than the actual baked cookie. I am one of those people. There are not many things in life that can compare to a massive spoonful of raw cookie dough. 
I have created some delicious ones in my day but never one with a seasonal flare... until now. 
Meet your newest cookie dough lover... 'Pumpkin Spice.' She's perfectly sweet, loaded with chocolate chips, and just the right amount of spice. 
Save it in a container or roll it into balls and store it in your fridge or freezer! 
Dry 
1/2 cup gluten-free oat flour 
3 tbsp coconut sugar 
1.5 tbsp ground flaxseed 
1 tsp pumpkin pie spice 
1/2 tsp baking soda 
1/4 tsp sea salt 
Wet 
1/4 cup pumpkin puree
1/4 cup cashew butter
2 tbsp maple syrup 
2 tsp vanilla extract 
Chocolate chips: Measure with your soul 
In a large food processor add all your dry ingredients. Pulse a few times to mix. 
Add in all your wet ingredients (except your chocolate chips). Process on high for a few minutes or until cookie dough-like consistency forms. Scrape down the sides of the food processor as you need. 
Taste and adjust your sweetness, pumpkin pie spice, or salt. 
Remove the blade and stir in your chocolate chips. You can pulse them in as well! 
Scoop into a container and refrigerate for a few hours. The dough will continue to thicken and harden in the fridge. 
Eat by the spoonful and enjoy!