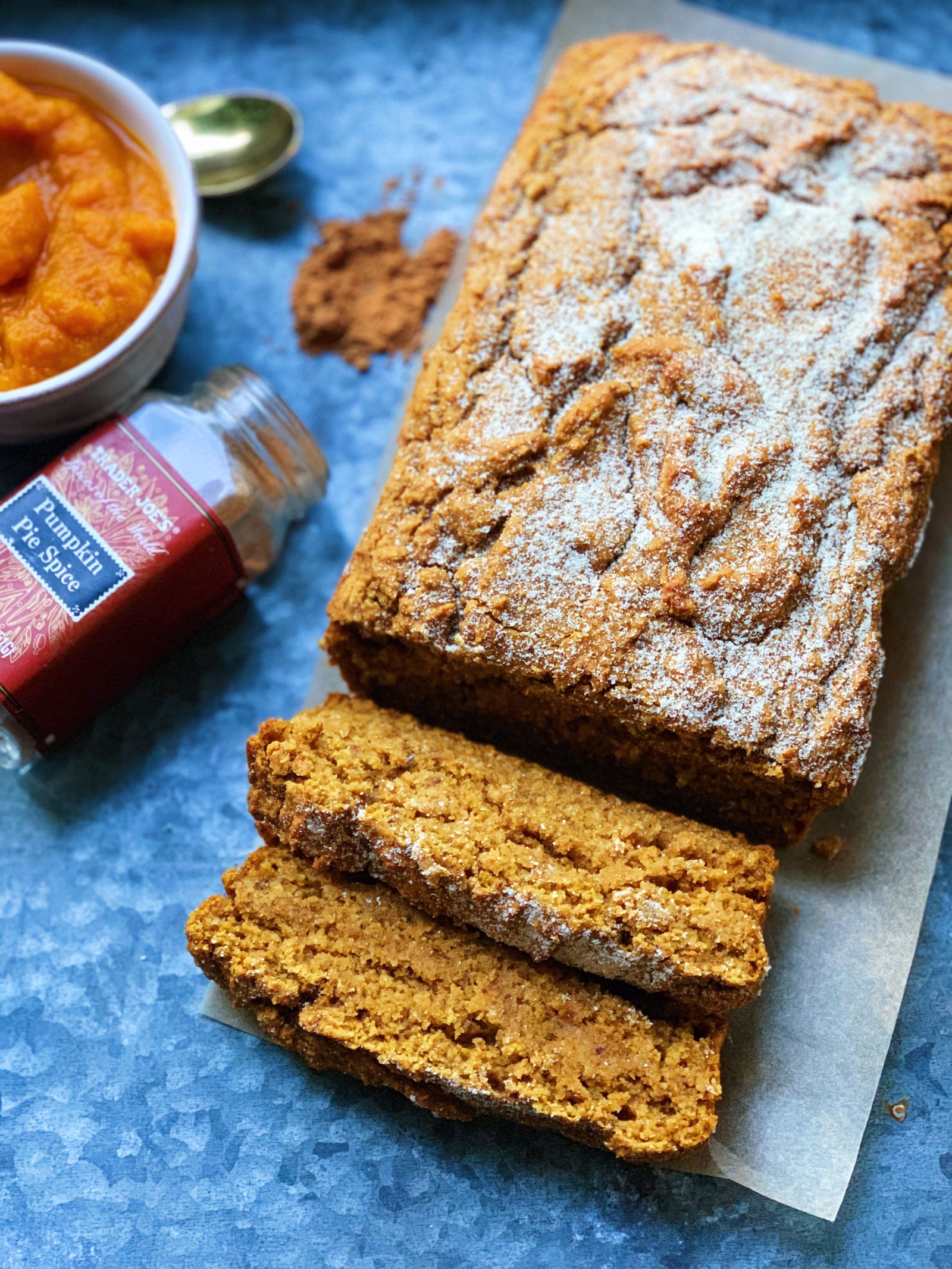 The chilly temps may not be here yet, but my need for pumpkin, well everything, has arrived right on que. 
Lets just hope the rest of Fall comes soon -- cause I wont be stopping with this loaf. 
No oil, I repeat, no oil was used in the making of this
MOIST.
FLUFFY.
GOLDEN. 
PUMPKIN. 
SPICED. 
SLICE OF HEAVEN.   
Truly, this bread has the best consistency and flavor of any bread I have made in a long time. It has a subtle sweetness and flavor profile that lingers in your mouth after every bite. 
Not to mention, it also is one of the easiest breads I have made in a long time. Fall here we come! 
I n g r e d i e n t s  
DRY
1.5 cup GF oat flour (blend your oats until a fine flour)
1 cup blanched almond flour
¼ cup tapioca flour
1/3 cup coconut sugar
3 tsp pumpkin pie spice 
1/4 tsp clove 
pinch black pepper ( helps bring out the spices) 
1.5 tsp baking powder
½ tsp baking soda
½ tsp salt
WET
2 flax eggs ( 2 tbsp flax meal + 5 tbsp water)
1 cup 100% pumpkin puree 
½ cup almond milk
1/3 cup maple syrup
1.5 tsp vanilla extract
1 tsp apple cider vinegar
 D i r e c t i o n s 
Preheat oven to 350F. Spray a bread pan with coconut oil spray (or use a paper towel to coat pan with coconut oil) and set aside. 
Prepare your flax eggs in a small bowl, set aside. In a large mixing bowl add all of your dry ingredients, whisk until fully combined.
In a separate mixing bowl add your flax eggs ( be sure they have had time to set, about 10 minutes.)  Add the rest of your wet ingredients EXCEPT apple cider vinegar, and whisk until fully combined.
Add your dry ingredients to your wet and fold in until mixed. Add your apple cider vinegar and mix in. 
Pour batter in your bread pan and place in oven. Bake bread for 42 - 44 minutes or until a toothpick comes out clean. 
Allow bread to completely cool before slicing! Tip: sprinkle a little extra almond or oat flour on top through a mesh strainer to give off a powder sugar look!