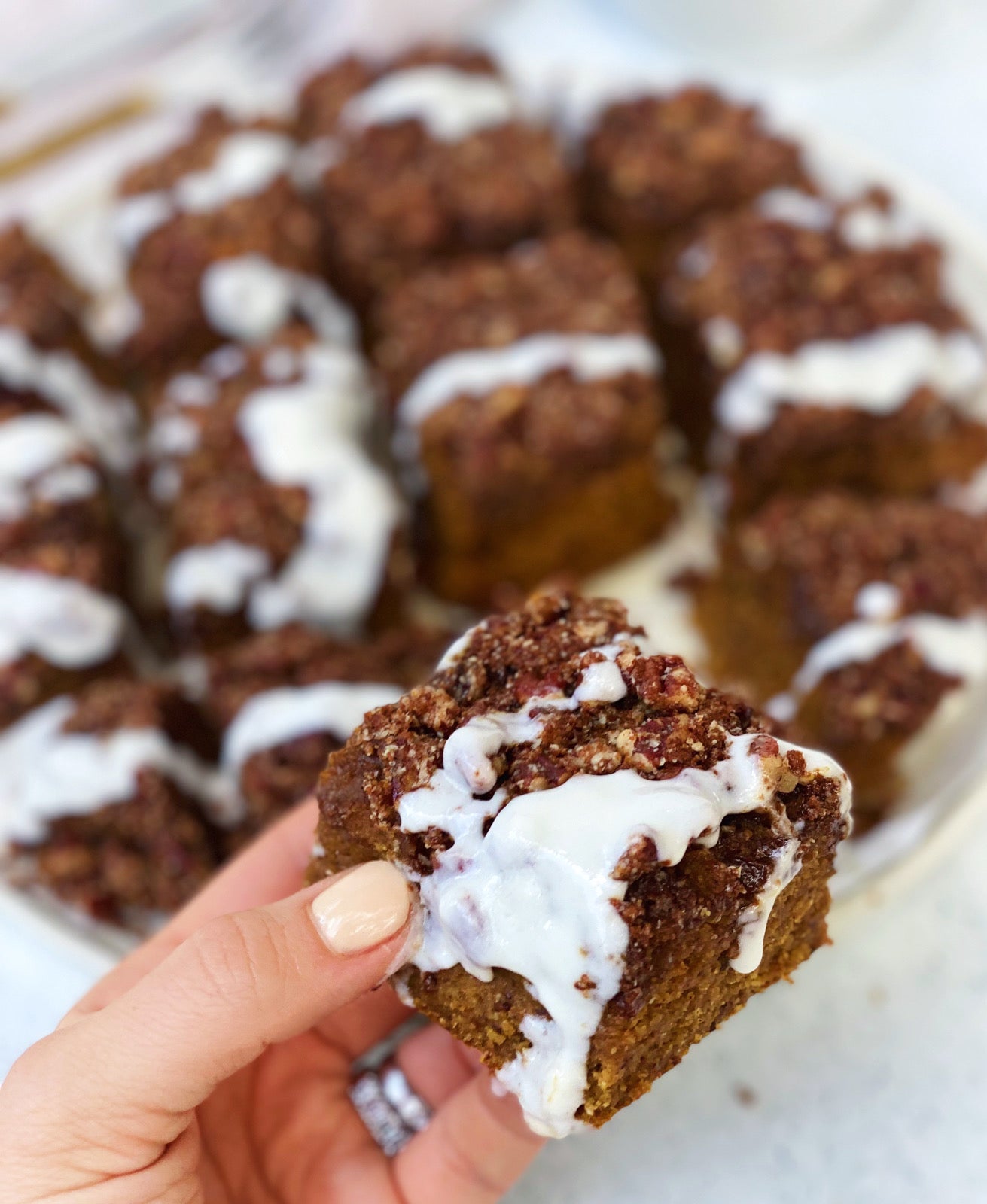 Pumpkin Streusel Coffee Cake
Is anyone else as shocked as I am that we are well into the first week of September? And equally as shocked pumpkin spice lattes and candles have already entered the scene? I swear I was cutting my first watermelon of the summer last week... so shook that last night I panicked and ordered Harper six Halloween costumes....and started thinking about what I want to make for Thanksgiving haha MAKE ME STOP. 
Kk back to this deliciousness. If I'm being totally honest, I am not as pumpkin crazed as I am apple or squash crazed, but something about whipping up a pumpkin streusel coffee cake had me. A few rounds later --- here we are.
I'm a sucker for a crumble so the pecan streusel topping really took this one over the edge!
I hope this makes it to your fall brunching and morning tailgates!
 Ingredients 
PUMPKIN SPICE
4 tsp cinnamon
1 tsp ginger
1 tsp cloves
1/4 tsp nutmeg
WET
2 flax eggs (2 tbsp flax meal + ¼ cup water )
1 cup pumpkin puree
¼ cup almond milk
1/3 cup maple syrup
3 tbsp coconut sugar
3 tbsp coconut oil, melted
1 tsp vanilla extract
2 tsp apple cider vinegar
DRY
2 cups GF oat flour
1/2 cup almond flour
2 tsp pumpkin pie spice ( from the spice mix below )
1 tsp baking soda
1 tsp baking powder
1/2 tsp sea salt
PECAN STREUSEL
1/4 cup oat flour
1/2 cup pecans, chopped
3 tbsp coconut sugar
1 tsp pumpkin pie spice (from the spice mix below)
3 tbsp coconut oil, melted
Pinch sea salt
ICING ( optional ) 
¼ cup coconut butter
¼ cup almond milk
Optional: dash maple syrup
Preheat your oven to 350F. Line a cake pan with parchment paper.
Prepare the homemade pumpkin spice mix in a small sealed container, shake up, set aside. You will have leftover to save for future baking.
Mix your flax eggs in the bottom of a large mixing bowl that you will use for your wet ingredients. Set aside.
In a separate mixing bowl, add all your dry ingredient and whisk to combine.
Now that your flax eggs have most likely coagulated, add the rest of your wet ingredients into your large bowl, EXCEPT your apple cider vinegar.
Add your dry mix to your wet ingredients bowl and mix well.
In the same bowl you had your dry ingredients in, begin to prepare your streusel topping. Mix your oat flour, chopped pecans, coconut sugar, and pumpkin pie spice together until all is coated. Add in your coconut oil and sea salt --  now with the back of a fork work the coconut oil into the streusel topping until all is mixed well.
Lastly, add your apple cider vinegar to your batter ( NOT your streusel ) and fold in.
Pour your batter into your lined cake pan and spread evenly. Now add your streusel topping and lightly press it into your batter with your fingers.
Bake for 40-45 minutes or until a toothpick comes out clean. Allow the coffee cake to sit until COMPLETELY cool before trying to slice , at least an hour.
If icing your coffee cake – allow the coffee cake to have cooled before. To prepare your icing, add your coconut butter and almond milk to a small sauce pot. Turn heat to low and begin to melt the coconut butter with a spatula, continuously stirring into the almond milk until one cohesive icing forms. Add your maple syrup if using and stir. Turn off burner when desired consistency.
Icing will thicken as it cools and harden in the fridge. Drizzle over the coffee cake and serve!