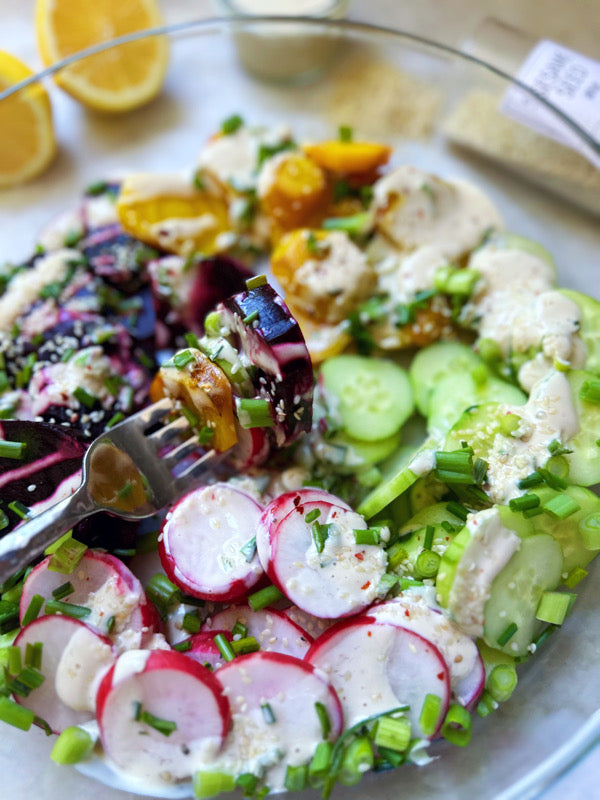 Rainbow Roasted Beet Salad
It's giving.... summer. 
Roasted red and yellow beets, thinly sliced cucumber, crisp radishes, green onions, chives, and toasted sesame seeds make for an unbeatable combo! Did I mention a fiery maple tahini drizzle? 
I love a dish you can make ahead of time for a party and once your beets are roasted ( do it the day before!) this beauty takes only 5 minutes to put together. 
Simple, radiant, and absolutely delicious.  
Beet Salad 
8-10 beets ( mix of yellow and red) 
2 tbsp olive oil  
Himalayan sea salt 
1 bunch of radishes, sliced thin 
1 large English cucumber or 3 Persian cucumbers, sliced thin 
1/2 cup sliced green onions 
1/3 cup chopped chives
3- 4 tbsp toasted sesame seeds 
1 tbsp fresh lemon juice 
Dressing 
1/3 cup runny tahini
2 tbsp fresh lemon juice
2 tbsp olive oil 
1 tbsp maple syrup
1 small garlic clove, grated (optional)
½ tsp sea salt 
1/8-1/4 tsp red pepper flakes 
2+ tbsp cold water to thin 
Prep your beets: Preheat oven to 425F and line a sheet pan with foil. First, trim the ends of each beet then place them on the foil. Drizzle with olive oil and salt. Wrap each end of the foil up and over the beets, creating a dome/ pocket for them to roast. 
Allow them to roast for 35-45 minutes, or until fork tender. The size of your beets will affect cooking time. While your beets roast prepare your dressing and the rest of the salad ingredients. 
To prep your dressing:Add all dressing ingredients into a food processor or mixing bowl, EXCEPT the water. Process or whisk a few times to incorporate. Now add in the cold water as you whisk or as you process your dressing. Add water based on thickness preference. Taste and adjust any flavorings! Set your dressing aside as you prepare the rest of your salad. 
Prepare your salad:Once beets are cooked through, allow them to cool. Begin to peel the skin off with your hands or with a peeler. Should come right off! 
Slice your beets with a knife and add them to a salad bowl. 
Add your radishes, cucumbers, green onion, chives, and toasted sesame seeds to your bowl.
Add your fresh lemon juice, a pinch of salt and pepper, and lightly toss.