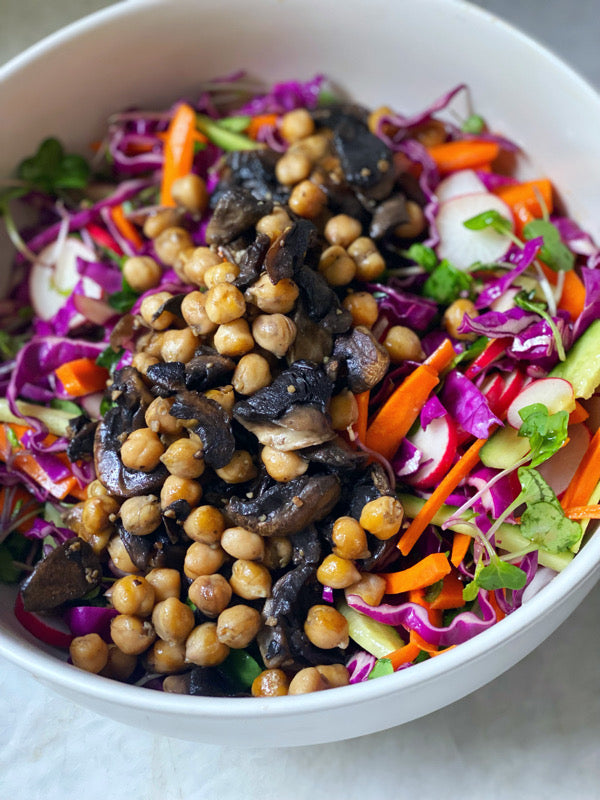 Rainbow Slaw + Sautéed Veggies
I'm a sucker for a hot/cold combo, whether it's in salad or dessert form.
And now…. slaw form !
Crunchy cabbage, cucumbers, carrots, radishes and micro greens mixed in an apple cider vinaigrette, then topped with warm sautéed chickpeas and mushrooms! It's a dreamy summer bowl if I do say so myself.
Get creative with this one to meet your family's needs (tastebuds). Mix in your favorite grain or protein of choice!
Dressing 
1/3 cup olive oil 
1/4 cup apple cider vinegar
1 tsp balsamic vinegar 
1.5 tbsp lemon juice
1 tbsp raw honey
1 tbsp spicy dijon mustard
1/2 tsp sea salt ( more to taste) 
Slaw 
1/2 large red cabbage, sliced ultra thin 
2 carrots, peeled and sliced into thin strips
2 Persian cucumbers , sliced into thin strips 
6 radishes, sliced thin 
1/2 cup green onions, sliced thin 
1 cup micro greens or any sprouts 
Dash olive oil
1 cup cooked chickpeas
1 8 oz container mushrooms ( shitake, white , baby Bella) 
1 garlic clove 
2 tsp low sodium tamari  
Prepare your dressing by adding all ingredients in a mason jar and shake well. You can also whisk all ingredients in a small bowl. Taste and based on preference, you can add a dash more Himalayan sea salt. 
Prepare your slaw by adding the cabbage, carrots , cucumbers , radishes, green onions, and micro greens into a large mixing bowl. Coat your salad in desired amount of dressing. Use tongs or your hands to work the dressing into your slaw. Allow to marinate while you sauté your vegetables. 
Prepare your sautéed vegetables by adding a dash olive oil to a sauté pan and warm to medium heat. Add your olive oil and garlic. Sauté for one minute and add in your cooked chickpeas and mushrooms. Sauté until your mushrooms are fork tender but still have a "bite" to them. Turn off your burner, stir in your Tamari and a pinch sea salt. 
Add your sautéed chickpeas and mushrooms on top of your dressed slaw. Lightly toss all together. Taste and adjust salt/pepper. 
Save leftovers in the refrigerator in a sealed container for up to 3 days.