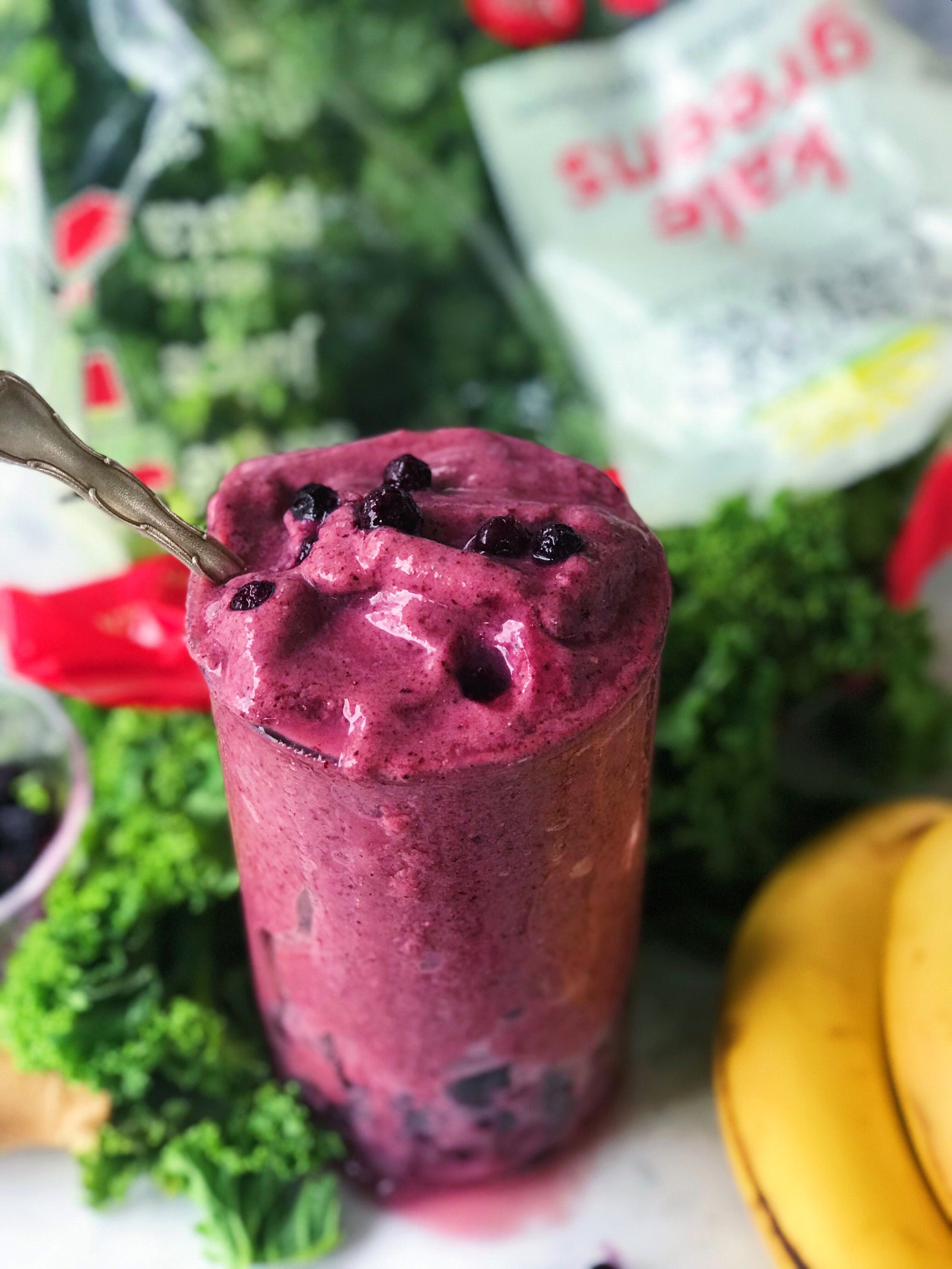 REVIVAL SMOOTHIE w/ Natures Greens!

I have never thought a name so fitting more than "Revival" for this smoothie! When Natures Greens reached out in helping them create a smoothie recipe that did *not* focus on losing weight but rather making you feel good from the inside out-- I was stoked to help out.

Every single ingredient in this recipe has a PURPOSE and that is to help revive what might has been torched over the holiday season. Too many glasses of wine? Revival Smoothie. Lack of sleep? Revival Smoothie. Poor Digestion? Revival Smoothie. Feeling under the weather? REVIVAL SMOOTHIE TO THE RESCUE! You get the point :)

Let me take you through the good stuff....

KALE- to aid in alkalinity, detox, and your liver
BERRIES- a huge antioxidant punch, to help revive the system
BANANA- potassium overload and to help coat the stomach
COCONUT WATER- incredibly hydrating , restores electrolytes
GINGER- Helps reduce nausea, aids in digestion, and helps reduce muscle pain or soreness
RAW HONEY- antioxidants + antibacterial properties
COCONUT MILK /CREAM- great source of fat, helps to keep you full and not spike your blood sugar
ZUCCHINI/CAULIFLOWER- EXTRA hydrating + nutrient / helps to thicken smoothie
Goji Berry Blender Bomb- to help keep you full, more antioxidants, and enhance the flavor!

TIP: You can basically prep this smoothie in one effort and then have all ingredients ready to go for a week!
I recommend buying silicone ice trays for your coconut milk and coconut water freezing! You dont have to freeze, It just helps thicken the smoothie! If you prefer a thinner smoothie you can skip the freezing step for those two! 

I love buying the @Naturesgreens kale bc It is triple washed and incredibly easy to use. When using for smoothies I just put the whole bag in the freezer! That way I can also have on hand for soups, etc!



HOW TO MAKE: 
1/2 -1 cup natures greens kale ( buy fresh, and then freeze, amount based on preference ) 
1/2 -3/4 cup frozen berries ( any organic frozen berries will do-- I used a medley!) 
1/2 frozen small banana 
handful frozen zucchini slices (presteamed) or frozen cauliflower florets
2-3 coconut water ice cubes ( freeze coconut water into an ice tray and have ready for smoothies) 
2-3 coconut milk ice cubes ( freeze full fat coconut milk into ice tray and have ready for smoothies) 
 1/2" raw ginger ( peeled or peel trimmed off with knife) - dont skip this one! It adds so much flavor! 
1-2 tsp raw honey 
1 @hushupandhustle @blenderbomb goji berry blender bomb (crumbled on top or lightly pulsed in ) 
almond milk 
Blend all ingredients in a high powered blender!! If you have trouble blending add a dash hot water into your blender and that always helps mine! Taste and adjust! Enjoy!