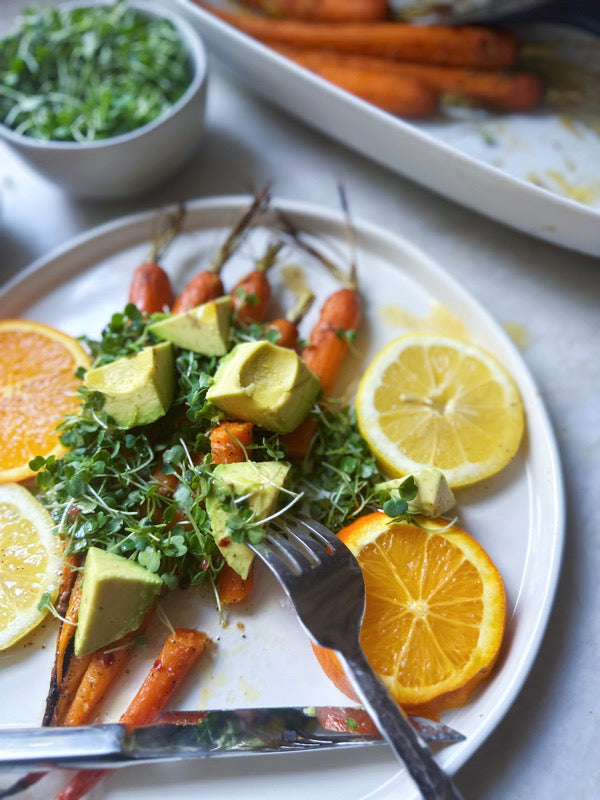 Roasted Carrot & Sprouts Salad
You know when you have those meals that leaves a permanent imprint on your taste buds? The roasted carrot salad at ABC Kitchen in NYC is one of those salads. I will never forget the first time I tried it. I never knew carrots could taste so good.
Citrus glazed roasted carrots, fresh sprouts, and creamy avocado all come together to make this masterpiece. This recipe was highly inspired by of course, ABC Kitchen's. 
This recipe will make you feel like a professional chef, and the presentation is absolutely stunning! 
Cant wait for you to try it!  
2 bunches carrots, peeled and ends trimmed off ( about 12 carrots)
3 garlic cloves, peeled 
1 tsp ground cumin 
2 tsp fresh chopped ginger 
1.5 tsp himalayan sea salt 
3/4 tsp pepper 
1/2 tsp red chili pepper flakes 
4 tbsp avocado oil or olive oil ( divided ) 
1 tbsp red wine vinegar or apple cider vinegar 
2 cups microgreens / sprouts/ or arugula 
2 ripe avocado, sliced into chunks 
1/3 cup toasted pumpkin seeds or pistachios 
Preheat your oven to 400 F. 
Peel and trim your carrots and place in your roasting dish. 
Add your garlic cloves, cumin, ginger, salt, pepper and chili flakes to a small food processor or blender. 
Slowly process in your olive oil and red wine vinegar.

Set marinade aside.
Pour and rub marinade into your carrots. Slice your lemon and oranges and place cut side down onto carrots. 
Roast carrots until tender, about 45 minutes.  
Remove carrots from oven and using tongs arrange them on a serving platter. 
Carefully squeeze roasted citrus in a separate bowl. Whisk in your remaining olive oil, and season with salt and pepper. 
Drizzle 2 tbsp of the dressing directly onto the carrots. 
Top with desired amount of greens or sprouts, avocado chunks, pumpkin seeds. Drizzle on more dressing. Serve family style or on individual plates!