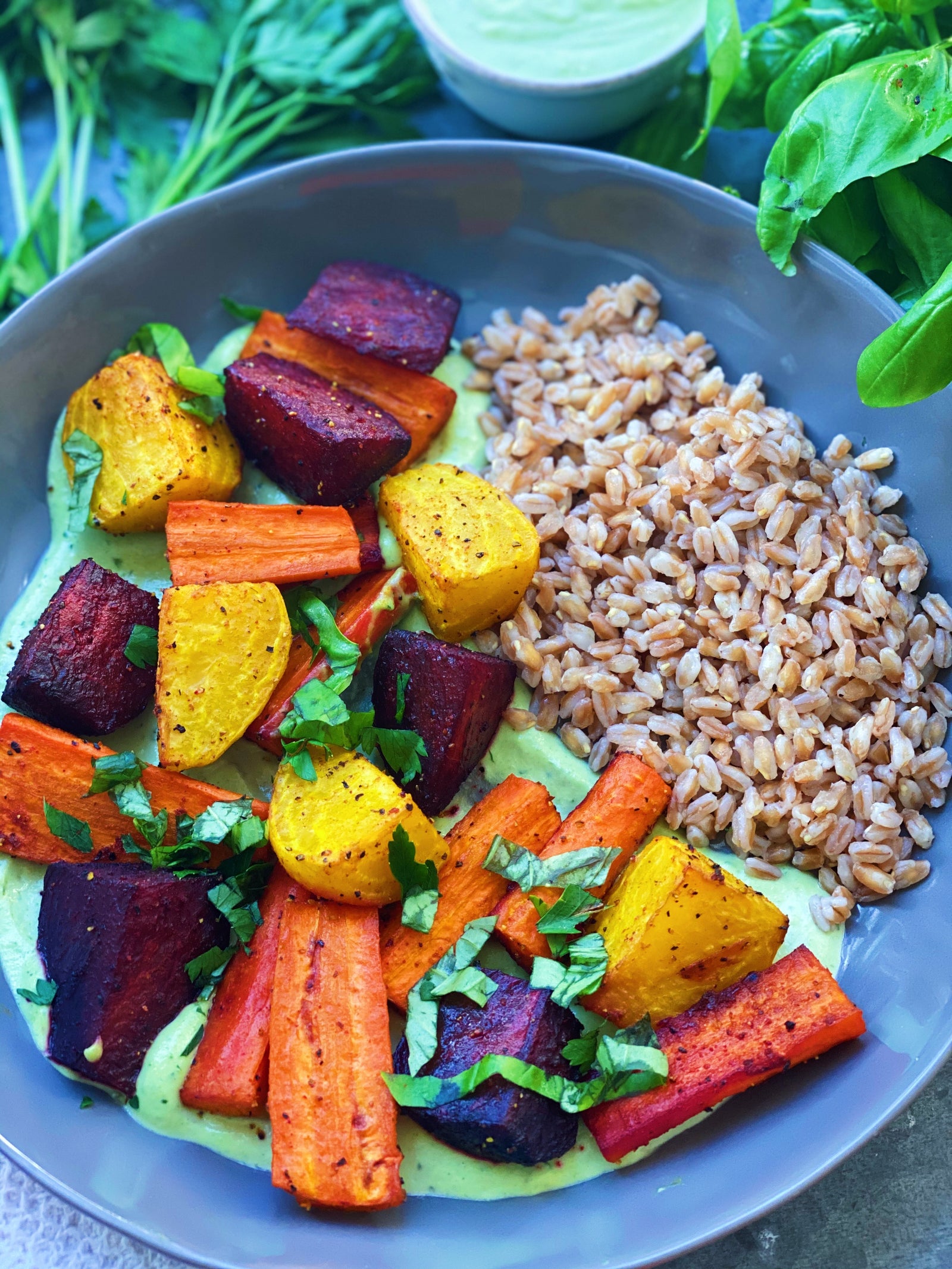 Roasted Root Vegetables + Basil Herb Cream Sauce
I cannot get over this dish – it looks super impressive, tastes even more impressive, yet could not be easier. Perfect entrée for your plant-based friends or side dish for your next grand dinner party.
Get creative with this one by adding in any favorite root vegetable, switching up the grain, or adding over a bed of greens!
So excited to share this one with you! Time to get to roasting!
Ingredients
Roasted Vegetables
5 beets ( I did a combo of red and yellow) , peeled and quartered
4 whole carrots, peeled and chopped into 3" pieces
1 tbsp avocado oil/ extra virgin olive oil
½ tsp harissa seasoning ( optional )
½ tsp sea salt
¼ tsp turmeric
¼ tsp pepper 
Basil & Herb Cashew Cream
1 cup cashews (soaked for a minimum of 4 hours in water)
1/4 cup fresh chopped basil , more for garnishing
3 tbsp fresh chopped parsley, more for garnishing
2 tbsp grapeseed oil
3 tbsp almond milk
3 tbsp room temperature water
1 lemon, fresh squeezed
1 tsp apple cider vinegar
1 tsp honey ( optional -- omit if vegan) 
1-2 cloves garlic ( preference— I used 1)
1/2 tsp sea salt
Served with:
Farro / Quinoa / Grain of Choice
Bed of Greens
Serves :
2 large  entrée size portions , 3 -4 sides portions
Equipment Used:
High Speed Blender or Food Processor 
Large Baking Sheet 
Oven 
Directions
Preheat oven to 375F. Line a large baking sheet with parchment paper.
In a large bowl add your peeled and chopped vegetables. Add your olive oil and seasonings into bowl and mix well until seasonings are distributed evenly.
Spread your vegetables out on parchment lined baking sheet, spreading out as much as possible so that they are not overcrowded.
Roast for 35-45 minutes or until fork tender. Halfway through cooking time flip your vegetables to ensure even cooking.
While your vegetables are roasting prepare your cream sauce.
Drain and rinse your cashews. Add your cashews into your blender. Rough chop your herbs and add in. Add in all your other sauce ingredients. Blend on high until super creamy, you may need to scrape down sides as needed. Taste and adjust seasonings to preference!
Once vegetables are fork tender remove them from oven.
Spread desired amount of herb cream sauce onto each serving plate. Add a scoop of vegetables right on top. Serve aside a grain or mixed greens!