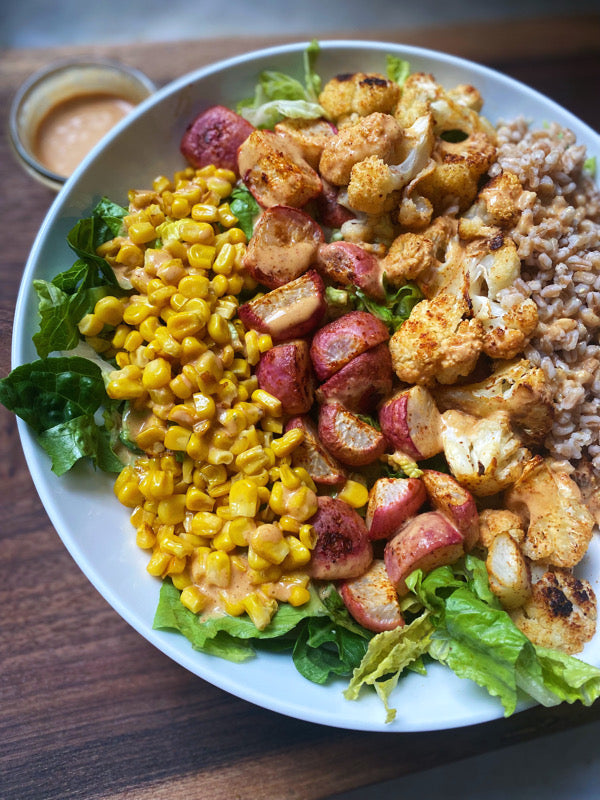 Roasted Radish Summer Salad w/ Creamy Southwest Dressing
The salad of the summer is here. The one that will teach your taste buds that you in fact love salads.
Crispy radishes, roasted cauliflower, hearty farro, charred corn, shredded romaine, and a southwest chipotle dressing to be drizzled all over.
The only way to understand this salad is to take a big ole bite.
Serves:
3 entree salads, 6 side salads 
Equipment: 
skillet
small pot 
high-speed blender 
oven 
large baking sheet 
For Roasting: 
1 bunch radish, ( about 9), trimmed and halved 
1 small head cauliflower, cut into florets 
3 tbsp extra virgin olive oil or melted ghee / vegan butter ( I used ghee) 
sea salt to taste 
pepper to taste 
1 tbsp fresh lemon juice 
For Stove: 
2 qt water
1 cup farro, rinsed and pat dry 
sea salt to taste 
1 tbsp ghee or vegan butter ( optional ) 
1 can sweet corn, rinsed and pat dry 
For Salad: 
2 large heads of romaine , sliced thin
For Dressing:
1 cup plain and unsweetened cashew yogurt
2 tbsp olive oil
2 Tbsp. lime juice (about 1 lime)
1 tbsp chipotle in adobo sauce
1 Tbsp. apple cider vinegar
1 clove garlic
2 tsp. chili powder
1 tsp. onion powder
1 tsp. maple syrup
1/2 tsp. Himalayan sea salt ( less if using table salt)  
Preheat the oven to 425 F. Line an XL baking sheet with parchment paper. 
Add your chopped radishes and cauliflower to the baking sheet. Drizzle the vegetables with extra virgin olive oil or melted ghee/butter ( about 2-3 tbsp total) and mix with your hands. Add salt and pepper to taste, and mix again. 
Spread your vegetables out on the baking sheet with your radishes face down. Make sure they are not crowded or touching. 
Roast for 30-35 minutes, stirring once at the halfway point. Vegetables are done when they start to slightly brown and can easily be pierced with a fork. 
Remove from the oven, and drizzle on your lemon juice. 
While your vegetables roast, prepare your farro. Prepare according to package instructions. Optional: Once cooked stir in your vegan butter/ghee and a pinch of salt. 
In a small skillet add a drizzle of olive oil. Warm on medium-high heat. Add your corn and stir. Allow to sit and char, stirring only as needed. Once the corn is slightly charred, remove It from heat. 
Prepare your dressing. Add all ingredients into a high-speed blender and blend until smooth and creamy. Taste and adjust seasonings.