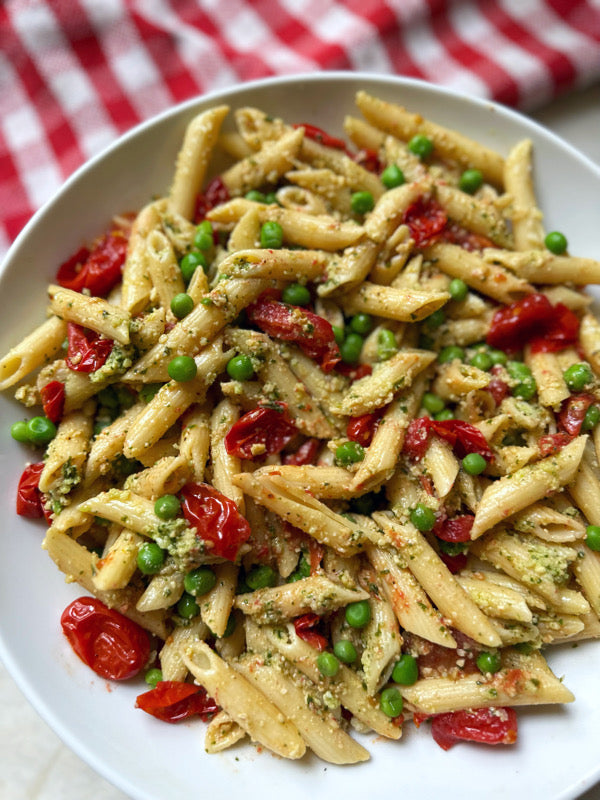 Roasted Tomato & Pesto Pasta
Let me let you in on a little secret… I am all about the easy meals these days. While I feel grateful to recipe test for a living, with two little hungry babies (and husband), if I don't streamline it all I can be in the kitchen from morning until night. 
The best way to describe this meal is just simply delicious. All the flavors meld together and create something special. 
Short on time? Use store-bought pesto. Don't have time to roast the tomatoes? Use sun-dried or just leave them out. 
Everyone devoured this one! 
Ingredients 
1 box pasta of choice 
1 batch cashew pesto ( recipe below ) 
1/2 cup cooked peas 
1 lb grape tomatoes, halved ( about 3 cups grape tomatoes before halved) 
Extra virgin olive oil 
Salt 
Pepper 
Preheat 400 F. 
While your oven heats, prep your pesto. 
Pesto: Add basil, cashews, parmesan cheese, garlic, and lemon juice to a food processor. Process a few times so that the nuts begin to break down. Add olive oil a little at a time (streaming in while the machine is on if possible) and scrape down sides as needed. Pulse in your sea salt. Taste and adjust seasonings. 
Roasted Tomatoes:Mix halved tomatoes with olive oil, salt, and pepper. 
Transfer the tomatoes to a baking sheet with a rim. Spread tomatoes in one single layer, flesh side up.
Roast tomatoes for 25-30 minutes or until your desired doneness. 
Pasta:While your tomatoes cook, boil your pasta. When done, drain the pasta and add it back into your pot. 
Stir in the desired amount of pesto first, until noodles are evenly coated. Stir in your peas. 
Lastly, add cooked tomatoes to the pasta, and lightly fold them in. 
Taste and add any salt/pepper as needed.