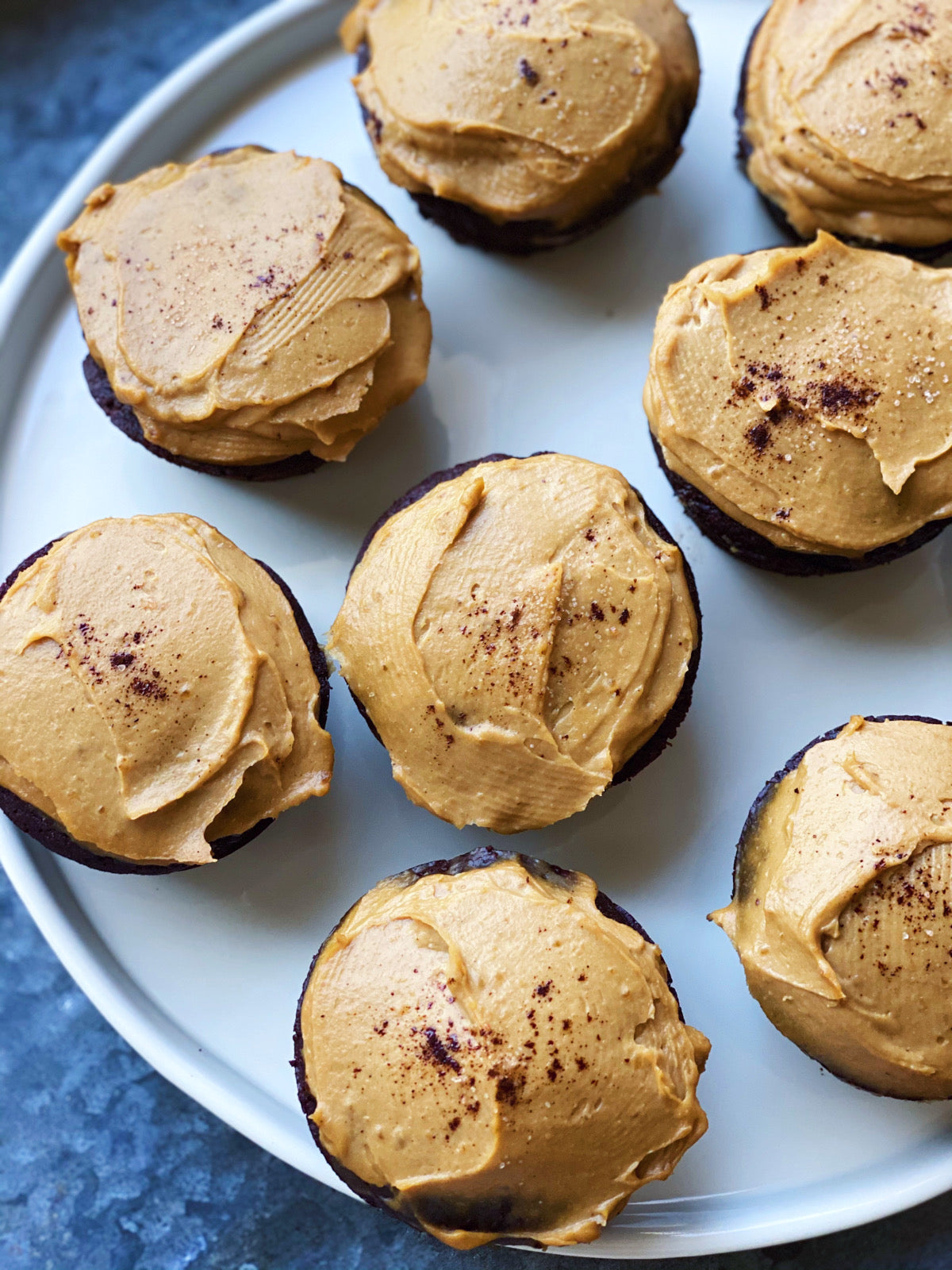 Salted Caramel Chocolate Cupcakes
I don't know how else to describe these cupcakes other than.... life changing. Yes, salted caramel anything changes lives, so when you smother It on top of cupcakes that taste like brownie batter.... well sign me up, sign you up, sign us all up. 
For these cupcakes you get down and dirty -- you make your caramel, you make your own GF all purpose flour, you make your icing, and of course you make your cupcakes. However, if you are cut short on time you can buy your own GF all purpose flour, you can add a store bought icing to the cupcakes, or you can use store bought cupcakes and add this life changing icing. You get the idea, shortcuts are available, but speaking from these professional taste buds... just do it all and savor every bite! 
Notes: 
*For the GF All Purpose Flour in this recipe, I used my own DIY mix below. Where I only tested with this mix, I do think a store-bought GF All Purpose Flour would work! 
**Best to prepare the caramel and icing the day before assembling your cupcakes!
Large Batch GF All Purpose Flour
1.5 cup brown rice flour
1/4 cup white rice flour
3/4 cup arrowroot powder
Directions: whisk all flours in a large bowl. Store in a sealed container.
Chocolate Cupcake 
Cupcake Dry Ingredients
1 cup GF all purpose flour ( tested with mix from above)
1/2 cup coconut sugar
1/4 cup almond meal
1/2 cup cacao powder
1 tsp instant espresso powder ( optional but recommend)
1.5 tsp baking soda
1/2 tsp baking powder
1/2 tsp sea salt
Cupcake Wet Ingredients
2 Flax eggs ( 2 tbsp flax meal + 1/4 cup water mixed together)
1/2 cup unsweetened applesauce
3 tbsp melted coconut oil
2 tsp vanilla extract 
1/2 cup almond milk
1/4 cup maple syrup
2 tsp apple cider vinegar
Other: 1/2 cup chocolate chips
Directions 
Preheat your oven to 350F and begin to prepare your muffin pan. Grease each mold with coconut oil. Option: Cut strips of parchment paper to fit into each mold— you want each side poking out over the top of each mold so that its easy to use them as "tabs" to pull out each muffin.
Prepare your flax eggs in a small bowl and set aside allowing to coagulate for 10 minutes.
In a mixing bowl add all your dry ingredients, whisk well. In a separate large mixing bowl add all your wet ingredients ( EXCEPT Apple Cider Vinegar). Whisk in your flax eggs with your wet ingredients.
Add your dry ingredients ( EXCEPT chocolate chips) into your wet, mixing in as you pour. Stir in your apple cider vinegar first and then fold in your chocolate chips.
Fill each muffin mold only 3/4 of the way full!
Bake for 21-23 minutes of until muffins have risen and tops are hollow.
Allow to COMPLETELY cool before attempting to remove from muffin pan. Only icing when completely cooled
Caramel
Caramel Ingredients
1 cup coconut sugar
1 can full fat coconut milk
1 tbsp arrowroot powder
1/4 tsp sea salt 
Caramel Directions
Whisk your arrowroot powder into your measured out coconut milk.
Add your coconut milk and coconut sugar into a sauce pot. Whisk well. 
Bring to a boil, whisking frequently.
Once boiling, reduce to a simmer and allow to simmer for 10 minutes. Add your salt and stir. Caramel will continue to thicken as It cools. Stir occasionally. Once cooled, store in a sealed container or add directly into blender to make your icing. 
Icing
Icing Ingredients
1 cup cashews , soaked in cool water ( minimum of 5 hours )
1 full batch homemade caramel ( recipe above)
1/4 cup coconut oil , melted
1/4 cup almond milk
1/2 tsp sea salt
IcIng Directions 
Rinse and drain  your cashews. Add all ingredients into a high speed blender and blend on high until your icing is smooth and creamy, absolutely no clumps. Keep scraping down the sides of the blender and continue to blend until mix is all blended.
Store in a sealed container and allow icing to set overnight in refrigerator if possible.
 Once set and cupcakes are cooled, add onto cupcakes and enjoy!