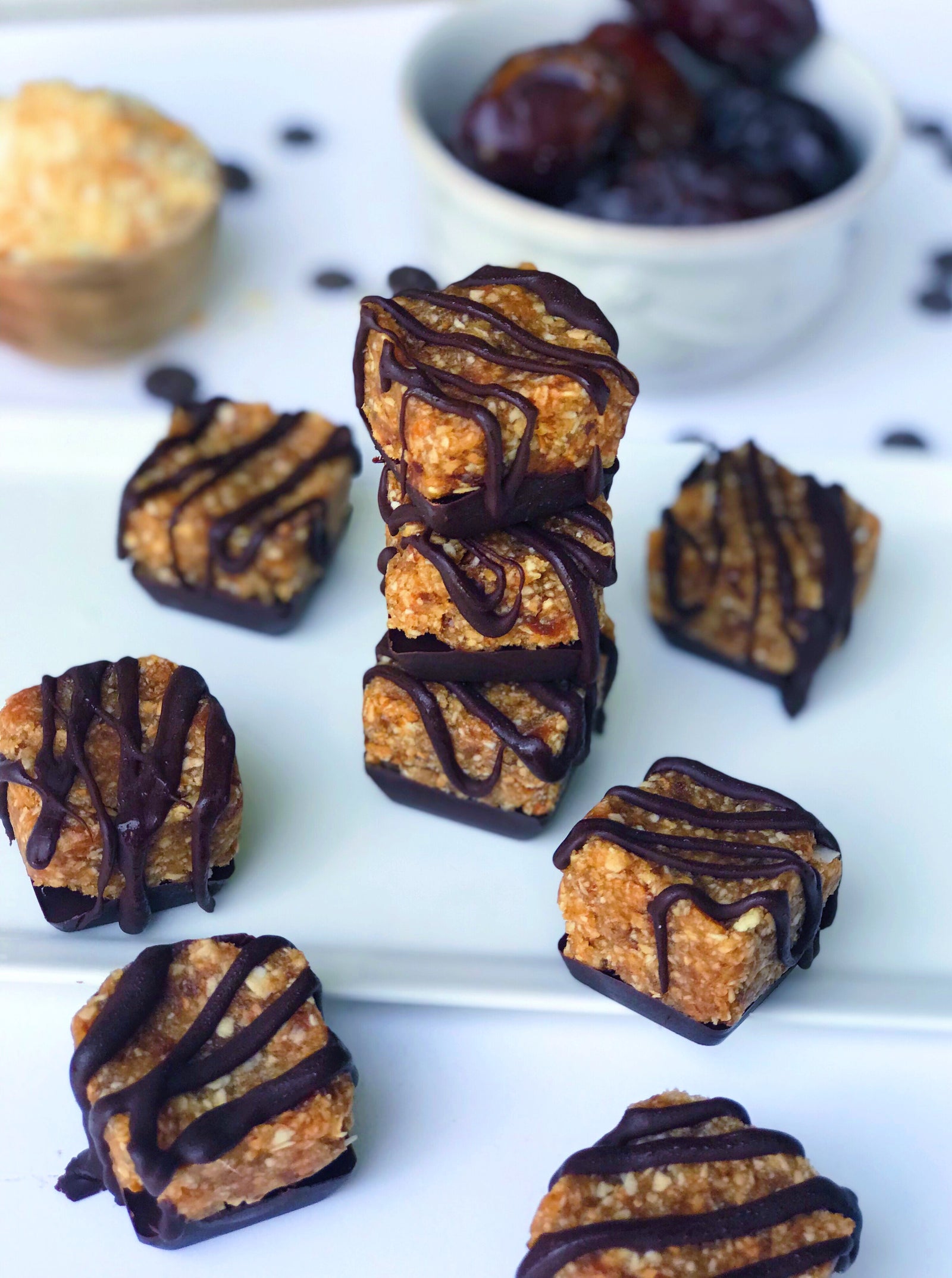 I am all about the cookie splurge and every now and then, but my problem is.. I want to have my cake (or cookies in this manner) and eat It too, every dang day. 
These literally made themselves. I swear I was craving a Samoa and next thing I know I was licking my fingers and savoring every last bite of one of these chews.  
Let me let you in on a secret.... 
These 5 ingredients. Require no baking. Absolutely no hassle. And for the win....ready in less than 20 minutes from start to finish. 
Sweet and chewy caramel , toasted coconut, & chocolatey heaven. 
Pure perfection in a bite! Clearly,  I am all about the easy sweet tooth fix these days, and to say these "hit the spot" is an understatement. 
Try them out and let me know what you think! 
I n g r e d i e n t s
12 Medjool dates, make sure they are sticky and not dry 
1 cup shredded coconut 
1 tsp vanilla extract 
1.5 cup chocolate chips
1 tsp coconut oil 
1/4 tsp sea salt 
Other: a silicone ice tray ( you can also use silicone muffin liners or just roll these into balls if you do not have anything else 
D i r e c t i o n s
Add your coconut flakes to a small saute pan, and turn to low -medium heat. "Toast" coconut until golden brown, stirring frequently. Coconut can burn quickly so be sure and watch It! Once done remove from heat and set aside. 
While this is toasting melt your chocolate in a microwave safe bowl. Start in increments of 30 seconds and stir in between each timer. Once melted stir in your coconut oil. 
Pour a thin layer of melted chocolate into each ice cube mold or silicone cupcake liner ) I completed 12 (if using cupcake liners you will have less) and then saved the rest for drizzling. Place tray with chocolate in freezer while you make the "chew."
Remove the pits from your dates. Add your dates to a food processor. Once coconut is done add It into the food processor too. Add your vanilla and sea salt. Process and blend until all incorporated into one mixture, scraping down the sides as needed. 
When done bring your ice tray out of the freezer. Press the dough into each cube until all the dough is gone. Drizzle the remainder of your chocolate on top of each chew. 
Place back in the freezer for 30 minutes to an hour before eating!
Once fully frozen thaw for about 10 minutes before eating, and transfer to a container for storing in the freezer.