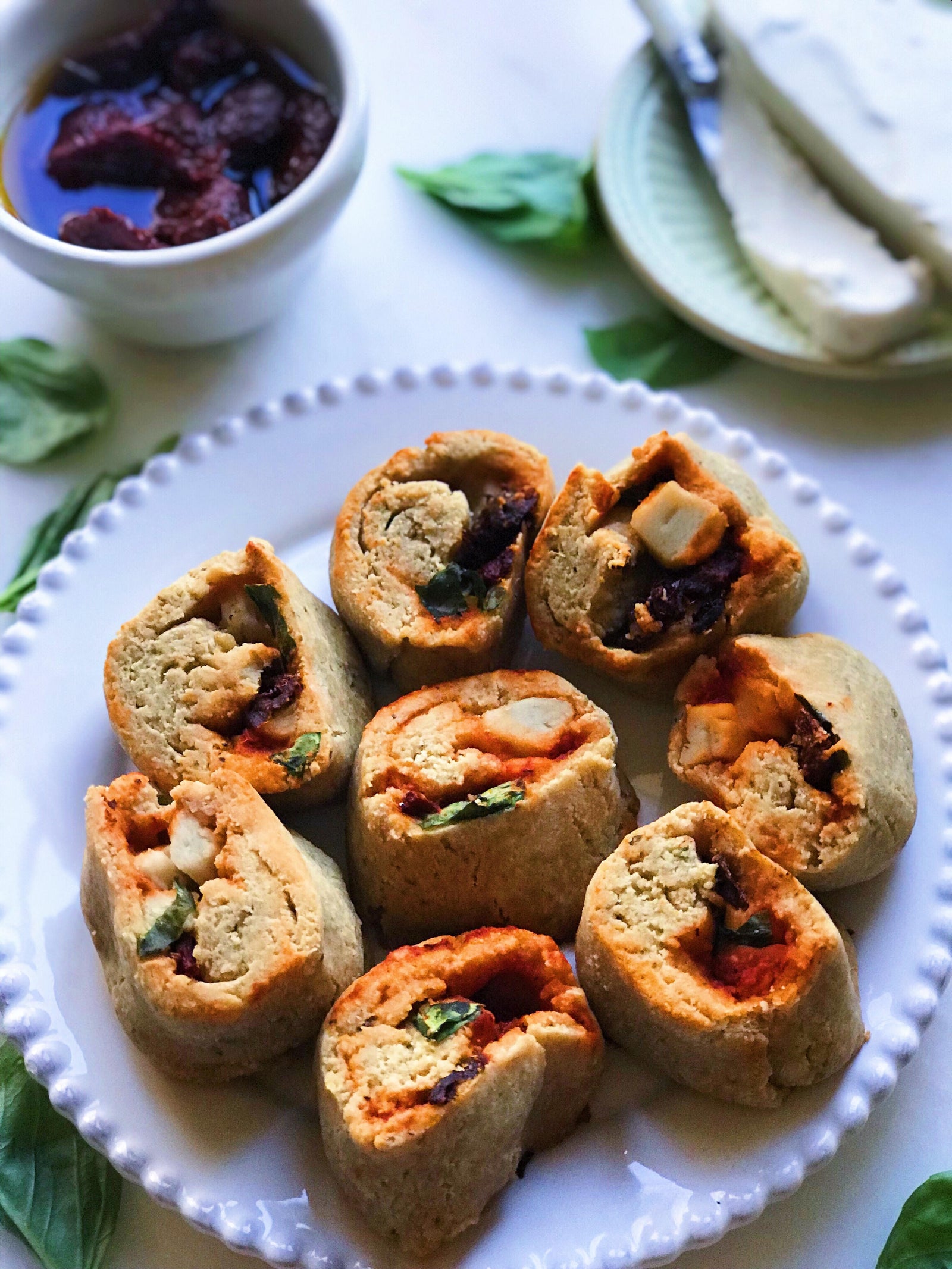 (semi) HOMEMADE PIZZA ROLLS
Can we all just take a moment of silence for these insanely delicious, doughy, cheesy pizza rolls? These little bites of heaven can be prepped in under 15 minutes and ready to go for your next holiday party appetizer table.
And dont worry I tested these on my entire family, including my little brother who was ( ok maybe is ) the pizza roll king and he went back for seconds ( ok maybe thirds). 
As if I needed another reason to love @simplemills more, these just took my feelings over the top. 
I n g r e d i e n t s
1 box @simplemills pizza crust
3-4 slices @myokos mozzarella, broken into smaller pieces
2 tbsp marinara sauce / tomato sauce
4-5 sun-dried tomatoes
5-6 basil leaves
D i r e c t i o n s
Preheat oven to 350 and grease a 9 x 9 inch metal baking pan or large baking sheet with olive oil.
Make the crust according to instruction, rolling out two pizza dough crusts on parchment paper. Before rolling out sprinkle a little extra almond flour on the parchment paper and coat your hands with It as well. This will help the rolling!
Roll out each pizza crust until about 1/4 inch" thick and even.
Locate the middle of each pizza crust. Now spread 1 tbsp each of marinara sauce from left to right so that It draws a horizontal line across the crusts. You do not want more than 1 tbsp crust on each crust because It will cause the crust to get too soggy.
Now add the cheese, sun-dried tomatoes, and basil on top of each line of marinara sauce.
Now roll up each pizza crust like you would a sushi roll, going slowly to ensure you keep the rolls tight and intact. Once rolled all the way up slice into about 6-7 rolls.
Place each roll on the greased baking pan or sheet , making sure they do NOT touch.
Cook rolls 20-25 minutes or until golden brown on top and bottom.
Allow to cool 10 minutes before serving!
Enjoy!