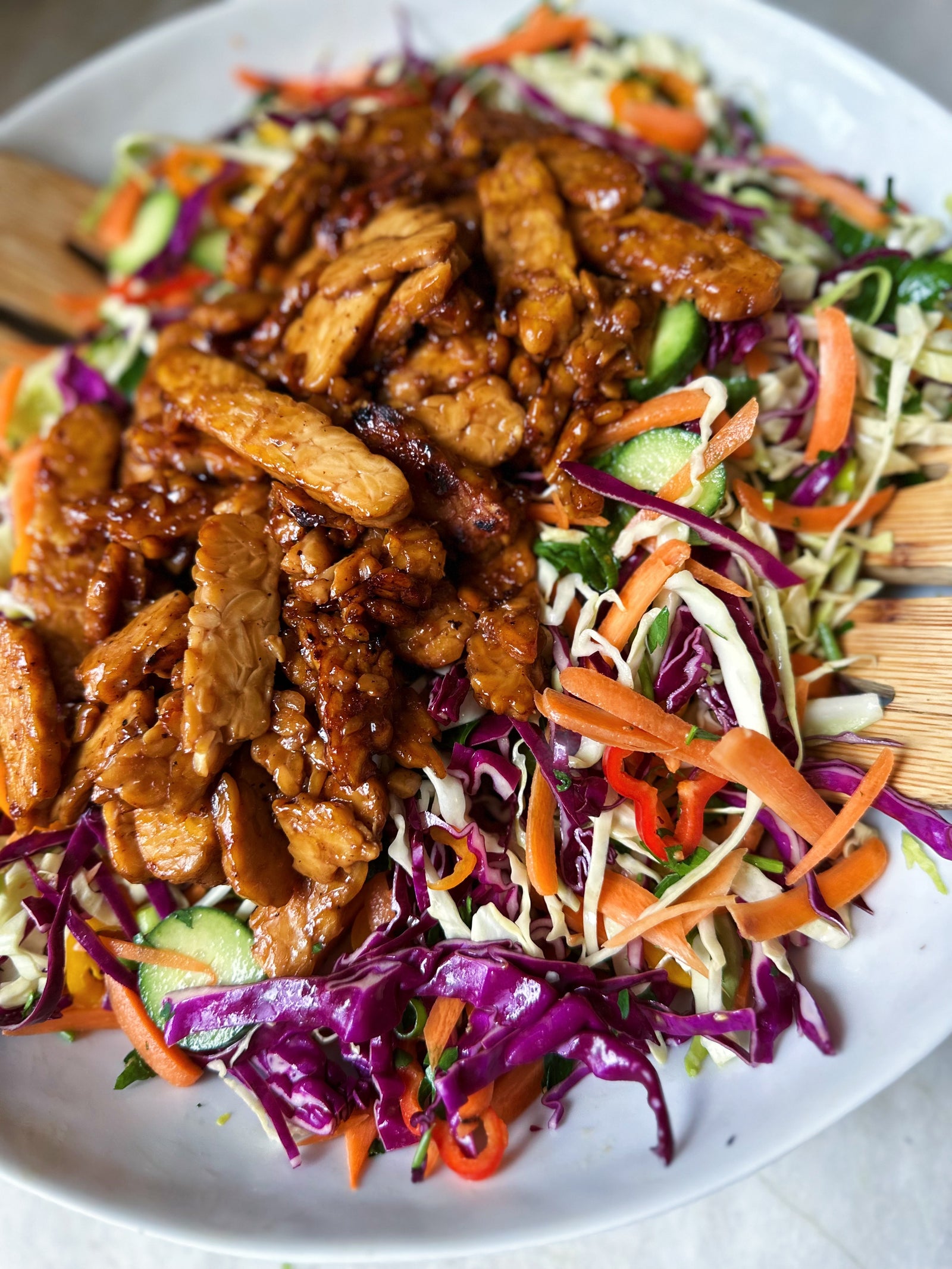 Sesame Ginger Tempeh Asian Salad
Well , two things I know — Instagram deleted the reel I spent over 4 hours working on for this recipe AND also that this Sesame Ginger Tempeh Asian Salad is TO DIE FOR. I am still salivating over it from last night's dinner.  
Golden sautéed tempeh is glazed with a sesame ginger sauce and added on top of a marinated cabbage salad with all the crunch. 
She is vibrant in flavor and in color. This would be the perfect recipe addition to your meal prep plan. 
**This recipe was inspired by the Abundant Kitchen's Sesame Chicken Cabbage Crunch Salad**
Serves:
5+
Equipment:
Saute pan 
Ingredients 
Salad 
4 cups shredded green cabbage
2 cups shredded red cabbage
1 cup carrots, shredded or finely diced
1 cup mini sweet peppers, thinly sliced 
2 Persian cucumbers, thinly sliced 
3/4 cup diced green onion
3/4 cup freshly diced parsley or cilantro 
optional: 1/2 cup toasted almonds or cashews 
Add all salad ingredients into a large bowl and mix well 
Dressing 
3 tbsp rice vinegar 
2 tbsp avocado oil 
1 tbsp toasted sesame oil
1 tbsp low sodium Tamari 
1 tbsp coconut aminos 
1 tbsp maple syrup 
1 tbsp tahini 
1 tbsp ginger, grated into dressing 
1 garlic clove, grated into dressing
Few pinches Himalayan sea salt 
Optional: juice from 1/2 lime 
Whisk all dressing ingredients into a large bowl. Taste and adjust flavorings and salt. 
Sesame Ginger Tempeh 
1/2 cup water 
1 8 oz tempeh , sliced into 1/4" strips ( very thin) 
1 tbsp ghee or olive oil 
1/4 cup tamari 
2 tbsp water
2 tbsp rice vinegar
1 tbsp toasted sesame oil 
1 tbsp maple syrup 
1 tbsp sesame seeds 
1 tsp ginger, grated 
1 garlic clove , grated 
1/2 tbsp arrowroot starch 
Pinch sea salt 
In a small bowl whisk your tamari , 2 tbsp water, rice vinegar, toasted sesame oil, maple syrup, sesame seeds, ginger, garlic, arrowroot starch and sea salt. Whisk until the arrowroot starch has completely dissolved. 
Slice your tempeh into 1/4" inch strips. Add your tempeh slices and 1/2 cup water to a large sauté pan. Bring the water to a boil over medium- high heat and let the tempeh simmer until the water evaporates, flipping tempeh halfway through. 
Once the water evaporates add your ghee/olive oil to the pan. Cook tempeh, flipping occasionally until slightly browned, overall about 6-7 minutes. 
Turn heat to low and stir in your sauce. Sauce should start to thicken immediately. Stir until all the tempeh is evenly coated. After 1-2 minutes remove from heat and allow to slightly cool before serving. 
Top your salad with the glazed tempeh and enjoy!
This tempeh is best when eaten right away but will also save in the fridge for up to one week!