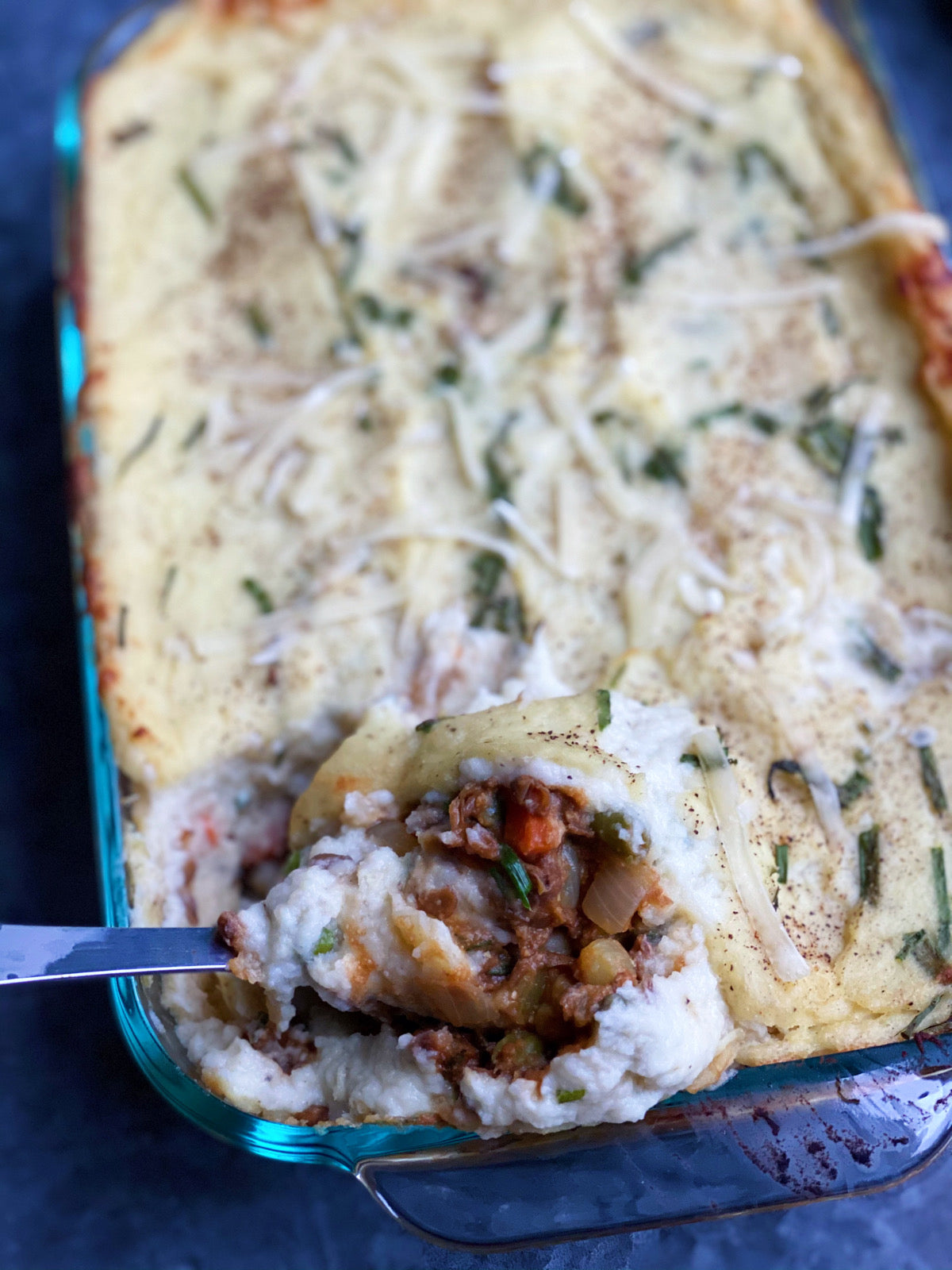 Go ahead and add this plant-based SHEPHERDS PIE to your Thanksgiving menu!

I'm going to be honest, I have never been a casserole girl, but since the requests for this recipe kept coming, I thought no better time than the holidays to get on board.

Well, thank goodness yall gave me the nudge, because this veggie packed, flavor packed, creamy mashed "potato" layered casserole is just about one of my favorite things I've created this season.

You can prep steps of this in advance too, so on Thanksgiving day she just pops in the oven!


Can't wait to see yalls remakes! 
*NOTE: Prepare your cauliflower mashed potatoes ( below)  first before proceeding with the rest of the recipe. You can also prepare your lentils ahead of time too. 
Equipment:
9x13 casserole dish
High Speed Blender or Large Food Processor
Dutch Oven or Large Saute Pan
Sauce Pan
Cauliflower Parsnip Mashed "Potatoes"
Ingredients
2 small head cauliflower, cut into florets
2 parsnips, peeled and rough chopped
1 small yellow or sweet onion
3 cloves garlic, minced
5 tbsp ghee or vegan butter of choice
1/2 cup Violife Shredded Mozzarella
3/4 tsp sea salt ( to start)
¼ tsp pepper 
1/3 cup fresh chives chopped
Directions
Add your peeled & diced parsnips to a large steam pot (covered) and begin to steam. After about 5 minutes, add your cauliflower florets. Steam until all is super tender and easily pierced with a fork. About 15 minutes. Add to a colander and lets sit 10 minutes.

While cauliflower is in colander, dice your onion and mince your garlic. In a small sauté pan, melt your ghee/vegan butter over medium heat. Add your onion and sauté about 5-7 minutes or until translucent. Add your garlic, and sauté about 5 minutes more, continuously stirring so that the garlic does not burn. Turn off burner, and slide pan off heat.

*Note: If you do not have a large food processor or large blender , do the below in 2 batches, using half the cauliflower/parsnips, garlic/onion butter, etc at a time*

Add your steamed cauliflower, parsnips, sautéed garlic and onion, mozzarella, ghee, salt , and pepper into the blender or food processor.

Begin to process or blend, scraping down the sides as needed. If you need more liquid you can add in a tbsp almond milk/ nut milk, but you want them to stay thick and creamy.
Taste and adjust! I added a little more salt and pepper! Stir in your chopped chives.
Once you mashed potatoes are finished set aside while you prepare the rest of your dish below 
Ingredients
1 cup dried green lentils ( will yield 3 cups when cooked) 
3 cups vegetable broth
4 sprigs fresh thyme
½ tsp sea salt
1 small sweet onion, diced
2 cloves garlic, minced 
¾ cup celery, diced
¾ cup carrots, sliced into coins
3 tbsp fresh thyme
2 tbsp tomato paste
3 tbsp almond flour
3 tbsp nutritional yeast
3 tbsp coconut aminos  ( low sodium tamari is a great sub)
1/2 cup frozen green beans
1/2 cup frozen peas
1 tsp sea salt
 Toppers: Extra Mozzarella, Extra Chives 
Directions  
In a small saucepan prepare your lentils. Add your dried lentils, broth and thyme. Bring mix to a boil. Once lentils boil, cover and simmer until cooked through, check at 15 minutes. You want your lentils cooked but not mushy. Once lentils area ready, remove thyme sprigs and set aside.
Preheat your oven to 400 F and have your 9x13 casserole dish ready ( if sauteeing the below in your dutch oven, you can add straight into oven when finished, if not you will transfer mix from saute pan to your desired casserole dish to go into the oven. ) 
In a large saute pan ( or dutch oven), add a tbsp olive oil or ghee. Add your onion and saute a few minutes. Add your carrots and celery, saute until fork tender. Add your garlic and thyme and saute a minute more.  
Add your tomato paste, cooked lentils ( 3 cups) , and almond flour. Saute until all mixed through.
Now add your frozen green beans and peas and saute until warmed through, 2-3 minutes.
Stir in your coconut aminos, nutritional yeast, and salt, and stir until evenly mixed through.  Turn off burner. Taste your mix, adding a little more salt/ nutritional yeast, or coconut aminos if needed.
Pour your entire vegetable mixture into your casserole dish and spread out evenly in dish. Next spread an even layer of your cauliflower mash on top of your vegetable mixture and flatten flush with your casserole dish. 
Bake, uncovered for 28-32 minutes or until top is golden brown. Remove from oven, allow to slightly cool, and serve!
Store leftovers in a sealed container the refrigerator.