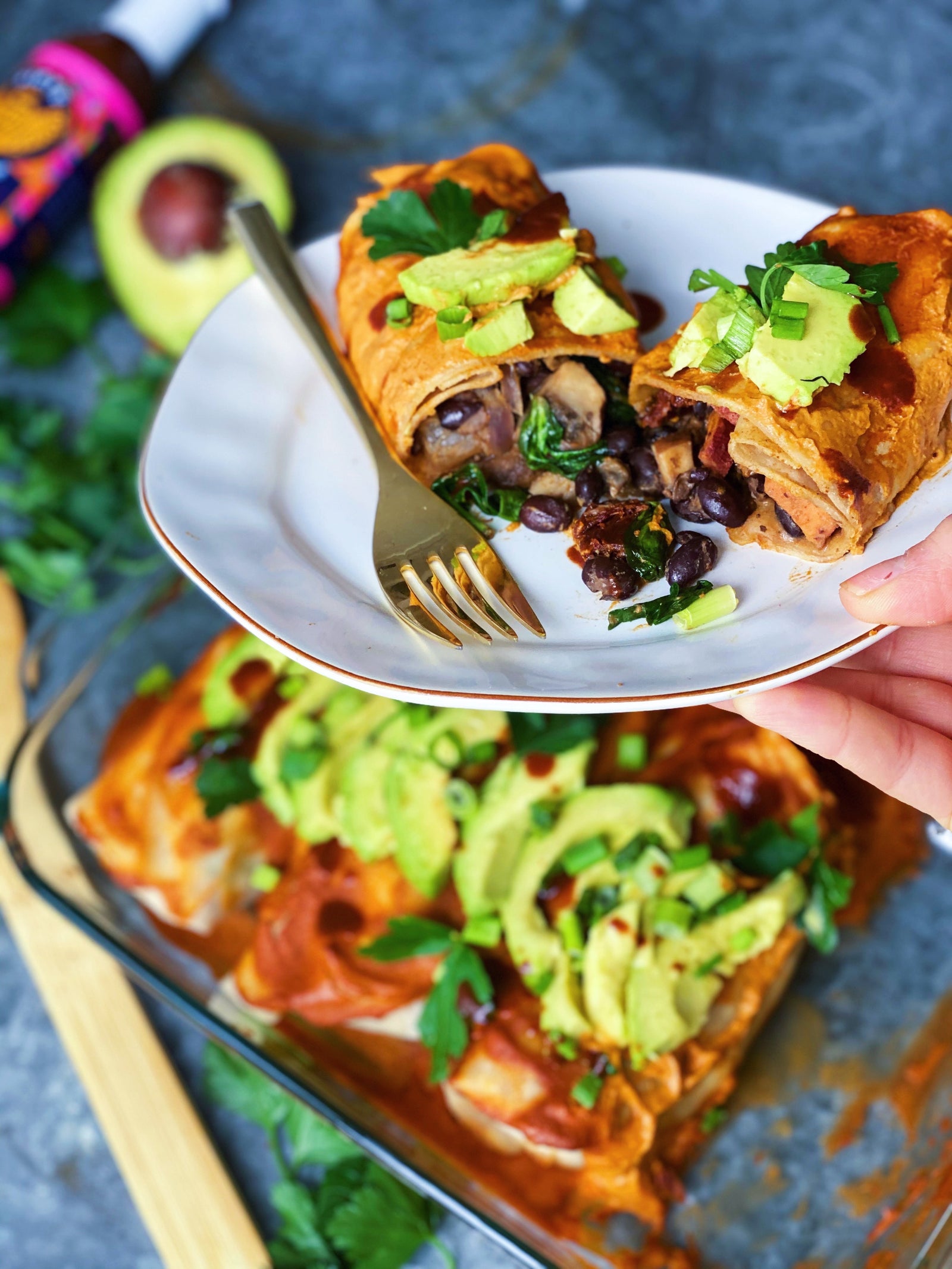 Mushroom & Black Bean Enchiladas w/ Siete Foods Burrito Wraps
Looking to spice up your dinner routine? How about some saucy, crispy, veggie packed, FLAVORFUL .... Mushroom & Black Bean Red Enchiladas. Mouth watering yet ? Mine sure is. 
The beauty of this recipe? You can custom fill these to you and your family's liking ! My expert opinion.... load em up with allllll the toppings. Extra avocado for me please. 
 I n g r e d i e n t s
4 Siete Foods Burrito Wraps .  ( found at Whole Foods!) 
1 jar Siete Foods Red Enchilada Sauce    ( found at Whole Foods) 
1 cup raw cashews  ( soaked for a minimum of 4 hours)
1 tbsp fresh lime juice ( about ½ a lime)
Optional: ½ tbsp – 1 tbsp siracha / hot sauce if you like spicy
 ..........
1 tbsp olive or avocado oil
1 red onion, diced
1 can organic black beans   ( drained and rinsed )
2 cups baby bella/ cremini mushrooms ( De-stemmed, rinsed and sliced)
½ cup sun dried tomatoes
4 cups fresh spinach
Optional Toppings:  Miyokos Vegan Mozzarella, Avocado, Pico De Gallo, Cilantro, Extra  Drizzle Hot Sauce
 D i r e c t i o n s 
Preheat your oven to 375 F. You will need a large skillet and a 9x13 casserole dish and a clean/ dry cutting board to roll your enchiladas.  
Drain and rinse your cashews and add to blender. Add your entire jar of enchilada sauce into your blender, along with lime juice and hot sauce ( if using). Blend on high until super creamy. Taste and adjust salt, hot sauce, or lime. Set aside.
In your large skillet, warm oil over medium heat. Once oil is hot add your diced onions. Saute until translucent, about 5 minutes. Add your sliced mushrooms and saute 2 more minutes. Turn off  and slide skillet off hot burner. Add your black beans, sundried tomatoes and spinach. You want your vegetables slightly cooked but not done as they will continue to cook in oven. Set aside.
Spread ½ cup of your blender enchilada sauce onto the bottom of your casserole dish so that the bottom is entirely coated by a thin layer of sauce.
Take another ½ cup of sauce and pour into your skillet. Mix the sauce into the vegetables until all is evenly coated.
Place one burrito wrap directly onto your oven rack for 1 minute. This will help to warm them to make easier to roll. Carefully remove the burrito wrap and lay flat on your clean cutting board.
Scoop a heaping ½- ¾  cup vegetable mixture onto the lower half of your burrito ( side closest to you.) Watch this video for guidance on placement and rolling.  
After you roll the first one place it into your casserole dish, seam side down to keep secure, you will line up each burrito side by side.
Repeat these steps from warming your burrito – placing into casserole dish until you have rolled 4 burritos and they are all in your dish.
Now spoon the leftover sauce over the middle top of the enchiladas. Very lightly coat any exposed tortillas with olive oil using a brush or an olive oil spray so that they crisp nicely in the oven. 
Bake for 25- 35 minutes, or until tortillas are baked to your desired crispiness. If adding vegan cheese , add on top of burritos with about one minute left in your baking process. Remove from oven when ready!
Top with any desired toppings! 
Allow to slightly cool and enjoy!