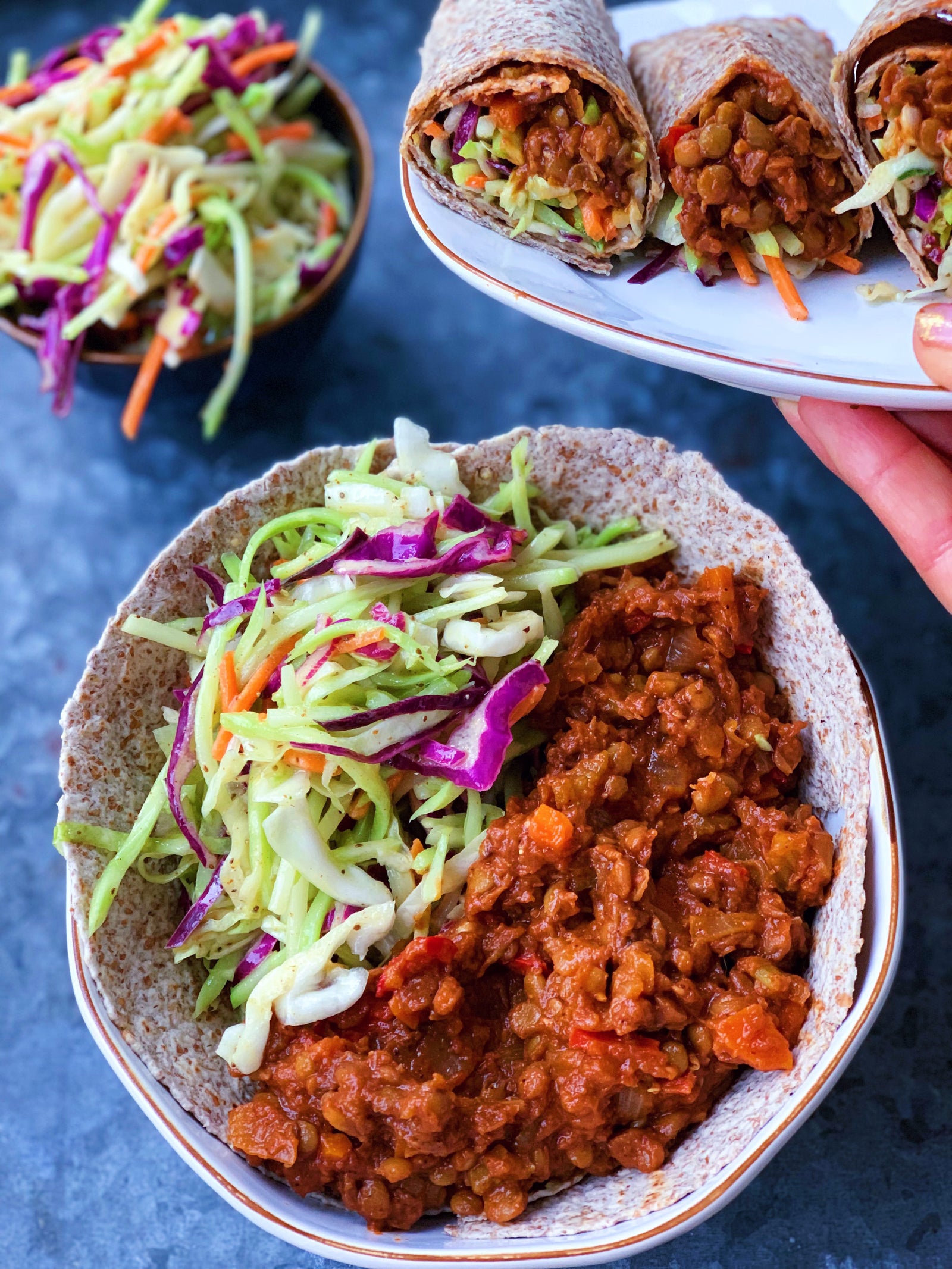 You've missed it haven't you. The messiness. The sloppiness. The lick your fingers, need a lot of napkins,  good ole fashioned, Sloppy Joe! 
But this time .... with lentils! Plant-based, protein packed, and veggie filled. My tastebuds had the best time testing this recipe & so did my nostalgia. 
Roll it up in a wrap, smother it between two buns, put it aside some coleslaw, but whatever you do, make sure to get sloppy with it. 
I n g r e d i e n t s 
LENTILS
1 cup green lentils
2 cups vegetable broth
1/2 cup water
3 tbsp tomato sauce
SPICES
1.5 tsp smoked paprika
1/2 teaspoon cumin
1.5 teaspoon chili powder
1/2 tsp mustard seed powder
3/4 tsp onion powder
1/2 tsp garlic powder
½ tsp sea salt ( + more to taste)
SLOPPY JOES 
1-2 tbsp olive oil
1 yellow onion, diced
1/2 cup celery, diced
1/2 cup carrots, diced
1 red pepper, diced
2 garlic cloves, minced
1 cup tomato sauce
2 tbsp water
2 tbsp tamari
2 tsp apple cider vinegar
1 tbsp organic maple syrup
1 Tablespoon molasses
OTHER INGREDIENTS:
Buns or wraps
Simple Coleslaw ( recipe follows)
D i r e c t i o n s
Start by making your lentils. This can be done ahead of time!
Rinse your lentils in a mesh strainer for one minute under cold water.
Use medium-sized stock pot, add your water and vegetable broth, and three tbsp tomato sauce, stir to combine.  Then add your lentils and stir to combine. Bring to a boil, place the lid on the pot, then lower to a simmer cook for about 25 to 30 minutes, or until the lentils are tender and cooked through. You do not want to cook them so much that they are extremely mushy and lost their shape.
Drain your lentils in the same mesh strainer and set aside. 
While your lentils are cooking mix all of your spices in a small bowl so you have them ready to go!
In a large non-stick stock pot or dutch oven warm your olive oil over low-medium heat. Add your onion, celery, carrots, and pepper and begin to saute until tender, about 5-7 minutes.
Add the minced garlic, and saute through. Now add all of your spices and saute about 30 seconds.
Now add in all the rest of your ingredients from tomato sauce – molasses and stir. Add in your cooked lentils and stir through.
Bring your mixture to a boil, and then immediately lower to a simmer. Simmer for about 15-20 minutes, stirring occasionally until the mixture has thickened. 
Taste and adjust seasonings—I added a dash more salt!

SIMPLE SLAW RECIPE
4 cups shredded green cabbage
2.5 cups shredded red cabbage
1 cup shredded carrots 
1/2 cup sliced green onion 
1/4 cup olive oil 
1/3 cup rice vinegar 
2 tbsp dijon mustard 
1/2 tsp salt 
2 tsp celery seed 
1 tbsp raw honey
Few shakes pepper

Add first 4 ingredients to a large bowl and mix. Whisk all other ingredients together in a small bowl and add to salad. Mix very well, taste & adjust seasoning. Let sit 30 minutes before serving!